Ageo City announced on June 7th 2021 that not only will they not be hosting the Ageo Fireworks display this year, they are indefinitely suspending the annual fireworks display. It comes as a huge surprise as they were one of the 10 largest firework displays in Saitama. Moreover, they had been running for 24 years until the pandemic started.
It was announced in January 2020 that the fireworks were being cancelled on account of the Olympics. For safety reasons, they decided not to host the fireworks. When the Olympics were cancelled, the fireworks remained cancelled due to the Coronavirus. However, when they announced that they would not be hosting the fireworks in 2020, they also stated that they planned the next display for July 31st 2021.
End of an Era
But on June 7th 2021 the city announced that the fireworks will be discontinued indefinitely. The reason stated is work on the embankment where the fireworks used to launch. Moreover, at this moment in time, they cannot secure a suitable alternative location from where to launch the fireworks. However, they have said they will 'continue to coordinate with related organizations toward the resumption of the fireworks display, so we ask for your understanding and cooperation.' Source: official Ageo City website.
Historic Information
Approximately 10,000 fireworks are launched, including "shakudama" 尺玉 which are the largest sized shells. There are starmines as well as fireworks with celebratory messages for birthdays, marriage and good results in tests. These fireworks attract about 160,000 spectators. There are about 50 festival stalls.
Access
The fireworks launched near Riverside Phoenix Golf course, which is a 15 minute bus ride from JR Takasaki Line, Ageo Station (map in the grey details box at the very bottom of the post). Queries to Ageo Tourist Board at 048-775-5917. You can pay for a priority seat if you book in advance through the official website (in the grey details box below). Otherwise the fireworks are free to spectate from any of the public viewing areas.
2018 flyer: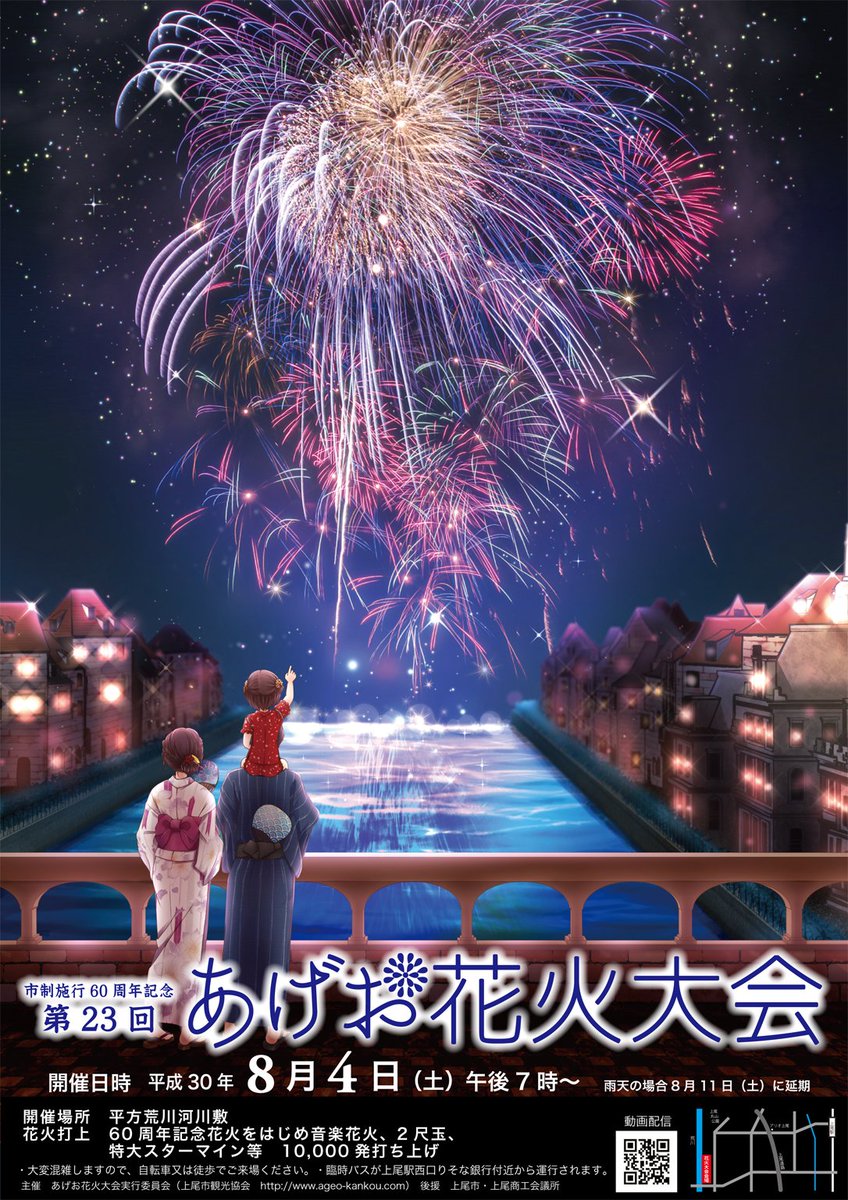 You can also view the fireworks from Maruyama Park and Enomoto Farm. The farm usually closes at 5pm, but stays open until 9pm on the day of the fireworks. Parking is usually free at Enomoto Farm, but due to the increasing popularity as a place to view the fireworks there maybe changes this year.
For more summer and other events in Saitama please see the main event pages.