Anrakuji Yoshimi Kannon is one of a few temples where I personally have felt a strong presence upon entering the grounds. Whether you believe in power spots or not, Yoshimi Kannon is set in such a magnificent setting that it will awe you with its beauty, if not its mystic charm!
Yoshimi Kannon or Anrakuji (Anraku temple) is a designated important cultural property of Yoshimi. It is the 11th "fudasho" on the Bando pilgrimage. A "fudasho" means the sacred site for pilgrimage or simply put a stop on a pilgrimage. The Bando pilgrimage is a famous 33 fudasho / temple stop in the Kanto area.
In this article:
About Yoshimi Kannon
Temple Gate
Garden
Daibutsu
Pagoda
Religious Fortune and Amulets
Notable Events
Information
Access
Yoshimi Kannon
Yoshimi Kannon is also called Anrakuji (Anraku Temple). Originally founded in 806 by the Monk Kaiki, buildings on the grounds have undergone reconstruction over the years. The last reconstruction of the main hall and alterations to buildings were done in 1923. The original thatch roofs of the main hall, pagoda and the gate were replaced with copper plated roofs at that time.
Temple Gate
Located on the south side of the temple along a tree lined stone path, the Temple Gate at Yoshimi Kannon is a Romon, one of two types of temple gates at Japanese temples. A romon has a single roof, unlike the other type, a nijumon, which has a double roof.
Often temple gates, called Niomon in Japanese, are two storeys, but the one at Yoshimi is a one story building. It is a traditional sanma itto eight legged gate. Like most temple gates of this type, there are two kings (made of wood), called Nio in Japanese, guarding the gate and the temple beyond. The guard on the right has his mouth open and the one on the left his mouth closed. This is a symbolic reference to a start and end to all things.
The guard on the right is uttering "a" the first sound in Japanese language used to represent in this incidence birth or beginning. The guard on the left is saying the last sound of the Japanese language "un" representing death or the end.
Garden
The garden of the temple is breath taking. It is quite simple, but magnificent. I have visited in Autumn and spring. It is particularly becoming in autumn with the leaves changing colors to vibrant yellows, oranges and reds. There are several evergreens too and the temple is back dropped by a natural forest. In spring you can see plum blossoms and witch hazel in the garden.
There's lots to discover in the garden and the grounds between various statues, bells, towers and other religious artifacts. On the West side there is a moon bridge over a lotus pond. There is also a Daibutsu and pagoda in the garden too, which are featured below the kawazu cherry blossoms paragraph.
Kawazu Cherry Blossoms
(Added in 2022) While doing some research* for an upcoming article I serendipitously came across a Japanese blog with photos of Kawazu Cherry Blossoms in one of the car parks. There was two surprises in that. One: all this time I didn't know there was a large, easy to access car park for the temple! Two: that there are Kawazu Early Blooming Cherry Blossoms at the temple. Or specifically one of the car parks for the temple! There are only about 10 or 12, so its not a big display, but it is certainly an added incentive to visit the temple in early spring! There are also some somei yoshino cherry blossoms in that car park.
Thanks to that blog post and further research, I found out that the Kawazu Cherry Blossoms usually bloom the last week of February and early March. However, this year the Kawazu are late all around Saitama Prefecture. And today, March 3rd 2022, there were only a few in bloom. It'll probably be another week before you can see them in their full glory, which will make them about two weeks later than an average year!
Daibutsu
Daibutsu literally means giant Buddha. It refers to the statues of Buddha on temple grounds. Some are larger than others, one of the largest in the world is in Ushiku. Another notable Daibutsu in the Kanto plain is the sitting Buddha in Kamakura. The Daibutsu at Yoshimi Kannon is also a sitting Buddha. It is made of copper and is more than 200 years old.
Pagoda
The pagoda on the grounds of the temple is a three tiered 24.3 meter high wooden pagoda. It was added to the temple about 380 years ago. It could do with a lick of paint in all honesty and would probably be even more impressive for it. But there is a charm to the weather battered rustic exterior and it fits perfectly with the environment.
Religious Fortune and Amulets
Omikuji is a type of fortune prediction used at temples and shrines. In return for a small fee you receive a slip of paper with your fortune inscribed. The level of fortune ranges from "daikichi" or great fortune / blessing to "daikyou" or great curse. There are ten in between, four of which are also curses.
My four children did the omikuji at Yoshimi Kannon. Three of them got "daikichi" and my son got "kichi". I mention this because it is quite unusual in our experience to get three "great blessing" fortunes at a temple. The omikuji are sold from a box beside the priest's house on the west end of the garden.
Another thing worth noting about the omikuji at Yoshimi Kannon is that you also get an amulet with them. I've never seen this before. And what a great consolation if you do happen to get the worst curse fortune. At least with an amulet in your pocket you are offered protection from your cursed fate! Moreover, the omikuji + amulet are only a 100 yen each.
Events
On June 18th annually the inner hall of the temple is open to the public. The temple opens overnight to accommodate the throes of worshipers who wish to pray early. It is said that the earlier you say your prayers, the more value behind them.
Healing Night Yoshimi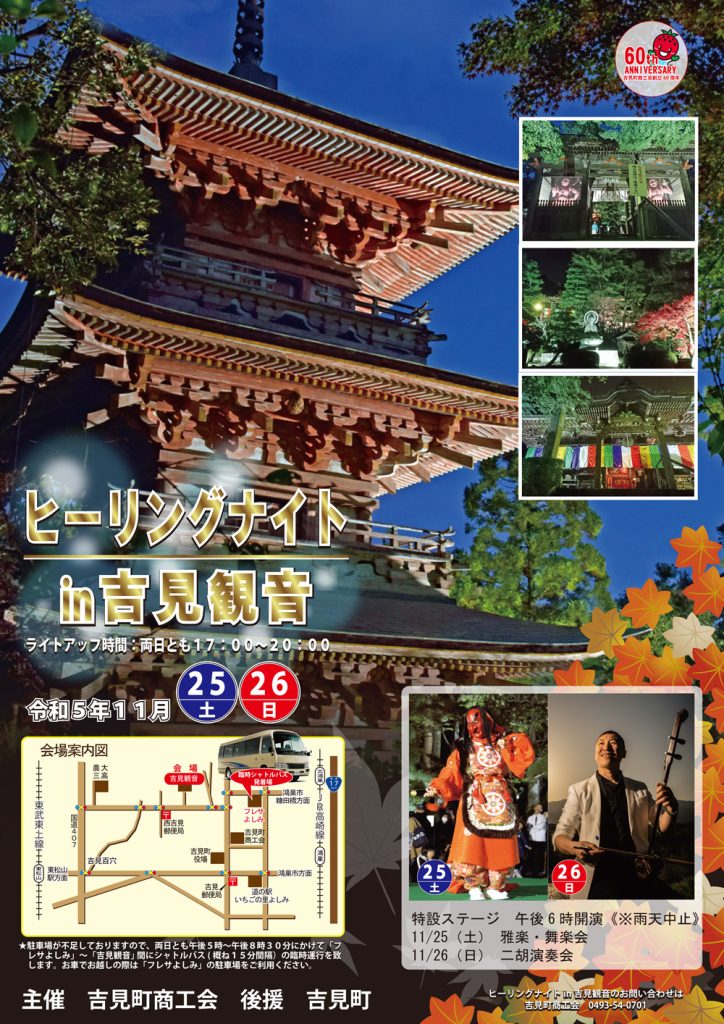 Their most famous event is probably the "healing night" held annually in November while the autumn leaves are in their prime. It wasn't on at all during the pandemic, but it will be on in 2023 for the first time in four years. The event used to be run with Hatchoko park which also used to have light up for the occasion. However, currently, there is no mention of light up in Hatchoko park. But Yoshimi Kannon will light up the temple and pagoda for two nights for this event and there are special performances each night. In 2023, the dates are Saturday November 25th and Sunday November 26th, from 5 p m to 8 pm. The performances are on at 6 pm, weather permitting. Official event page.
Another notable temple in Yoshimi: Iwamuro Kannon.
Yoshimi Kannon Information
Address:
374 Gosho, Yoshimi, Hiki District, Saitama 355-0151
Phone:
0493-54-2898
Hours:
Summer 8 am to 5 pm
Winter 9 am to 4 pm
Cost:
Free to enter, amulets 100 yen
Online:
Official website
Yoshimi Kannon Access
The temple is located on the side of a hill with only narrow roads surrounding it. As such, it is difficult to get to by car and there are only parking spots for about five cars on the west side. However, on a subsequent visit I found the two other car parks (see kawazu paragraph)!! And one of them is very large. They are south of the temple gate, just off route 271. Another option if you come by car is to park by Hatchoko park and walk about ten minutes to the temple.
By public transport it is also quite tricky to get to this temple. The nearest station is Higashimatsuyama station on the Tobu Tojo line. From that station you would need to take a bus because on foot it would take about an hour.
Don't miss: the nearby Natural Cafe Sora, which is a very popular local cafe and one kids adore.
Resources
There is very little online in English about Yoshimi Temple that I could find. I did find these two brief articles: