Annual information for the Ashigakubo Icicles in Yokoze Town, one of the "three great icicles of Chichibu", along with Onouchi and Misotsuchi Icicles.
The icicles are open to the public from early January to mid February annually. However, there are years when the weather interferes! For example, in 2020, due to warmer than normal weather, the event ended up starting late and ending early. In 2021 they started on time, but finished up early also due to warm weather melting the icicles. However, in 2022, the icicles enjoyed their best year ever, according to the Yokoze Tourist Association. Subsequently, they actually extended the period of viewing until the end of February due to the excellent condition of the icicles.
Unlike Misotsuchi icicles, the Ashigakubo icicles were not lit up in January and February 2021, due to a State of Emergency in the prefecture at the time. However, they lit up the icicles in 2022. Moreover, for the first time ever, they lit up the icicles in the morning so that passengers of the Laview Express train could enjoy the stunning scenery in passing. In 2023 once again, like in 2022, you will need to book in advance for the light up (no reservation required for a day time visit). However, if you come by Seibu Railway, you don't need an advance reservation. This year, they are distributing a numbered ticket between 4 pm and 7.25 pm on Saturdays and Sundays at the station to people who arrive by (Seibu Railway) train.
For those coming by car or on the free shuttle bus from Yokoze station, booking form here. No booking required for anyone on Friday nights. More information below. Please note there will be no light up on Friday February 10th due to the snow. In addition, the icicles will open at the later time of 1 pm on Saturday the 11th.
Ashigakubo 2023
The Ashigakubo icicles are the baby in the family of the "3 great icicles of Chichibu". They were only discovered seven or eight years ago. Already they are attracting lots of visitors and lots of attention. They are not entirely natural – the locals help to create the scene in collaboration with Mother Nature! One of the icicles is 200 meters high and 30 meters wide.
There is a one way system to viewing the icicles which every visitor is expected to respect. There are areas where you can and can't use tripods to take photos, which are marked at the site. In both 2021 and 2022, on account of the pandemic, the organizers requested that people stay no longer than one hour. Currently there is no such stipulation for 2023. But they have said there maybe incidences were you may have to wait to enter if the number of visitors is high.
The (free) provision of tea and amazake was suspended in 2021 in a bid to prevent the spread of coronavirus. However, they brought the "service" back in 2022. But in 2022 it was just available during the day, until 4 pm. The finer details for 2023 have not yet been released, but presumably they will provide this service in 2023. If so, they will distribute Yokoze amazake or black tea until it runs out. (Limited number each day).
Light up
The town are planning to light up the icicles again in 2023. Until this year the light up was only on Saturdays, Sundays and public holidays during the period for the icicles formation. However, in 2023, they are planning to light up the icicles on Fridays too. But another change that was introduced during the pandemic was the need to make a reservation for the light up. That is the same in 2023. However, this year you only need to make a reservation if you are coming by car. Moreover, you don't need a reservation for Friday nights. They say the best viewing of the light up is around 5.30 pm during January and after 6 pm in February.
Usually during the last weekend of January and the first weekend of February they have additional special events on at the icicles. For example, in 2020 they had a special projection mapping event. Tickets for special events often cost extra per person. However, most years they also have a few live performances with no extra cost. In 2021 they had a mini concert on February 6th at 1 pm, 3 pm and 6.15 pm. As of December 13th 2022, the additional events have not yet been announced.
In 2022, Yokoze town introduced a special collaboration with the Seibu Chichibu line. It is not yet known if this event will be back in 2023:
Extra trains on Seibu Line
Last year (2022) there was a special morning light up event for train users only. However, there is currently no information for such an event in 2023. But Seibu Railway will put on extra limited express trains during the period of the icicles to accommodate visitors.
Free Shuttle Bus
In 2023, there is a free shuttle bus on Saturdays, Sundays and public holidays only. The timetable is here. You can get it from either:
Yokoze Station
Komatsuzawa Leisure Farm
Buko Hot spring
It is a loop bus, so it goes from Yokoze station to the icicles, from the icicles to Komatsuzawa Leisure Farm, from the farm to Buko Onsen and from Buko onsen back to the station.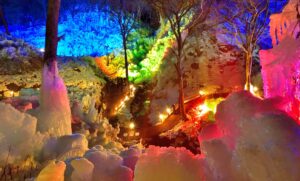 Ashigakubo Icicles 2023 information
Booking is required to visit the light up on Saturday and Sunday nights only, if you are coming by car or by shuttle bus. The reservation page for January 2023 was launched on December 14th 2022.
>>You might also like: NAKED Night Walk in Chichibu<<
Dates
**Please note there will be no light up on February 10th and the icicles will open late (1 pm) on the 11th due to the snow.*
The icicles are generally open to the public from the first week in January to the last week in February. Yokoze town have set the dates for 2023 as from Saturday January 7th to public holiday Thursday February 23rd 2023. Light up on the Friday, Saturday and Sunday nights, unless there is bad weather.
Hours
They have confirmed that in 2023 the icicles will be open to the public daily from 9 am to 4 pm. And until 8 pm on weekends for the light up. Moreover in 2023, they are also planning to open late on Friday nights. In January the light up starts around 5 pm and from around 6 pm in February.
In 2022 for the first time, the icicles were lit up until midnight and again from 5 am to 7 am for passengers of Laview to enjoy a view from the train. It is not yet known if they are planning this for 2023.
Cost
The price went up in 2022 season, but there is no change in 2023. To visit during the day, anyone over the age of six is charged 400 yen (it used to be 300 yen). At night, tickets cost 500 yen for anyone over 12 years old. The price for elementary school aged children at night is 300 yen. There is no charge for children under seven years old, either by day or night.
The three great icicles of Chichibu
Ashigakubo Icicles are just one of "three great icicles of Chichibu". The other two are Misotsuchi and Onouchi Icicles. Misotsuchi are the only completely natural icicles of all three. Although all three are in the Chichibu area, they are very far apart. It takes about an hour to get from one to the other. But if you are travelling by car you can in theory visit all three icicles in the same day.
Ashigakubo Icicles Access
Address: Ashigakubo, Yokoze, Chichibu District, Saitama 368-0071. View on Google Maps.
Phone: +81494250450
The location is easier to get to than the better known Misotsuchi Icicles in neighbouring Chichibu, as unlike Misotsuchi these icicles are located relatively close to a train station. The Ashigakubo station, which is on the Seibu Chichibu Line, is about a ten to fifteen minute walk from the icicles.
In 2023, there is a free shuttle bus from / to Yokoze Station on Saturdays and Sundays only. Please see the paragraph above the "Information" title. It takes about 25 minutes to get to the icicles from Yokoze station on the loop bus.
The main car park for the event is the "Dai ni" parking, which is about a ten minute walk from the icicles. It is located at Roadside Station Orchard park 道の駅果樹公園あしがくぼ, beside the station. There is parking for about 100 cars and it is free.
Japan Travel have a detailed and enthusiastic report of an outing to the icicles (I have no affiliation to this website When I first wrote about the icicles I had no affiliation, but I do write for Japan Travel now! I linked this article before I worked for them).
First published in January 2017, republished December 2017, November 2018, October 2019, April 2020. December 2020. Last republish October 2021. Last update December 14th 2022.
Misotsuchi Icicles
Onouchi Hyakkei Icicles