Suneori Amagoi Rain Praying Festival in Tsurugashima City in the Western area of Saitama within commutable distance of Tokyo.
Suneori Amagoi
The Suneori Amagoi Rain Praying Festival, which started in 1781, holds a number of cultural and festival accolades. The awards include the prestigious and coveted city designated intangible folk cultural asset. Another is the equally distinguished grand prize for the best hometown events. The Japanese Government bestowed both of these awards.
Unique traditional festival
"Where can I see a unique Japanese traditional festival near Tokyo?" One of the most unique festivals is the Suneori Amagoi Rain Praying Festival. In addition, it is one worth going out of your way to see. What makes it even more special is its exclusivity – it only happens once every four years.
In recent years, due to a decline in the number of farmers, the rain praying festival is only on once every four years. Moreover, due to the rarity of this event and the amount of preparation put into it, it goes ahead regardless of weather. However, the last one was supposed to be in 2020, but due to the Coronavirus it was cancelled. The Saitama Tourism website, Sai-no-kuni Kanko, calculated that about 30,000 people attended the last festival in 2016. Far too many to practice social distancing. Tsurugashima City still hasn't decided the date for the next festival. However, they announced on their website in January 2021 that they will have a meeting soon to decide. Watch this space!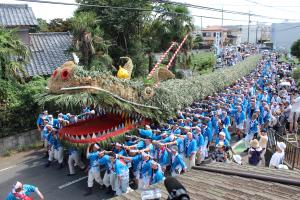 Rain Praying Festival
This rain praying festival involves 300 men carrying a 36 meter long 3 ton giant dragon God made of bamboo and straw. Moreover, they carry it two kilometers to a pond: Tsurugashima's Kandachiga pond. The ritual for rain is at the pond.
The 300 dragon bearers wear traditional Japanese happi coats. Amazingly, the participants of the rain making festival make the dragon from scratch each year of the festival. This is because at the end of the rain ritual in the pond, the participants destroy the dragon to incite the God's anger. They believe this to evoke thunderstorms, leading to rain.
You can read more about the history and meaning of this unique festival in detail, in English, on the Tsurugashima City website.
International Exchange Fair
Coinciding with this rare and fascinating festival is an International Exchange Fair at Wakaba Station. Wakaba station is also the station you use to get to Suneori Amagoi Festival.
The next Suneori Amagoi
In 2020, the festival was scheduled for the month of September. It is normally on in August. The date was changed to September to coincide with the Olympics. However, it is not yet known if they will reschedule last year's event or skip it. In other words, they may decide to wait until 2024. As mentioned above, they are hoping to make a decision within the coming weeks (January 2021).
If it is once again scheduled to coincide with the Olympics, it maybe on in August (rather than September) again. The Tokyo 2020 Olympics Golf course, Kasumigaseki Country Club is relatively close the festival site. In the nearby city of Kawagoe. If golf contestants or spectators want to enjoy a quintessential yet extraordinary Japanese festival this is one to bookmark for your trip to Japan.
Rain Praying Festival Information
Time: 1 pm to 5 pm
Where: The area from Shirahige Shrine to Kandachiga Pond, Tsurugashima City, Saitama
Access: Approximately 43 minutes from Ikebukuro Station in Tokyo. 15 minute walk from Tobu Tojo Line Wakaba Station. See maps and access photos below
If you can't make the festival, don't worry – you can watch it live on https://www.ustream.tv/channnel/tsurugashimacity-tv
If you understand Japanese, here is a video about the festival and its background. Below that is a nice piece with English subtitles.
ACCESS
Access guide to Tsurugashima from the Tsurugashima Official Website: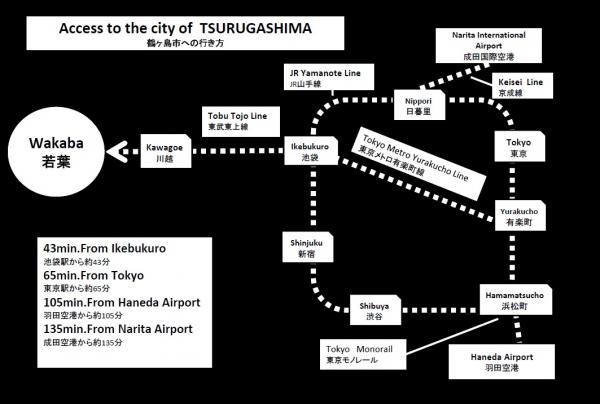 On Google Maps
©insaitama.com 2008 - 2021