The Misato "Big Bon" dance festival is held annually on August 11th, a public holiday for mountain day. It takes place in Niodori Park in Misato City, near Misato Chuo Station on the Tsukuba Express line. The dance festival starts at 4 pm and ends around 8.30 pm. However, in 2020, due to the Coronavirus outbreak the event has been cancelled.
In 2020 they cancelled the event on account of the Coronavirus outbreak. The prefecture cancelled several events in Misato, and throughout Saitama, during the summer of 2020 due to the pandemic. Its to early to tell what will happen in 2021, but please do check with the official website for the most up-to-date information.
Big Bon 2021 information
Currently (October 2020) the finer details for 2021 are not yet available. Generally it starts around 4 pm. And usually they have a children's dance section from 5.40 pm for about 20 minutes.
Official website (Japanese language only)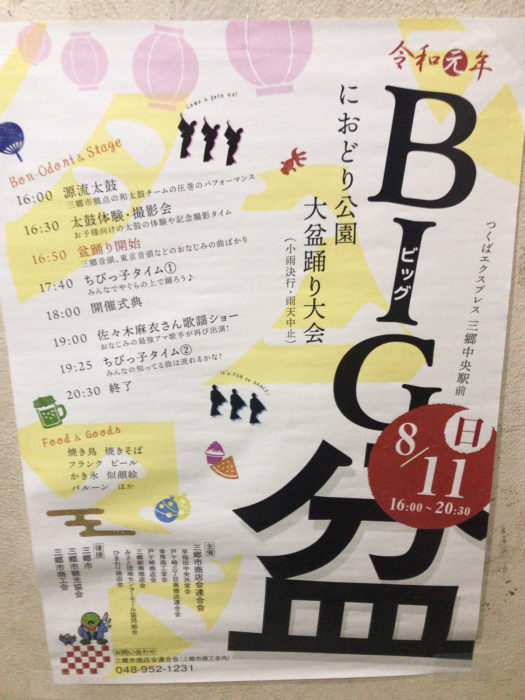 Niodori Park Access
They hold the Big Bon dance festival in Niodori Park which is beside the Metropolitan Intercity Railway Company's Tsukuba Express (Tx)'s Misato Chuo Station. The map is shown in the grey details box below the related events.
For more events in Saitama, please see the main events calendar.