The very first night illumination I went to in Saitama, at least ten years ago, was at the Keyaki Hiroba in Saitama Shintoshin. At the time it was one of only a handful of places that had a large scale night illumination display in Saitama. I had moved from Mito City in Ibaraki which lit up the train station each year, but Keyaki had a completely different feel and I was quite awed by it. It felt quite Christmassy for the first time in all my years in Japan.
Saitama Shintoshin Illumination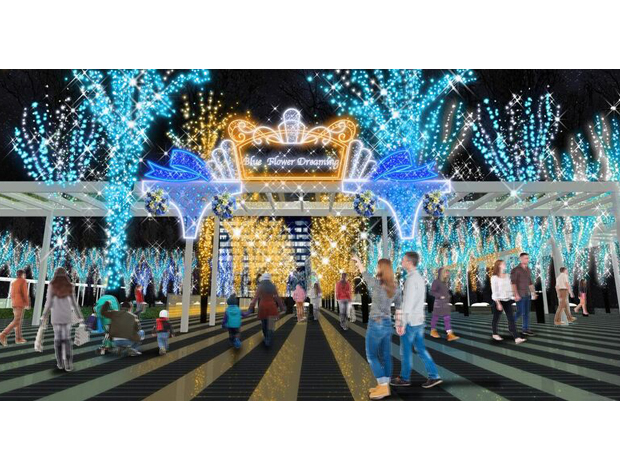 Every year Keyaki Hiroba at Saitama Shintoshin has winter illumination. The theme and name of the illumination changes each year. But for the last few years Keyaki Hiroba's winter illumination has remained one of the most popular in Saitama. About 150 trees are decorated in blue, white and champagne gold lights. They normally use about half a million lights, but this year they are using 200,000. The displays are set to music.
Each year they also normally have a switch on event with special guests and live performances. For the opening night only, the lights get switched on at 6pm, after a special ceremony. All other nights it gets turned on at 5 pm. They usually have live music and special guests for the opening night event.
2021 / 2022 Information
There was a rumor that the Keyaki Hiroba Illumination would not be on in 2021 〜 2022. Furthermore, a few large website's reported it as cancelled this year. However, I am delighted to announce the rumors are not true and the date has been set for 2021 ~ 2022. The dates are from Saturday November 13th to Monday February 14th 2022. The name of the display in 2021/22 is actually the same as last year "Shining Flyway, the Blue Forest".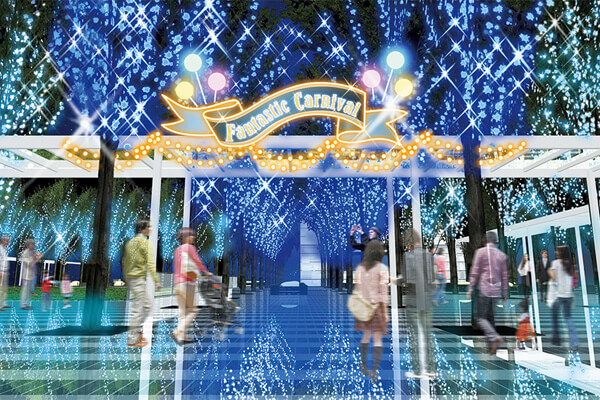 Normally, there are a number of other events running in conjunction with this event. For example, the Keyaki Hiroba Christmas Market that starts annually from November 25th. Also, there is normally Christmas concerts during the month of December. All of these are subject to the situation with the pandemic in 2021 / 2022.
Names of some of the displays in previous years:
2020 ~ 2021 : "Shining Flyway the Blue Forest"
2019 ~ 2020 : "Fantastic Carnival"
2018 ~ 2019 : "Fantastic Carnival Magic Box"
2017 ~ 2018 : "Blue Flower Dreaming"
2013 ~ 2014 : "Blue lights symphony" :
Winter Illumination at Keyaki Hiroba Access
Date: Saturday November 13th 2021 to Monday February 14th 2022.
Please note that last winter, 2020 ~ 2021, the event was cancelled half way through due to a State of Emergency in January and February of 2021. So there is a possibility something similar might happen in 2022.
Place: The area of keyabi hiroba which is between Saitama Shintoshin and Saitama super arena
Hours: 5 pm to midnight
Price: Free
Parking: 400 yen for the 1st hour, 200 yen for each subsequent half hour. If you spend over 2,000 yen you get 2 hours free.
Address: 2-27 Kamiochiai, Chuo Ward, Saitama City 338-001
URL: Official website – please do always check with the official website for any last minute changes
Phone: 048-600-0070
Access: 2 minute walk from JR Saitama shintoshin Station, about a 7 minute walk from JR Kitayono Station