The very first night illumination I went to in Saitama, many years ago, was at the Keyaki Hiroba in Saitama Shintoshin. At the time it was one of only a handful of places that had a large scale night illumination display in Saitama. I had moved from Mito City in Ibaraki, which lit up the train station each year, but Keyaki had a completely different feel and I was quite awed by it. It felt quite Christmassy for the first time in all my years in Japan. I've been back several times since, but many larger displays have been introduced since then. However, it still remains one of Saitama's most popular according to online reviews.
Saitama Shintoshin Illumination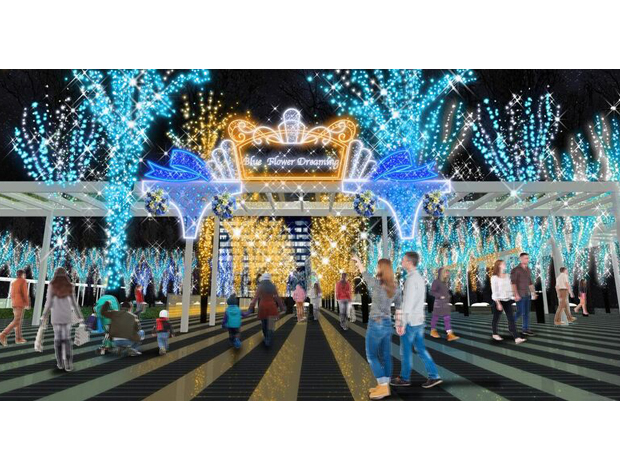 Every year Keyaki Hiroba at Saitama Shintoshin (Tamaari Town*) has winter illumination. The theme and name of the illumination usually changes each year. However, in 2023 it is the same as 2022: "Brilliant Earth Garden". The Keyaki Hiroba's winter illumination has remained one of the most popular in Saitama, several online event sites, such as Jorudan, list it as the most popular in all of Saitama Prefecture. Even though its actually not that large in the greater scale of things. But it is easy to access and beside a shopping mall which has even more illumination, as well as Christmas events.
*Saitama Shintoshin remarketed themselves as Tamaari Town a few years ago. The name hasn't really stuck colloquially, but it is used in the official names of events.
Keyaki Illumination
Overall more than half a million lights are used in Saitama Shintoshin, with about 200,000 in the Keyaki Hiroba area. The trees in the hiroba, about 150 of them are decorated in blue, white and champagne gold lights, but blue will be the dominant color in 2023, inspired by the 'beautiful blue earth'. The displays are set to music.
Each year they also have a switch on event with special guests and live performances. For the opening night only, they switch the lights on at 5.30 pm, after a special ceremony. All other nights they turn it on at 5 pm. They usually have live music and special guests for the opening night event. In 2023, the opening event is on November 11th from 4.40 pm. You need to pick up a participation ticket which they distribute from 3 pm that day. The special guest in 2023 is Youtuber pianist Yomii.
2023 / 2024 Information
The dates for winter 2023 to 2024 are from Saturday November 11th 2023 to Wednesday February 14th 2024. This event actually always finishes on Valentine's night, February 14th.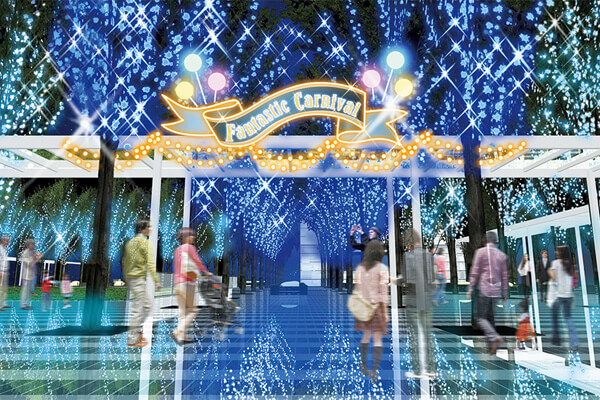 In addition, there are a number of other events running in conjunction with this event. For example, the Keyaki Hiroba Christmas Market is on the two weeks before Christmas. In 2022, it was a "very berry Christmas Market" that proved very popular. But this year they have changed the name again and its actually on for a shorter period of time than last year and much shorter than pre-pandemic. They will have some Christmas concerts during the month of December too. There are even more Christmas events in Cocoon City, which is right beside Keyaki Hiroba.
Names of some of the displays in previous years:
2021 ~ 2022: was uncharacteristically a repeat of the previous year! "Shining Flyway the Blue Forest"
2020 ~ 2021 : "Shining Flyway the Blue Forest"
2019 ~ 2020 : "Fantastic Carnival"
2018 ~ 2019 : "Fantastic Carnival Magic Box"
2017 ~ 2018 : "Blue Flower Dreaming"
2013 ~ 2014 : "Blue lights symphony" :
Winter Illumination at Keyaki Hiroba
Event: Tamari Town (Saitama Shintoshin) Keyaki Hiroba Illumination たまアリ△タウン けやきひろばイルミネーション
Date: Saturday November 11th 2023 to Wednesday February 14th 2024.
Hours: 5 pm to midnight
Cost: there is no admission fee
Venue: Keyaki Hiroba (which is between Saitama Shintoshin and Saitama super arena), 2-27 Kamiochiai, Chuo Ward, Saitama City 338-001 Japan. Map below access information. Phone: 048-600-0070
Access
Tamaari Town Keyaki Hiroba is about a two minute walk from JR Saitama shintoshin Station and about a 7 minute walk from JR Kitayono Station. If you come by car, parking is available. It is charged: 400 yen for the 1st hour, 200 yen for each subsequent half hour. If you spend over 2,000 yen you get 2 hours free. Please do check with the official website for the most up to date parking charges.
First published in Autumn 2013, updated every year since. First complete republish October 18th 2022!