The plum blossom grove at Chichibu Muse Park is particularly beautiful. There is something about it and Shinrin Park's plum blossom grove that sets them apart from the other "bairin", plum blossom groves, in Saitama Prefecture. Possibly, the clever design that makes them more picture perfect than others. And in the case of Chichibu Muse Park's plum blossom grove, it is on the side of a hill with a great view of Saitama below. It would seem I am not the only person that holds it in high regard; Chichibu's plum blossom grove gets rave reviews online in the Japanese language.
Chichibu Plum Blossoms
The plum blossoms in Chichibu Muse Park tend to bloom a little later than the rest of Saitama. Generally from mid February to mid March. Prime viewing is normally the end of February to early March. The last time we visited the area on March 31st 2019 there were still some plum blossoms in bloom. We were fortunate enough to be able to see both plum blossoms and cherry blossoms bloom at the same time.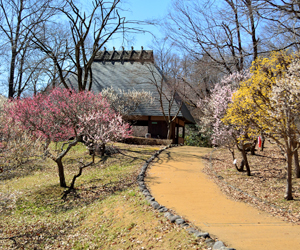 Chichibu Muse Park is one of the main places to see plum blossoms in the Chichibu area of Saitama Prefecture. There is also a lovely plum blossom grove on Hodosan in Nagatoro, another area of the Chichibu district. Unlike some parks that just have plum blossoms grove, both Chichibu Muse Park and Hodosan, both actually have a plum blossom grove. The plum blossom grove of Chichibu Muse Park has approximately 600 plum blossoms of 15 different varieties, including a lesser seen yellow colored ume. The grove is spread over 1.5 hectares. It is highly regarded within Saitama Prefecture.
Plum blossom festival
During the season, Chichibu Muse Park normally have a plum blossom festival on the first Sunday of March. However, it hasn't been on since the pandemic began. Moreover, in 2023 they are doing it a different way to normal. Rather than a one day festival, what they will do is have kitchen cars at the grove on Saturdays and Sundays that the plum blossoms are in bloom.
Worth the trip!
This year there is a brand new winter illumination in conjunction with NAKED Inc about a ten minute drive away from the plum blossom grove. So if you ever thought about going to see the plum blossoms in Chichibu, but didn't want to go all that way just for "ume", now you can combine a trip with an unique illumination event! Although, in all honesty, the park in itself is more than enough with all it has to offer. There is plenty to do for families at the park, there is even accommodation there and dozens of activities. Read more general information about the park here.
For even more plum blossom locations in Saitama Prefecture, check out 10 places for plum blossoms in Saitama.
Information for Chichibu Plum Blossoms
| | |
| --- | --- |
| Address: | Chichibu Muse Park Plum Blossom Grove, Terao, Chichibu, Saitama 368-0056 |
| Phone: | 0494-25-1315 |
| Hours: | 24 hours, but the parking lots close overnight |
| Cost: | Free |
| Online: | Official website |
Access
If at all possible, Chichibu is best visited by car. There is a bus to Chichibu Muse Park from Seibu Chichibu staion. However, as the park is expansive and if you plan to see more than just the plum blossoms it is handy to be able to drive between the car parks. There are at least 12 car parks in Chichibu Muse Park! All are free. The nearest car park to the plum blossom grove is the "Umezono" car park. However, there are only 12 car parking spaces there. "Hyakkaen" car park is relatively near and there are 57 car parking spaces in that parking lot.
chichibu-muse-park-plum-blossom-festival-2020