Last year the Tamaari Town Christmas market was on for the first time in three years. It had a complete makeover and even a new name: "A very berry Christmas Market!" In 2023, it will be more like pre pandemic, but it is on for a shorter period than before.
The Tamaari Town Christmas market, formerly known as the Keyaki Hiroba Christmas market, is one of Saitama Shintoshin's annual Christmas events. I know it gets very confusing with all the different names – Tamaari Town is another name for Saitama Shintoshin and it is used in the name of most official events. This year the theme is "warm Christmas food", with Christmas food from different countries, with a big emphasis on Europe. In addition, this year (2023) they are introducing a 'gorgeous' Christmas tree in the market area, for the first time.
Christmas Market Saitama
Before the pandemic, the annual Christmas market in Saitama Shintoshin opened for business on bank holiday November 23rd annually. With a pre-party the night before, November 22nd from 5 pm. However, things have changed quite a lot in the past four years. For example, the market is now much shorter since 2020. In 2023, it won't start until December 15th, a week later than 2022, and it finishes on Christmas Day. They introduced the idea of a different "theme" a couple of years ago. This year's theme is 'warm Christmas food'. The location is actually the same though, despite the name change the market is still held at the Keyaki Hiroba.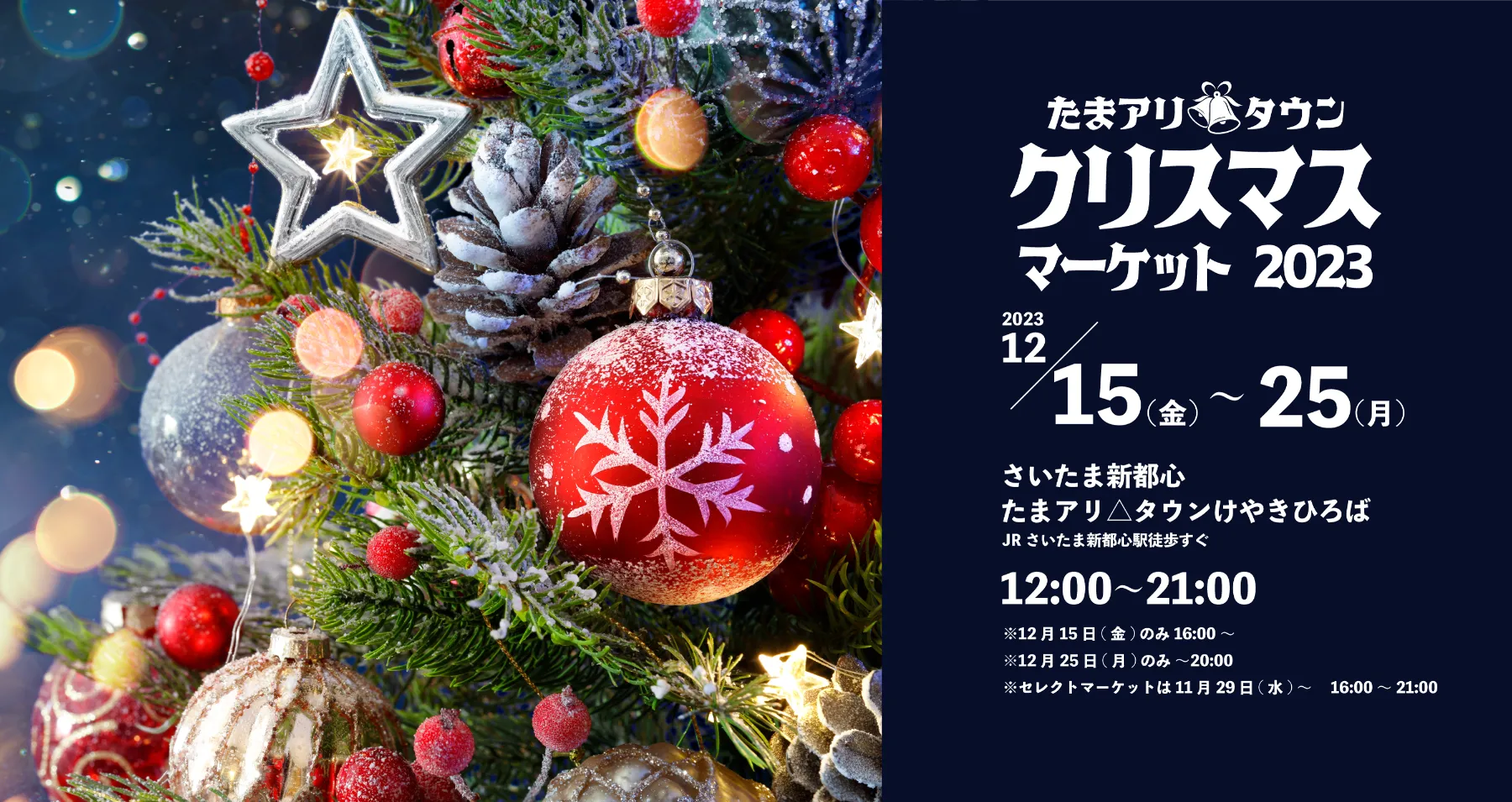 Before the pandemic the main focus of the market was more Christmas goods. But in 2022 they switched the focus of the market to food and drink. They did have Christmas ornaments, trinkets and other Christmas related goods too, including Christmas teddy bears. In 2023, they plan to have 'a unique Christmas lineup that everyone from children to adults can enjoy'.
Food will include roast chicken and warm soups that are perfect for the cold season. They will have mulled wine and craft beer to liven up the party season, and sweets that are fun to look at and delicious to eat. A new "Select Market" with European miscellaneous goods and Christmas goods and a gorgeous Christmas tree will also be available at the venue! The Select Market will actually start earlier than the rest of the Christmas market, on Wednesday November 29th from 4 pm to 9 pm.
Events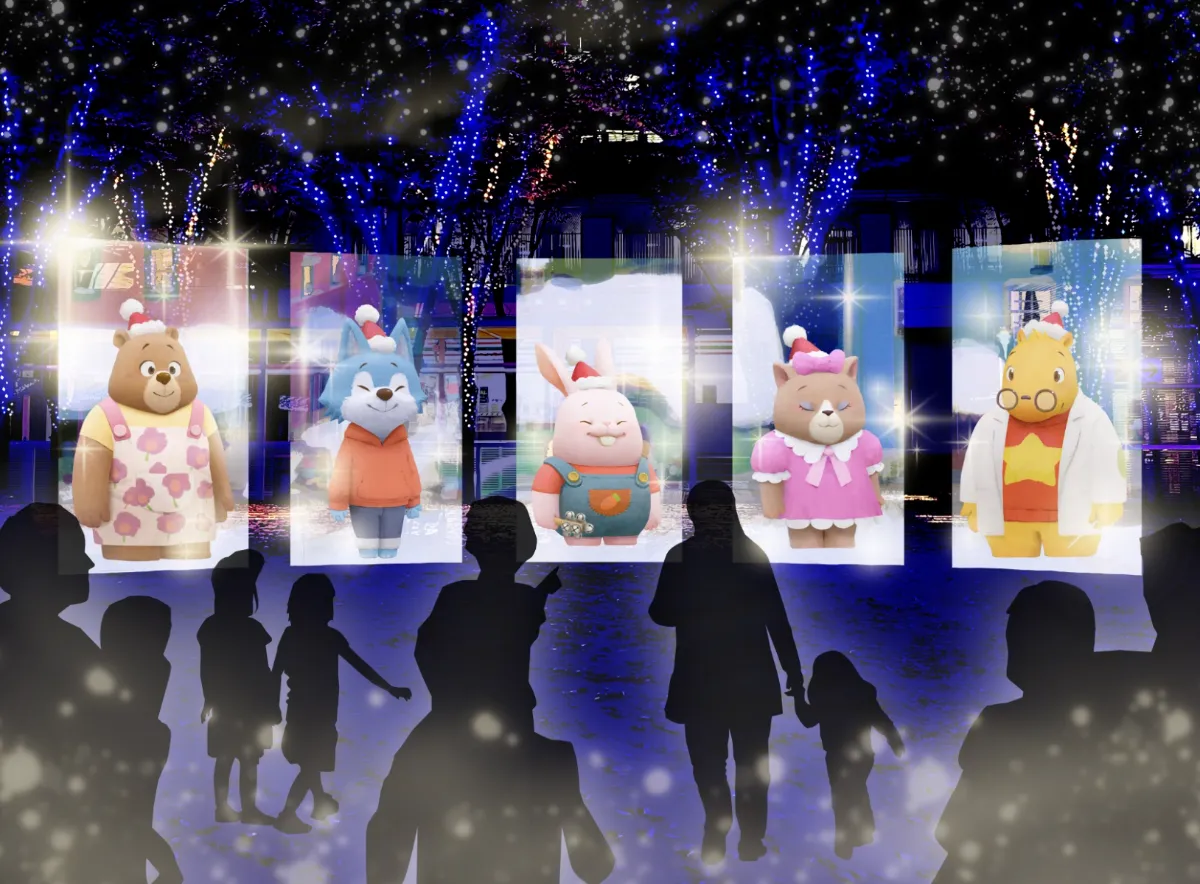 The area also has illumination display which starts this week and will run until February 2024. As part of the illumination event, Keyaki Hiroba have Christmas concerts in December. In addition, next door in Cocoon City there is further illumination and dozens of Christmas events.
The additional events in 2023 at Tamaari town are not yet known. In 2022, they had a special collaboration with the book Doctor Baku's Christmas Choir. The characters of the Doctor Baku book performed Christmas songs in a projection mapping show. They also had a pop up Steiff Teddy Bear Museum at the market. From Monday December 12th until the last day there was also a Farmer's Market. Hopefully, the 2023 information will be available soon.
Information
Event: Tamaari Town Christmas Market たまアリ△タウンクリスマスマーケット
Dates: from Friday December 15th to Christmas Day, Monday December 25th 2023. But the 'select market' will start from Wednesday November 29th.
Hours: from noon to 9 pm. However, on the first day it won't start until 4 pm and on the last day it will finish at 8 pm.
Cost: there is free entry into the market, but of course you have to pay for food / drink / goods! Last year, if you purchased food tickets in advance, you could get either get a discount or a commemorative mug. However, 2023 information is not yet available.
Access Keyaki Hiroba Christmas market Saitama
The market is held a 2 minute walk from JR Saitama shintoshin Station. It is about a 7 minute walk from JR Kitayono Station.
Parking is available. Parking costs 400 yen for the 1st hour, 200 yen for each subsequent half hour. If you spend over 2,000 yen you get 2 hours free.
For more Christmas and seasonal events please see the main event category.
For more upcoming events in Saitama Super Arena / Saitama Shintoshin please see the Saitama Super Arena official event pages.
The feature photo at the top of the post is just a stock image by Anastasia Lavrinovich from Pixabay
First published in 2013 for the inaugural event. Republished in 2019. Republished again in 2022 due to several changes to the event, including the name of the event!