Dezome Shiki locations in Saitama Prefecture in a usual year. Unfortunately, in 2022 just as in 2021, most of the dezome shiki have been cancelled on account of the Coronavirus. But there are a couple of options, outlined below.
Happy New year! The first day of 2020, filled with anticipation and hope. I want to start off the 2020 blog posts with a post related to something I personally feel very deeply about. The work of firefighters. I have a sincere and deep admiration of every single man and woman who is drawn to this honorable vocation.
Dezome Shiki
We try to attend a dezome shiki every year out of respect for fire fighters and gratitude to the fire department. Bonus: it is a really fun family day out! This year's dezome shiki will have a particular significance to me as during 2019 I had the very great pleasure of volunteering with the Kawagoe Fire Department. (I hope to find some time to write about that – one of my top experiences of 2019).
Dezome is one of the those uniquely Japanese traditions that it can't be translated into just one word. Literally, it means "first performance"or "debut". It is usually written with shiki for ceremony. It is most commmonly used for the first fire fighter's ceremony and celebration of a New Year. For the rest of the article I just use the colloquial term Dezome instead of Dezome Shiki.
It is often translated as a New Year's parade of firefighters, which kind of fits the bill. But I've been to several dezome in Saitama over the years and they a lot of them don't actually have a parade, but some do. It is more like a blessing followed by a demonstration of the skills and work of fire fighters.
Whatever way you want to describe it, dezome is well worth seeing at least once in your lifetime. Even the smallest of dezome have some entertainment and not just a blessing of the fire fighters. Several have ladder acrobatics and most have rescue vehicles on display and some type of rescue demonstration at the very least.
Dezome 2022
Here is a list of ten places you can see Dezome in Saitama this New Year and every New Year. The dates will change for some of them New Year, which I will highlight, but some of them have a fixed annual date. The dates in the table below are specifically for 2022.
| Date | Location |
| --- | --- |
| 1. Cancelled | Iruma City |
| 2. Cancelled | Kumagaya City |
| 3. Cancelled | Tokorozawa City |
| 4. Cancelled | Sayama City |
| 5. January 8th | Kawajima Town |
| 6. January 9th | Kawagoe City |
| 7. January 7th | Saitama City, Omiya |
| 8. Cancelled | Sakado / Tsurugashima District |
| 9. Cancelled | Misato City |
| 10. Cancelled | Asaka City |
1. Iruma City Dezome
This is actually one of the Dezome that does have a parade! Each section of the Iruma City Fire Department parade in either their relevant work uniforms or full dress uniform. They have ladder acrobats and water fighting demonstrations at this dezome too. A siren will go off on the morning of the event at 8.30 am to indicate the festival is going ahead.
2. Kumagaya City Dezome
As this dezome is carried out at a shrine, it is a bit different to most other dezome in Saitama Prefecture. They do have the famous ladder acrobatics at this one. You can read more about it in English on the event post for the event on this blog.
| | |
| --- | --- |
| Date: | Annually on the fixed date of January 6th, but there will be no dezome shiki in 2022 |
| Time: | From 12.30 to 3 pm |
| Location: | Takashiro Shrine (on google maps) |
| Online: | Official event website |
3. Tokorozawa City
The Tokorozawa City new year firefighting event is quite a large one with several elements. For any fire engine lovers; there is a parade of the brigade's vehicles. There is a taiko drum performance and local kindergarten music performance too. It takes place in the beautiful, family friendly and engaging Tokorozawa Aviation Memorial Park.
4. Sayama City
One of at least two fire fighting parades in Sayama City. The main one happens annually on January 4th. This one on January 11th is at Kami Okudomi Undo park along the Iruma river. 14 fire trucks will be on display and there are several demonstrations including one with a helicopter.
5. Kawajima Town
Another with a helicopter rescue demonstration is the one in Heisei no Mori Park in Kawajima Town. They have several rescue demonstrations as well as traditional performances such as shishimae. The town's mascots are also on site for photo ops. However, in 2022 they are only having the ceremony and there will be no spectators allowed.
6. Kawagoe City
Kawajima, although its own town, is actually part of the Kawagoe Fire Brigade. The main branch is in Kawagoe. The fire brigade's new year celebrations takes place in a few areas, with the main area around the Kawagoe City Hall. There they perform the ladder acrobats, which really have to be seen to be believed! There is also a water jet show and helicopter display at this annual dezome shiki. Currently this is one of only a handful of dezome shiki that is scheduled to go ahead, with spectators, in 2022 despite the coronavirus.
7. Omiya, Saitama City Dezome
Saitama City is the capital of Saitama Prefecture. It used to be called Omiya, which is still an area within Saitama City. The Omiya dezome is, not surprisingly, one of the largest in Saitama prefecture. However, it is not particularly long despite that. It is also one of only a few that takes place at a fire station, but in 2022 it will not be open to a live audience. However, you can watch it live on Youtube.
8. Sakado / Tsurugashima Dezome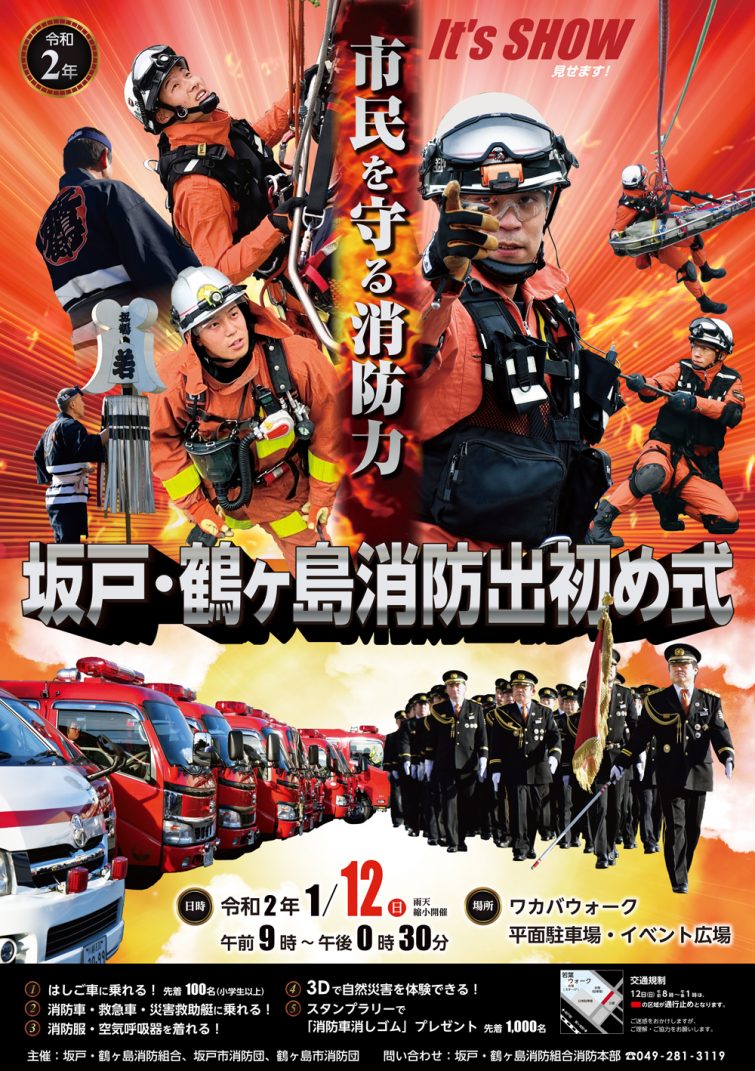 Sakado / Tsurugashima District Dezome is another large fire fighter ceremony in Saitama Prefecture. It is also one of the longest, starting at 9 am and finishing up around 12.30 pm. They have virtual reality booths as well as several other events not available at other dezome around the prefecture. Initially it was scheduled for January 9th in 2022, but they subsequently cancelled the event.
9. Misato
This is the only one that has an English language web page! From the website:
Special performances by the firefighters, Kiyari (work song for carrying heavy logs) and Hashigo-nori (acrobatic performance atop ladders) by Misato Tobi Association (scaffolders), demonstrations by children/ students of municipal elementary / junior high schools, appearance of MIKA+RIKA the Misato City PR ambassador, and more

Misato City website
10. Asaka City Dezome
The Asaka City firefighters new year celebration takes part around the Asaka City Hall. Like several other of the dezome shiki, it will not go ahead in the event of rain.
I hope you can make it to a dezome shiki near you this year. There are a few other that didn't make it on the list, because they only had very basic information online. For example, Toda City which has its dezome on January 12th. Please note heavy rain and / or snow fall will effect the line up of these events. There may also be cancellations. Please do check with the official websites for any last minute changes.
Pin This!