"Exploring the dinosaur era from teeth" ~ A special exhibition, in celebration of the 30th anniversary of the Sayama City Museum.
Exhibition Exploring the dinosaur era from teeth
In conjunction with the Food and Agriculture Museum connected to the Tokyo University of Agriculture, Sayama City Museum's summer exhibition will open on Saturday 26th of June. Each year during summer the museum hosts children friendly exhibitions. They opted for a dinosaur exhibition for their 30th anniversary due to the popularity of dinosaurs among children.
During the period of the exhibit there will be crafting workshops on weekends and public holidays and the week of Obon (August 11th to 19th) only. We have participated in these a few times over the years. They are done very well. The ever popular sand art craft is a regular fixture over summer holidays. This year they will also have wind chime and cardboard dinosaur crafts.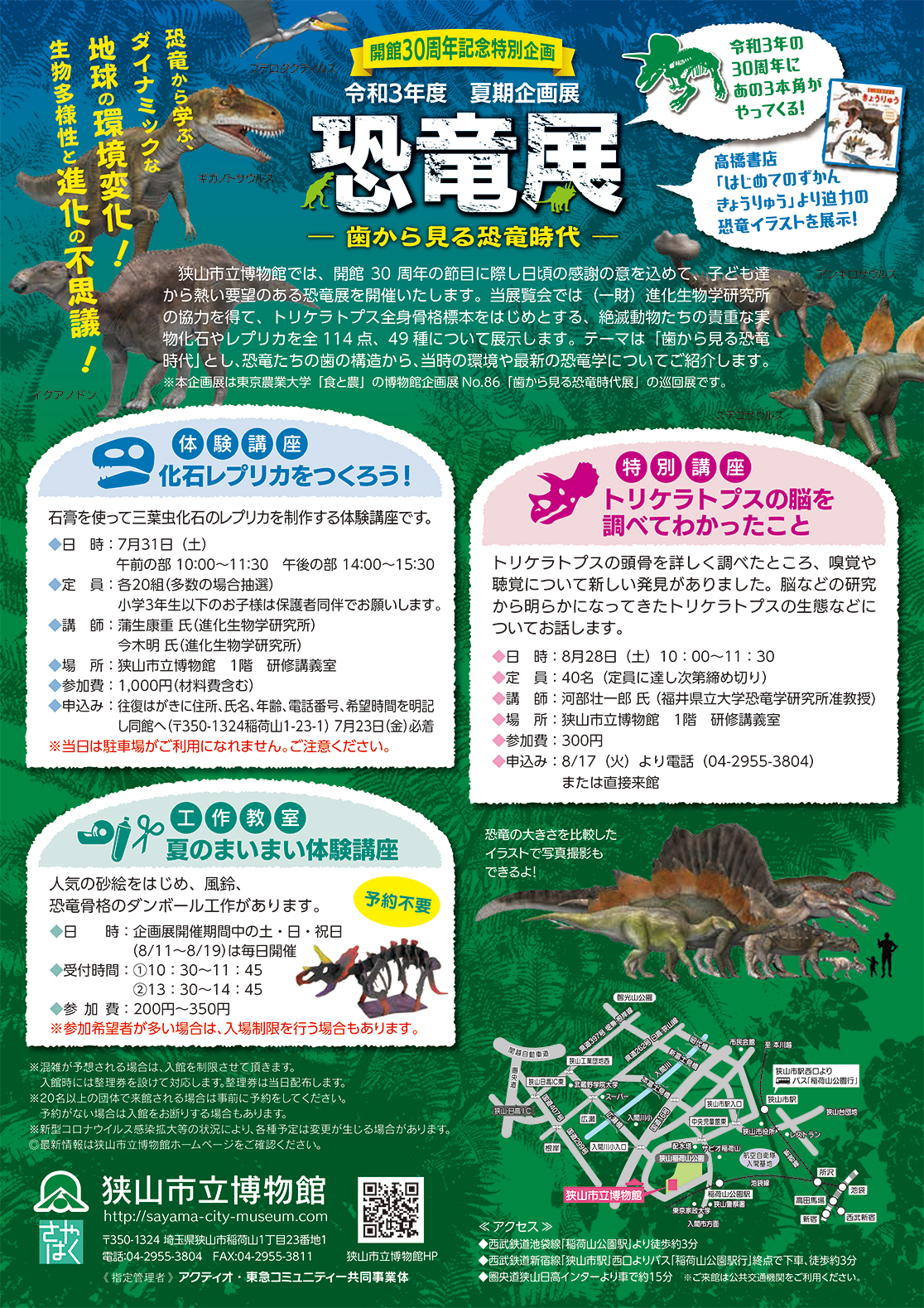 The entrance fee to the museum has doubled since the last summer exhibition in 2019. It now costs 300 yen per adult. There is no charge for children, but if they want to participate in a workshop it costs between 200 and 350 yen per child.
Sayama Municipal Museum
Please note that the Sayama museum is closed on Mondays.
Sayama Municipal Museum is a medium sized museum in Inariyama Park in Sayama City, Saitama Prefecture. On the upper floor there is a permanent exhibition room. The hall on the first floor and part of the second floor are used for the travelling exhibits. They have several exhibitions during the year. The one in the summer tends to cater to children. They've had some really excellent ones in the past, but unfortunately last year's was a bit of a flop.
Access: The museum is a 3 minute walk from the Inariyama kouen station on the Seibu Ikebukuro Line. You can also get a bus from the west exit of the Seibu Shinjuku Line Sayama City Station to Inariyama Park and walk to the museum.
If you are coming by car; the museum is about fifteen minutes from the Sayama Interchange of the Ken-o expressway or 20 minutes from the Kawagoe Interchange of the Kanetsu expressway. The museum and the restaurant share parking and it is free. Spaces are quite limited in the car park beside the museum, so it is not uncommon to have to wait for a parking space to come free. However, you can also use the park's car park and walk over.
Official exhibition event information (Japanese language)
Previous: The Beauty of Japanese Swords, January to February 2020