A Santa Festival of sorts – 200 Santa on the loose in Tokorozawa, find them for a prize!
Santa Festival
Back in 2013 I wrote about the unusual "only in Japan" places you could meet Santa. One of the places on the list was this "Find Santa" event in Tokorozawa which thankfully still exists today. But it has evolved into somewhat of a Santa Festival, although they don't call it that! But there are Santa impersonators here, there and everywhere! Find 200 Santa on the streets of Tokorozawa! Actually, you don't have to find all 200, just the ones that are on your bingo card. If you get BINGO you get a small prize. It is a hugely popular event, so much so they prepare 2000 bingo cards, that has been running for more than 10 years in Tokorozawa.
It is the first time in three years that the event is on as 'normal', well almost normal – there will be no Santa Parade in 2022. The event was on in part last year too. But it was very different to normal and was online, specifically on a smart phone APP. This year, the festival is back on the streets. Other elements of the festival are missing in 2022 too, such as the gospel choir. But at the main festival area – Motomachi Community Square – there will be some festival games and stalls with food.
Find Santa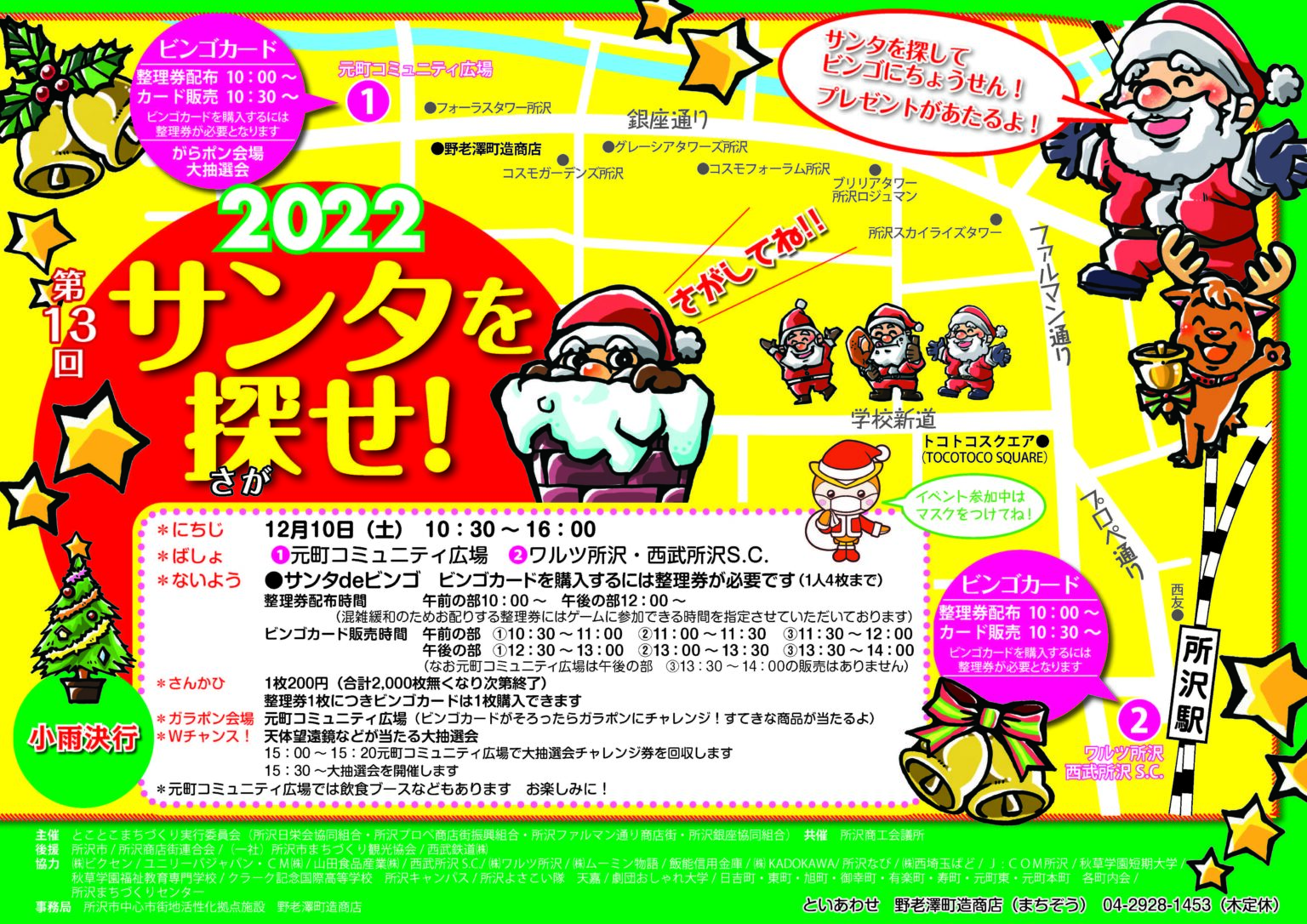 Bingo
In order to prevent a spread of Covid, participants will be grouped into small teams. Each team will be allocated a time to search for the Santa Claus with the numbers on their bingo card. In the morning there are three time slots each half hour from 10.30 am. Also, in the afternoon there are three times slots each half hour from 12.30 pm. To participate you first need to get a participation ticket, without the ticket you can't buy bingo cards. They are distributed at Motomachi Community Square and / or Waltz Tokorozawa at 10 am for the morning sessions and at noon for the afternoon sessions.
It costs 200 yen for a participation ticket which equals one bingo card. Each person can buy up to a maximum of 4 bingo cards. Proceeds from this, and several other events in the city, go to the Children's Future Fund. From 2011 until 2019 the proceeds went to Higashimatsushima city in Miyagi Prefecture, that was badly effected by the Tohoku earthquake and tsunami.
Information
Event: Find the Santa サンタを探せ
Date: Saturday December 10th 2022
Time: 10 am to 4 pm
Venue: in the early years this event was held at Tokorozawa Aviation Memorial Park, but it moved to the Motomachi area ~ Tokorozawa Station a few years ago. Motomachi Community Square on Google Maps.
Access
The main event area is Motomachi Community Square which is about a 15 minute walk from Tokorozawa Station, but you can also pick up a participation ticket and bingo cards at the station. There is coin parking lots in the area.
If you would prefer a meet and greet Santa event, there are several confirmed for 2022. The ones I've gotten up on the blog so far (more to come in the coming days):
First published in 2013, republished in 2018. Last update and republish: December 7th 2022.