Kodomo no Hi – Children's day Japan, also known as Boy's Day, is a national holiday that is celebrated annually on May 5th. It is the last of four public holidays that comprise Golden Week. There are two symbols of Kodomo no Hi: the "Kabuto" samurai helmet and "Koinobori" flying carp. This article includes Kabuto and Koinobori Kodomo no hi crafts, coloring pages, origami and other resources for Children's Day during a pandemic!
Golden Week
Golden week is a period of public holidays that falls at the end of April and early May in Japan every year. During that period there are four public holidays. Often people take a couple of annual leave days to give them a week to two weeks off, including weekends.
The public holidays in Golden Week are:
Showa No Hi on April 29th
Constitution Day on May 3rd
Greenery Day on May 4th
Kodomo no Hi, aka Children's Day, on May 5th
If one of these dates falls on a Sunday, another day is given off in lieu.
My four children are aged between eight and thirteen years old. Over the years we have done many Golden Week activities together from the time they were old enough to hold a piece of origami (around 18 months old). While researching things to do with them in 2020 while we are at home all day everyday, I came across some old favorites and some new ideas too. Below the next paragraph with general information about Golden Week, you will find a selection of activities and free resources to celebrate and / or introduce kodomo no hi to your children. No Japanese language skills needed.
Kodomo no Hi
Children's day falls annually on May 5th, the last day of Golden week in Japan. It is also called boy's day. Girl's day is earlier in the year on March 3rd. In Japan three was the first large milestone in girl's lives hence the date of the 3rd day of the 3rd month. Similarly, five was the milestone for boys and the fifth date of the fifth month became boys day. Originally it was celebrated on the fifth day of the fifth moon when the festival was known as Tango no Sekku.
Girl's day is not a public holiday, but as boy's day is also children's day it is a national holiday. Flying carp (carp shaped streamers / kites / flags) and kabuto samurai helmets are the widely recognized symbols and paraphernalia of children's day. The flying carp are hung from balconies. They usually have a large black carp to represent the father, a large red / pink carp for the mother and one smaller carp (usually blue, orange or green) for each child. We display a kabuto set in our homes. In the past, the legendary hero Kintaro also featured in Kodomo no Hi celebrations.
Children's Day Japan Crafts and Resources
Information in English about Children's day from Kids Web Japan.
Kabuto Helmets
Make a Kabuto samurai helmet
Mini Kabuto Helmet Decoration Set
Beautiful (and easy) kabuto display craft from paper museum: just print, cut and glue.
Another Beautiful paper craft this time, from Creative Park Canon
Open the link and click the dark grey button to the right of the photo to download the free printable 「ダウンロード」
Click the white button below the grey button「作り方」 for instructions. They are in the Japanese language, but with clear photo instructions.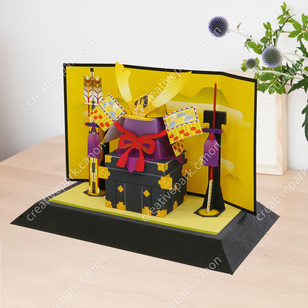 Carp Streamers aka Koinobori
Koinobori song
Koinobori flying carp
Toilet Roll Holder children's day craft
I love these colorful carp from Squirrelly Minds. They take a bit more skill and time than crafts with a printable, so they are suited to older children.
Printable children's day crafts
Easy Koinobori flying carp streamers

Prepare A4 paper and disposable chopsticks or equivalent
Print the sheets here – click on each photo to open as pdf and print
Folding instructions here – in Japanese language, but very clear photo instructions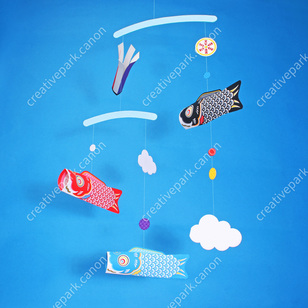 Carp streamerMobile

When you open the link, click the dark grey button to the right of the image for the free printable
Click the white button below it for instructions. Its in the Japanese language but with very clear step by step photos
Kintaro
Kintaro was the childhood name of the legendary samurai Minamoto no Yorimitsu. Some people still display a Kintaro doll in their house for children's day, but it is not as common as it was in the past.
Kodomo no Hi
Kodomo No Hi coloring pages
Teaching resources
Children's day spot the difference activities
Food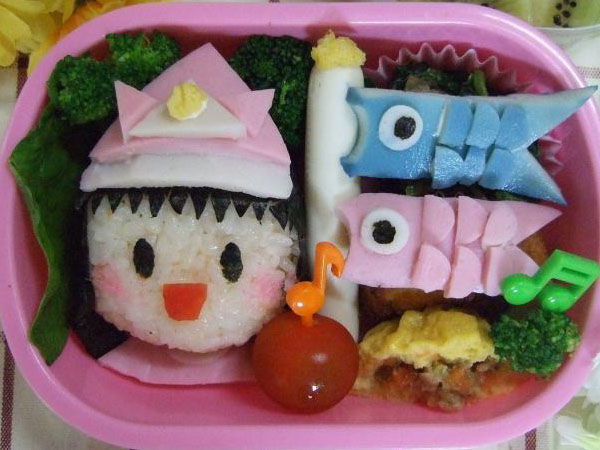 If you're looking for ideas for Kodomo no Hi Obentos, the Origami Club site is great for inspiration. They don't give instructions, just dozens of obento photos that are easy to replicate. Official site.
Extra: 52 Kodomo no Hi food and craft ideas on Pinterest from one of my favorite Japan language and culture bloggers "Hiragana Mama".
I hope your kids can enjoy some crafts or activities for the 2022 Kodomo no Hi day at home. Happy Children's Day!
Free resources for Setsubun (February) here.
Hina Matsuri easy craft for toddlers here.
Pin this post: