Halloween Events in the Greater Tokyo area –
Where can I celebrate Halloween near Tokyo, Japan?
There are dozens of locations you can celebrate Halloween in and around Tokyo. Below you will find a selection of the larger Halloween events in the Kanto area.
Are there any Halloween events in the Greater Tokyo area in 2020?
Yes, there are. Several are online, such as Kawasaki Halloween and Tama Center. Others currently plan to go ahead as normal, such as Ikebukuro Cosplay and Bakeneko to name but a few. However, there are several that have already (August 5th) given notice that they do not plan to go ahead this year. At a later date (August 20th) Tokyo Disney Resort cancelled their plans for Halloween in 2020.
Initially written on August 5th, updated on September 30th. Looking for Halloween books to read to / with the kids? Check out this selection of Halloween books available in Japan here (click).
Halloween Events Kanto
This is a round up of the Halloween events that are *usually* available year on year in the Kanto area of Japan. Plus information on where is celebrating Halloween in 2020 despite the coronavirus and where is not due to the pandemic. However, given the year that's in it, please do check with the location / event management website too. There is always the possibility of last minute changes due to Coronavirus, typhoons or other unexpected mitigating factors.
In this article (click to jump to relevant section):
Events that are cancelled and confirmed for 2020 (all have further detail in the body of the article and ones that are linked in the table have a blog post of their own with further information):
Please note that the below map is a general guide for a "usual" year and not specific to 2020.
Chiba Halloween Events
Disney's Halloween (Cancelled)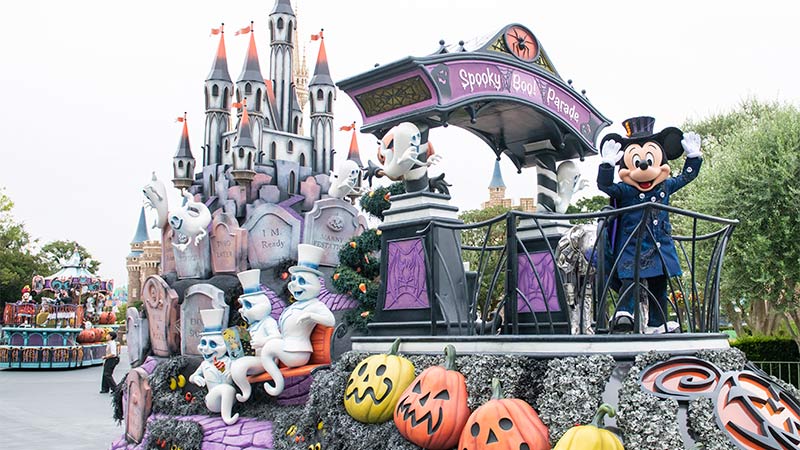 Disney certainly knows how to do Halloween. Disney character Halloween goods are stacked on the shelves in early September. And the official "Disney's Halloween" starts the second week in September annually. Disney's Halloween runs until October 31st or November 1st if that falls on a weekend. There is a great blog (linked: TDR Explorer) in English with further details of all that Disney has to offer at Halloween. The official Disney Resort website in English.
2020 Information. Tokyo Disney Resort announced on August 20th that not only is Halloween cancelled in 2020, but they also request that people do not to come in costume to Tokyo Disney Resort this year.
Halloween Town in Choshi (Cancelled 2020)
Towards the end of October annually Choshi transforms into a Halloween town. Volunteers, city officials and residents band together to create a fun Halloween environment for children, with dress up, individual events, costume competitions and trick or treat. The official website here.
2020 Information. Halloween Town Choshi cancelled.
Narita Yume Farm
For the month of October, Narita Yume Farm, entices customers with many special seasonal events, including their Halloween celebrations. On different dates they have different events. The farm has many other events, attractions as well as a BBQ and camping area. The camping area usually has a one day Halloween festival on the weekend closest to October 31st. They have a detailed website in English.
2020 Information. Narita Yume Farm have there usual one month long Halloween celebration period this year. The Halloween costume contest is on both October 31st and November 1st. They have several other events running through the period for all visitors to the farm. As well as a pumpkin carving for campers on October 24th. For the full Halloween schedule.
Yukari Festa
The Yukari Festa in Yukarigaoka is generally held during the last week of October. The town gets into Halloween mode from the week before and they carve pumpkins the night before and display for all to enjoy. They also have a fancy dress and costume competition on the day. They used to post more details on their website (Japanese only), but last year they switched to their Facebook page.
2020 Information. They have a few different events on for kids, including a "candy fishing" event on October 25th. And on the 24th they have "Trick or treat":

---
Tokyo Halloween Events
Tokyo Skytree Town
Skytree Town offer a range of Halloween events from mid September to end of October annually. They usually have parades too, during the last week of October. On the Saturdays during Halloween period they often have special Halloween events for children on the 4th floor, Sky Arena. For a full list and further details on all they have to offer, please visit their website.
2020 Information. There are dozens of events / limited edition goodies for Halloween at Tokyo Skytree this year. Including a Halloween Kids Park from October 24th to November 1st. On October 31st there will be balloon artist performance. They Skytree Round theater will also mark the occasion with a Halloween programme for the month of October. Etc etc! Full round up here.
Halloween Pumpkin Parade (Cancelled)
The annual Halloween Pumpkin Parade in the Harajuku / Omotesando area is for children under 12 years of age. Over a 1,000 children parade the 1 kilometre thoroughfare. If you come in a homemade costume a professional will take your photo. There are a number of events held in conjunction with the parade. The parade is not carried out in the event of rain. Typically they are late to update the website, but when they do the information will be available here.
2020 information. Cancelled. Official notification here.
Shimokitazawa Kids Halloween (Cancelled 2020)
An annual Halloween parade in the Shimo Kitazawa area of Tokyo. It is an event for children of elementary school age or younger. Pre-registration is required. You can do that and see more information on the Shimokita official website. They used to have an English website, but they don't seem to have it anymore.
2020 information. Shimokitazawa Halloween cancelled.
Roppongi Hills Halloween Events
I distinctly remember that the Roppongi Hills event used to be of the few that was held on actual Halloween, October 31st, even when it was a weekday. But I see they have succumbed to the Japanese way of doing it and now hold it on the last weekend of October. You can see up-to-date information on the official website.
2020 Information. Information for the 2020 Roppongi Hills Halloween is not yet available, last check September 30th 2020.
Puro Halloween Party
Sanrio Puroland have a Halloween party annually. And it is one of the earlier ones to start, usually in line with Disney's start date. There is information in English on the official website, but for events they only have Japanese language.
2020 Information. Puro Halloween Party Starts on September 11th until October 31st. They have events at Puroland and they will also have several online events. Official Halloween event page here.
---
Halloween in Tama Centre
Nearby at the Tama Center there is usually a two day celebration of Halloween. Normally Jack of lanterns decorate the station front and many events are held. They usually hold an opening ceremony the night before too. This year, however, things are quite different. Their main events will be held online.
2020 Information: they are currently accepting entries for an online Halloween costume contest at the official site here. Closing date: October 9th. The link to watch the online costume contest between, October 20th and 25th, will be released at a later date. There is also an online Mosaic Art event, access here.
Ikebukuro Halloween Cosplay
Held on the last weekend of October, this one is more for adults than children believe it or not. It has become immensely popular and is now one of the biggest cos-play events in all of Japan. Approximately 20,000 cos-players turned up for the 2018 event! It is a daytime event held between 10 and 6 pm around Ikebukuro station's east exit. More information and photos from the Japan National Tourism Organization (JNTO).
2020 Information: the event is currently scheduled to go ahead on October 31st and November 1st. Official notification here.
**Copyright of Lynda Hogan and insaitama.com 2019**
Fun! Fun! Sunshine City Halloween Events Also in Ikebukuro, but more family friendly, is the Halloween celebrations in Sunshine City. From mid to end of September the mall will start to run some events. However, in 2020, things are a lot different. Within Sunshine City they will have a Halloween photo spot in October. But other than that they are encouraging people to celebrate at home. They will have an online Halloween parade and will start to collect videos from September 18th. More information on their official website (Japanese language only at the moment) here.
2020 Information: events on during the month of October, parade is online – they will accept videos from September 18th.
Bakeneko Halloween Parade
Kagurazaka Bakeneko festival has the specified requirement that you dress in a cat costume. It is also the only parade I know of that requires you pay for the pleasure of making an ass – or more poignantly a feline – out of yourself in public! It is 500 yen for adults, but children go free. They've a good English web page with lots of additional information.
2020 Information: the event is currently scheduled to go ahead on October 11th 2020. Reception is open from 10 am, the parade is at 2 pm.
Halloween Party in Shinkiba
Annually from the last week in September until the end of October Yumenoshima Tropical Greenhouse have a pumpkin patch with 50 very large pumpkins. It is one of only a handful of places you can see a pumpkin field in Tokyo. Official website.
2020 Information. The event will go ahead as usual.
Halloween Small Worlds
Halloween Small Worlds is new to the five year old InSaitama annual Halloween round up in 2020. The Global Village will be transformed to a Halloween world. The town is decorated with Jack O'Lanterns and the residents are in costume. But in 2020 for the first time the town will be invaded by ghosts and they are looking for people to party with! A "mini you" in costume can be placed in the town (at a cost) where social distancing is not an issue! If you come to the museum in costume you can get in for just 1000 yen after 5 pm.
2020 Information. The event is on from September 10th to October 31st. They have a full English event web page here.
---
Kanagawa Halloween Events
Kawasaki Halloween Events
Kawasaki has the largest Halloween parade in all of Japan. It attracts hundreds of participants each year, many with unique costumes, and has thousands of thousands of spectators. You can view some photos from the 2008 parade on this blog here. The area is one of the most famous for celebrating Halloween, with various Halloween events throughout October. Official website in Japanese, English:
2020 Information – This year the parade and costume contest is being held online; #oneworldhalloween from October 1st to 31st. They have an English language web page with all the details, just click here (official site).
Yugawara Halloween (Cancelled)
Yugawara is the only place I know in the greater Tokyo area with Halloween fireworks. They are the largest (only!?) Halloween fireworks in Japan. They launch about 6,000 fireworks on the last Saturday of October. That is just one event of several organised for the two day Halloween celebration annually. They also have a Halloween tree which is something that caught on as a "thing" for Halloween in Japan in the last couple of years! Official website.
Information 2020: Yugawara Halloween cancelled. Official notification here.
Yamate SeiYoukan Halloween Walk (Cancelled)
Toward the end of October, generally the last weekend, Yamate Seiyoukan organise a Halloween walk. There is a dress up and stamp rally event and usually face painting. The Halloween walk has been around for a long time and attracts hundreds of locals. The official website of Yamate Seiyoukan.
Information 2020: Halloween walk cancelled.
Sagami Ono Halloween (cancelled)
Held in the Sagami Ono central park, this annual event is very organised. It involves trick or treat, a stamp rally and face painting. The official website (Japanese language only).
2020 information: Sagami Ono Halloween has been cancelled.
**Copyright of Lynda Hogan and insaitama.com 2008 – 2020**
---
Saitama Halloween Events
For those looking for a Halloween event in Saitama, please take a look at the Saitama event calendar where dozens of Halloween events will be added in the coming days. Including…
Alice's Tea Party
Shikitei in Omiya will have their annual Halloween afternoon tea this year despite the Coronavirus. And they have a take out option this year on account of the virus. Booking is already open and the event runs from September 3rd until October 31st 2020.
Ario Halloween
The Ario malls have Halloween events on this year in dozens of their branches including the Kawaguchi, Fukaya and Ageo branches in Saitama. They have an official Halloween web page, with all participating Ario branches listed, here (click). Information for the Ageo Branch:
Drive-in Theater Halloween
Kawajima Town will have a drive-in theater showing Ghostbusters on Halloween night:
Halloween Festa at Seibu Yuenchi
Seibu Amusement Park usually open their "Halloween Festa" from the middle of September. Among the popular events is Trick or treat and parades. Official website. Unfortunately it looks like they will not have Halloween events this year. But they haven't confirmed either way yet.
Omiya Halloween
Omiya Halloween fes has been cancelled in 2020 on account of the Coronavirus.
Kisai Halloween
The Kisai Halloween event is cancelled for 2020. Kisai Halloween is Saitama's longest running Halloween event.
Halloween World Warabi
The long running Halloween event in Warabi city (near Tokyo) has been cancelled on account of the coronavirus. Official notification. Information for a 'normal' year here.
Halloween Night in the Forest
Halloween night illumination and Halloween events at Shinrin Park:
Tobu Zoo Halloween Events
Special events planned during the month of October and they also have their halloween decorations out. Official website. English information on insaitama.com coming soon.
More Saitama Halloween events:
https://insaitama.com/events/category/halloween/
---
Copyright of Lynda Hogan and insaitama.com 2008 – 2020, please do not copy without permission. Please do feel free to refer to the article and provide links, if you are quoting parts of the post. 🙂