Halloween Events in the Greater Tokyo area in 2023. The Tokyo events have been moved here. This post contains Kanagawa and Chiba Halloween events and one large Halloween event for Ibaraki.
Check out this selection of Halloween books available in Japan here.
Halloween Events Chiba and Kanagawa
A round up of the Halloween events that available year on year in the Kanagawa and Chiba area of Japan. Thankfully there were dozens of Halloween events on in 2022, but there were still a few that remained cancelled. This year, 2023, we may have a full compliment again. Please do always check with the location / event management website too. There is always the possibility of last minute changes due to the pandemic, typhoons or other unexpected mitigating factors. I have no affiliation to any of the websites / places linked in this post.
In this article (click to jump to relevant section):
---
Tokyo Halloween Events
The post was getting way too long with all the events for Tokyo, so I have moved them to a post of their own for ease of reading:
---
Chiba Halloween Events
| | | |
| --- | --- | --- |
| Chiba | Confirmed in 2023 | Awaiting information |
| | Disney Halloween | Narita Yume Farm |
| | Halloween Town in Choshi | |
| | Yukari Festa | |
| | Kashiwa Halloween | |
| | Keisei Rose Garden | |
Disney's Halloween 2023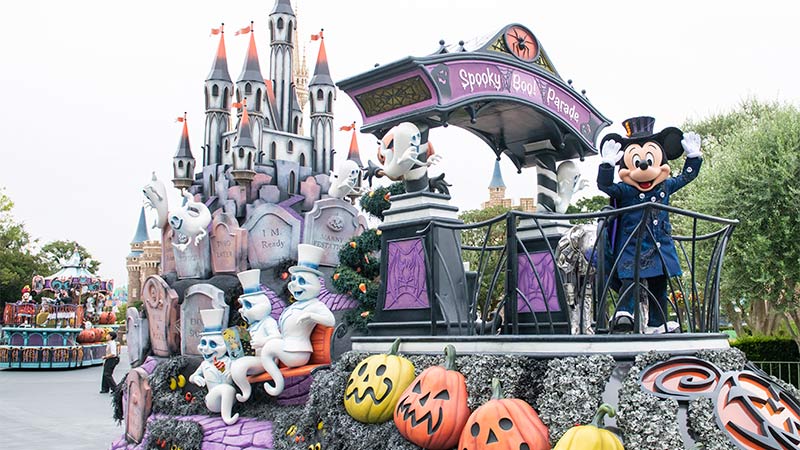 Disney certainly knows how to do Halloween. Disney character Halloween goods are stacked on the shelves in early September. And the official "Disney's Halloween" starts the second week in September annually. Disney's Halloween runs until October 31st or November 1st if that falls on a weekend. There is a great blog (linked: TDR Explorer) in English with further details of all that Disney has to offer at Halloween. The official Disney Resort website in English.
2023 Information: Tokyo Disney Resort's 2023 Halloween extravaganza will be on from Friday September 15th to Tuesday October 31st. Official 2023 event page.
---
Halloween Town in Choshi 2023
The Halloween Town in Choshi will be on in 2023 for the first time in four years. Before the pandemic, each year towards the end of October Choshi transformed into a Halloween town. However, while the event is back in 2023, it will be on in early and mid October instead. Volunteers, city officials and residents band together to create a fun Halloween environment for children, with dress up, individual events, costume competitions and trick or treat. The official website here.
2023 Information: confirmed to be going ahead in 2023 for the first time in four years, from October 1st to the 22nd. Official 2023 event information here.
---
Narita Yume Farm
In a normal year, for the month of October, Narita Yume Farm, entices customers with many special seasonal events, including their Halloween celebrations. However, since the pandemic their events have been restricted. As of August 26th 2023 the only thing that is currently scheduled is a pumpkin carving event for campers. They may add more Halloween events over the coming weeks. Regardless, the farm has many other events, attractions as well as a BBQ and camping area. The camping area usually has a one day Halloween festival on the weekend closest to October 31st. Awaiting information for 2023. They have a detailed website in English.
2023 Information: awaiting information. As of October 1st 2023 the only Halloween event that is currently confirmed is a pumpkin carving on the Saturdays of October.
---
Yukari Festa
The Yukari Festa in Yukarigaoka is generally held during the last week of October. The town gets into Halloween mode from the week before and they carve pumpkins the night before and display for all to enjoy. They also have a fancy dress and costume parade / competition on one day. Last year, 2022, things were quite different with a much smaller event. But this year, for the first time in four years, they will have their usual type of Halloween celebration with a costume parade on the Saturday:
2023 information: on October 28th 2023 from 11 am to 8 pm. Official event page with necessary forms.
---
Kashiwa Halloween 2023
The Kashiwa Halloween event is was on in 2022 for the first time in three years. However, it cost 1000 yen to participate (pre pandemic it was free for children) and unfortunately, they are are charging the same again this year. Just like last year, they will give a present to the first 300 people to purchase a ticket. and every participant receives candy. The Halloween events in Kashiwa are usually held around the station. Official event web page.
2023 Information: Sunday October 22nd 2023 from 10.10 am. Entry form here.
---
Keisei Rose Garden 2023
Keisei Rose Garden has a Harvest themed event for much of Autumn this year. During the period, they have their Alice in Wonderland tours. As part of the Harvest event, on three nights only they will have an 'Halloween Night" event. For those nights only the garden is open until the later time of 7 pm. Also, on those nights as well as the weekend before Halloween, you can get "Witches' Marshmallows"!
2023 Information: Halloween Night on October 14th, 21st and 28th. Official event page.
---
Kanagawa Halloween Events
| | | |
| --- | --- | --- |
| Kanagawa | Confirmed | Cancelled |
| | Yugawara | Kawasaki Halloween (Discontinued) |
| | Tama Plaza | |
| | Yamate SeiYoukan Halloween Walk | |
| | Sagami Ono Halloween | |
Kawasaki Halloween Events
Kawasaki was the largest Halloween parade in all of Japan. It attracted thousands of participants each year, many with unique costumes. Moreover, thousands of thousands of spectators came from all over Japan – the world even. The area was one of the most famous for celebrating Halloween, with various Halloween events throughout October. It was a great shock and so sad to read early in 2021, that they have discontinued the Kawasaki Halloween parade. The end of an era. I am so glad I got to visit it in the past. Thank you very much to all the organizers for their hard work and dedication for 24 years.
The Kawasaki Halloween Parade has been discontinued, permanently. 🙁
---
Yugawara Halloween 2023
Yugawara Halloween is on again in 2022. The Yugawara Halloween event is one of only two places I know in the greater Tokyo area with Halloween fireworks. (The other is in Saitama). However, it looks like they won't have the fireworks again this year – it was the same in both 2021 and 2022. They normally launch about 6,000 fireworks on the last Saturday of October. But they will have sky lanterns, which have become the new Halloween 'boom'. They also have a Halloween tree which is something that caught on as a "thing" for Halloween in Japan in the last couple of years! Moreover, they will have additional events, food trucks and stage performances. Last year, the event finished early, at 5 pm, but this year it will be on until 7 pm.
Information 2023: Sunday October 29th from 10 am to 7 pm. Official event web page here.
---
Tama Plaza Halloween 2023
"Tamapura (Tama Plaza) Halloween" started in 2018 and is sponsored by local residents and local businesses. This year, in addition to the previous venue at Utsukushigaoka Park, a costume parade, stamp rally, and Halloween Marche will be held on the 3rd floor "Common Field" of North Plaza, in Tokyu Department Store. Official press release.
Information 2023: Sunday October 15th 2023 from 10 am to 4 pm.
---
Yamate SeiYoukan Halloween Walk
Toward the end of October, generally the last weekend, Yamate Seiyoukan organise a Halloween walk. There is a dress up and stamp rally event and usually face painting. The Halloween walk has been around for a long time and attracts hundreds of locals. The official website of Yamate Seiyoukan. Although a provisional date was set for 2021, in October the organizers announced that the event was cancelled. Thankfully, it is on in 2023.
Information 2023: on Sunday October 29th from 10 am to 4 pm. Official event page.
---
Sagami Ono Halloween
Held in the Sagami Ono central park, this annual event is very organized. This year is the 35th anniversary. The Halloween festival involves trick or treat, a stamp rally and face painting. It was cancelled in both 2020 and 2021, but thankfully it was in 2022 and is planned for 2023 too. In 2022, you had to apply in advance to participate and it was limited to 4000 people. The final details for 2023 are not yet available, but they are limiting the event to 5000 people this year. Official website (Japanese language only).
2023 information: Sunday October 29th.
**Copyright of Lynda Hogan and insaitama.com 2008 – 2023**
---
Ibaraki Halloween Event
The Premium Outlets in Ami, Ibaraki, host a large Halloween event each year. They will also use projection mapping to create Halloween images on the walls of the entrance to the outlet. There will be a total of eight Halloween parades the weekend before Halloween. Official press release.
2023 information: Projection mapping from Wednesday September 20th. Four parades on the 28th and again on the 29th, of October.
---
Saitama Halloween Events
Find a Halloween event in Saitama Prefecture:
---
Copyright of Lynda Hogan and insaitama.com 2008 – 2023, please do not copy without permission. Please do feel free to refer to the article and provide links, if you are quoting parts of the post. And it is always ok to share the post! 🙂 Original post was published in 2012, updated annually and republished on October 6th 2022. Last and final update for 2023 on October 1st.