The Shiki Halloween Fair, or Halloween ennichi ハロウィン縁日 in Japanese, is scheduled to take place at Pair Mall for the first time in three years. Pair Mall is in Shiki City, close to Yanasegawa Station. This is an area known for its beautiful cherry blossoms in spring, which also feature on this blog.
They only released the official information for the Halloween Fair late on Monday (September 26th) and the event is on this Saturday, October 1st! (But there was some information floating online before the official website was updated). Also, the official information is very brief. Therefore, this post is equally brief, to get the information out in real time!
Halloween Fair Shiki Line Up
Although small, it looks like a nice event for children. With: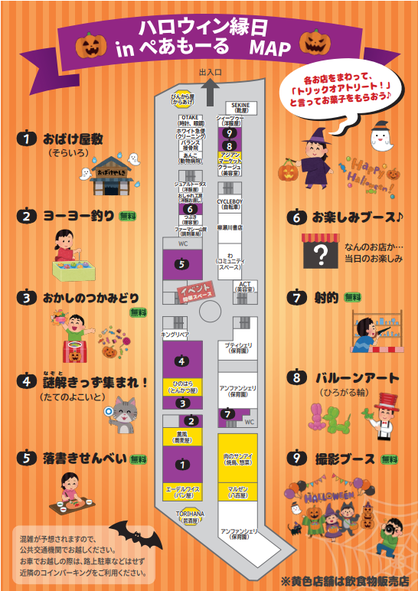 A haunted house
Yoyo fishing
Sweets fishing
Mystery solving challenge
Graffitti rice crackers (intriguing! Looks like they decorate their own rice crackers).
"Fun" booth
Festival shooting
Balloon art
Photo booth
There will also be live performances on the day. At 1.30 pm there is a magic show by magician Toshi. In addition, at 3 pm there is Halloween dance. If the kids are dressed up / come in costume and say "trick or treat" they will receive a sweet (candy).
Information
Date: Saturday October 1st
Time: from 11 am to 4 pm.
Location: Pair Mall's "Aisatsu Doori", 2 Chome-7-2 Tate, Shiki, Saitama 353-0006. View on Google Maps.
Access: Pair Mall is just a few minutes walk from the west side of Yanasegawa Station on the Tobu Tojo line.
Use the Halloween tag on this blog to find even more Halloween events in Saitama in 2022.
220928