The Saitama Museum of Rivers only started celebrating Halloween around 8 or 9 years ago, and then a series of events prevented them from having Halloween festivities since 2018. In summary – a typhoon in 2019 and then the pandemic! However, they are celebrating in 2022 and on four different dates (see information section).
Kawahaku Halloween
In Japanese the Saitama Museum of Rivers is Kawa no Hakubutsukan. It is nicknamed / called Kawahaku for short.
For people who come to the Saitama Museum of Rivers in costume on those days, they will get a present. They don't specify what that present is this year. In a previous year, it was a free ticket for the Adventure Theatre.
This year there are five events. For children in costume who participate in all five Halloween events they will get a present from the museum.
The events are:
a Halloween stamp rally
Halloween photo spot
Halloween craft – this year its Halloween costumes
Spot the difference
Find the mascot – the museum's mascot "Kawashirou" is dressed up as a witch and hiding in the museum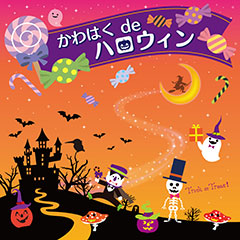 Information
Venue: 1st floor river hall of the Saitama Museum of Rivers, 39 Kozono, Yorii, Osato District, Saitama 369-1217. View on Google Maps.
Dates: Saturday October 22nd, Sunday the 23rd, Saturday the 29th and Sunday the 30th.
Cost: The events have no additional cost, but you do have to pay into the museum. It costs 410 yen for adults and 200 yen for high school students. The museum is free in for children under 15 years old, but they do have to pay if they want to play in the waku waku land or enter the adventure theater. More detailed information here (click).
Access
For those coming by car the phone number for your Satnav is 048-581-733 or the address is 39 Kozono, Yorii Town, Saitama. It is 7 minutes from the Hanazono exit of the Kanetsu expressway. Parking is 300 yen for the day.
By train, alight at the Hachigata Station on the Tobu Tojo Line. The museum is a 20 minute walk from the station. If you are coming from Yorii station, you can get a taxi to the museum. Its about seven minutes to the museum in a taxi.
The Saitama Museum of Rivers is beside the Kawasemigawara barbecue and campsite. In nearby Fukaya there is also an Halloween event on this weekend; information coming soon.
20191012 20220929