Shinrin Park (aka Musashi Kyuryo National Government Park) confirmed earlier this week that they will have their Halloween night in the Forest again this year. They had it in between 2020 and 2022 too, for the record, despite the pandemic. And I for one was very grateful we were able to keep up our one of our favorite Halloween traditions as a family in Japan. We have visited this event almost every year since it started. It is so much fun for the kids to walk around a park at night. Especially one that has Halloween decorations!
Halloween night in the forest 2023
However, just like last year, the event it is only for six days this year, spread over two weekends. The 2023 Halloween illumination dates are from Friday October 20th to Sunday 22nd and then from Friday October 27th to Sunday the 29th. The park will open between 5 and 8.30 pm, on dry nights only, for the occasion. They announce on their website by 2 pm if the event will be cancelled due to rain. Because this is mainly an outdoor event.
Approximately 550,000 lights are used in art installations depicting Halloween motifs. The lights are in the area around the central gate and the walkway to the botanical garden house. Both the central gate and botanical garden house have large displays. The central gate has a bubble blowing pirates ship and the botanical garden house / arboretum has a talking tree!
There is no additional charge for the event, but you do need to pay entry into the park. In addition, parking is charged. It used to be at a reduced rate to day time, but not in 2023. They are planning to charge 700 yen in 2023, more than double what it has been in the past. (There is a charged shuttle bus too – more on that in information section).
In a normal year, if you come in full Halloween dress-up / costume you receive a sweet treat from staff. However, I believe this has been suspended due to the pandemic. In 2020 they gave us a badge instead of food (because of the pandemic), but there was nothing in 2021 or 2022. There is currently no mention for 2023 either.
Don't worry if you can't make the Halloween light up, another special illumination event will start in the park in the middle of November. All the deets here!
Art project / installations
Each year they also have art installations and an art project on display for the whole period of night illumination called "Harmony with Nature".  They used to have craft workshops on some of the nights the illumination is on, but not since the pandemic. However, they will have workshops during the day, on the Saturdays only. They will be making gourd lanterns on October 21st and 28th.
During the period they sell limited edition, Halloween themed food, at the central gate and in the Arboretum restaurant. You can also get fluorescent candy floss, a big hit with kids, at the maple cafe which is located along the walk to the Arboretum.
Before the pandemic they always had a night time tree climbing event on the last Sunday. However, it has not been on since the pandemic began. I have left this information in the post, for future reference! It costs 1000 yen per person and is limited to 10 people per session for children older than four years old.
Halloween Night Illumination Information 2023
There are three night illumination events at Shinrin Park in total: Halloween night illumination, Autumn Leave Illumination and Starlight Christmas illumination. The Halloween night illumination is always the first and is called the first chapter…
Event: Halloween Night, The Story of Forest and Lights Chapter 1 (aka Halloween night in the forest) 光と森のStory 第1章「森のハロウィンナイト」
Dates: Friday October 20th to Sunday 22nd and Friday 27th to Sunday the 29th of October 2023.
Time: from 5 pm to 8.30 pm, last entry is at 8 pm.
Cost: the Halloween event itself is free, but you do have to pay entry into the park as an adult. It costs 450 yen per adult and 210 yen for anyone over 65 years old (with proof of age). There is no entry charge for children. Also, individual workshops and related events also have a charge.
Venue: Shinrin Park is what everybody calls it, but officially the park is called Musashi Kyuryo National Government Park! Please be careful – only the central gate is open. Shinrin Park Central Gate, 1920 Yamata, Namegawa, Hiki District, Saitama 355-0802. View on Google Maps.
Access
Only the central gate parking lot is open. Unfortunately, from this year they are charging 700 yen for the parking. It was 300 yen between 2017 and 2022. And before 2017 it was free!
During the day there are several different ways to get to Shinrin Park by public transport, but at night there is only one – a shuttle bus from Shinrinkoen station. The shuttle bus was free last year, for the first time in years, but it is being charged again in 2023. It costs 300 yen for adults and 150 yen for elementary school aged children, one way.
Shuttle bus timetable: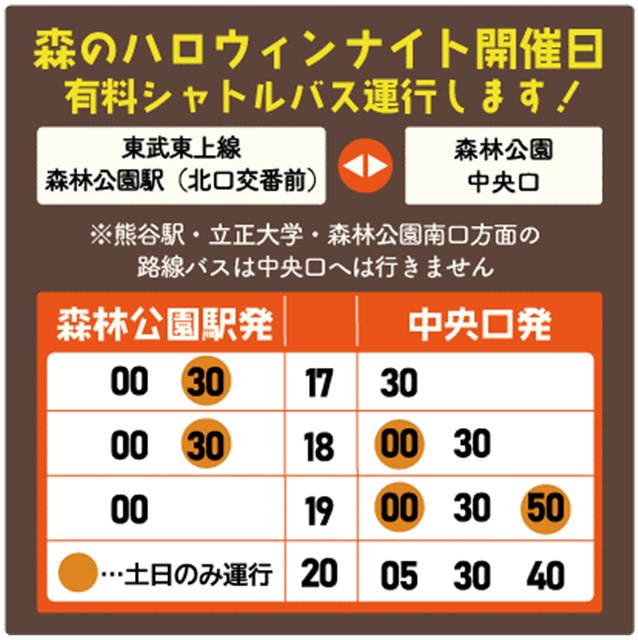 There are more shuttle buses in 2023 than there have ever been before. The bus goes from Shinrin Koen Station at 17:00, 17.30, 18:00, 18.30 and 19:00 on Saturdays and Sundays. On the Friday night the times are 17:00, 18:00 and 19:00. On the way back you can get the bus from the central gate to the station at 17:30, 18:30, 19:30, 20:05, 20.30 and 20.40 and on Saturday and Sunday also at 18:00, 19:00 and 19:50.
First published on insaitama.com on September 30th 2016. Republished on September 6th 2023. (20220902)