Just a mini post today, to share information about the Hanazono Furusato Summer Festival, which is scheduled for 2022. Furusato means hometown. Hanazono is an area in Fukaya City, best known for its interchange and its roadside station! The Fukaya Fireworks weren't on this year, but other than that the vast majority of Fukaya's summer events were on for the first time in three years.
Hanazono Furusato Summer Festival
Disclaimer: I have never been to the Hanazono Furusato Summer Festival personally. But from the official flyer for the event, it looks to be a good one for families / with kids. It also looks like it has a more local feel to it than the larger Fukaya festivals such as their Tanabata in July or the Fukaya summer Festival.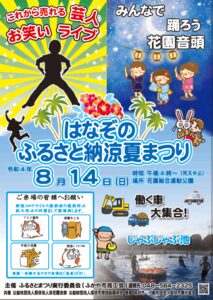 There is festival dance, live stage acts (mainly comic), large display of work vehicles and water play scheduled. The water play is a large paddling pool. "Work vehicles" include heavy duty vehicles, such as diggers and dumper trucks, as well as police cars and fire engines. Usually at events like these you can sit into any vehicles that are at the festival. I cannot guarantee this though. The festival starts from 4 pm and will go on into evening. There is no end time specified. Please note, the festival will most likely be cancelled if it is raining.
>>For more things to do this weekend<<
Information
Date: Sunday August 14th 2022
Time: From 4 pm
Where: the Hanazono Sports Park in Fukaya City, 2299-1 Omaeda, Fukaya, Saitama 369-1246. View on Google Maps.
Access: about a 15 minute walk from Omaeda Station on the Chichibu Railway line.