For the first time in four years, Hanno will host their popular spring, aka cherry blossom, festival in 2023. Within Hanno, Hanno Central park and the area around Mt Tenran are particularly well known for their beautiful sakura trees. The festival is on in the former: Hanno Central Park. In 2023, it will be the site of an eight day long cherry blossom festival starting on April 1st.
Hanno Cherry Blossom Festival
Although the festival is being held in 2023, it is not to the level of pre pandemic. There are a few elements missing this year, which I have outlined below. The festival is held in two main areas in the park; the "Hiroba" (square) and "Kawara" (river beach).
Hanno Central Park is a popular place for families to enjoy cherry blossom viewing. The trees are mainly the Somei Yoshino variety. Before the pandemic you would see plenty of people enjoying hanami in the park. There is currently no notification to say that you can't hanami in the park, but you couldn't hanami in the park in 2021. (Possibly other years too, but 2021 is the only year I personally saw the notification.)
Festival Line Up
Festival stalls from Saturday April 1st to Sunday April 9th
Live performances on April 1st, 2nd, 8th and 9th.
Loud voice competition on April 1st!
Live performances include for example: music, dance, traditional performances such as Yosakoi, hero show, baton twirling, street performers etc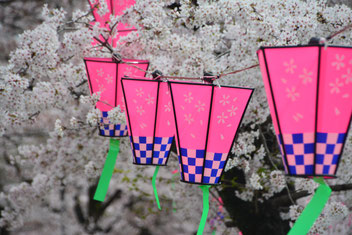 What's missing?
Before the pandemic, they lit the cherry blossoms up at night during the period of the festival. However, unfortunately, there will be no night light up in 2023. So it remains to be seen if they will decorate the trees with lanterns or not. (When the light up is on the lights are on from 5 pm to 8 pm in the Central park area.) Presumably, they won't have their camp / bonfires either. Cherry blossoms with camp / bonfires is  something I personally have only ever seen in Hanno, but unfortunately it doesn't look like they won't have this feature in 2023 either.
Information
Event: Hanno Spring Festival 飯能春まつり
Date: Saturday April 1st to Sunday April 9th 2023.
Time: 8 am to 6 pm.
Cost: free to enter the venue.
Venue: Hanno Central Park, 223-1 Hanno, Saitama 357-0063. View on Google Maps.
Access
The park is a fifteen to twenty minute walk from Hanno Station. There is a parking lot at the park, but spaces are limited. They advise, where possible, to come by public transport.
You can find dozens of other confirmed sakura matsuri in 2023 in Saitama here.
Editor's note: this post was temporarily removed from the website during the pandemic. It was republished on March 14th 2023. Previous republish was March 2018.