The 2021 Inohana Amazake Festival is cancelled.
Inohana Amazake Festival or Inohana Sweet Sake Festival is one of those "only in Japan" type of festivals. And even within that category it is one of the more unusual ones. Near naked men, donning only a lion cloth, throw sake at each other. If you are into near naked men festivals, there is another one in the neighboring mountain town of Kamikawa every November!
It is held on the fourth Sunday of July annually. However in 2020, the festival did not go ahead on account of the Coronavirus outbreak. A ceremony is performed at 10 am. The sake throwing starts at 1 pm.
It is held in a remote location of Chichibu at the Shiroku Kumano Shrine. (The shrine is called Inohana Kumano shrine on Google maps). However, it is actually relatively near a train station. The Chichibu Railway Mitsumineguchi station is about a twenty minute walk from the shrine. There is also a bus that goes to this station from the larger Chichibu station.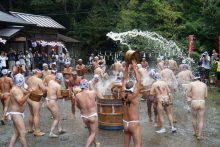 All images to this point from the official website.
In the area
There are some really cool things to do in the area. Particularly at the Geo Gravity Park, where you can walk on a thrilling suspension bridge, the scariest in Japan they say. They also have zip line, canyon swings, bungee jumping and a "super zip". English language website here. The Geo Gravity park is about a 15 minute walk from the shrine.
If you come by car, the Toryu Bridge is definitely worth checking out too. The last time we visited was July too and the red bridge looked beautiful against the fresh green. Also, if you are looking for somewhere affordable to stay we quite enjoyed our stay at Tsuchiuchi camping ground. Please note that the cabins here are quite basic though, but it is a scenic and refreshing place to stay.
For even more unique events in Saitama be sure to check out the main event pages and calendar here.
For articles about Chichibu click here.