The Irumagawa Winter Festival is on annually in November, on the day that Sayama Illumination is switched on. The festival is on for just one day, but the illumination is on for about seven weeks.
Irumagawa winter festival
Before the pandemic, this festival had a website of its own with lots of detail. Unfortunately, that website is no longer active. Moreover, information for the 2023 event is very limited. But it has been confirmed for this year. All they have said is that it will be on from 3 pm to 8 pm on Saturday November 18th and that they will have a 'kids corner' with games and booths. Before the pandemic, Tokurinji temple had a candle night on the same night, but that has not been confirmed for 2023 unfortunately.
Sayama Illumination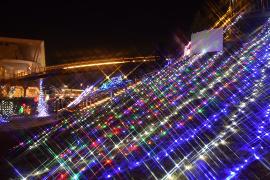 They use 55,000 lights in the Sayama Illumination display at the west exit of Sayamashi Station. There are also elaborate handmade decorations within the illumination. The illumination is switched on during the Irumagawa Winter Festival and is then on nightly, between 5 pm and 11 pm, until and including public holiday Monday January 8th 2024.
Information
Event: Irumagawa Winter Festival and Sayama Illumination
Date: the winter festival is on Saturday November 18th 2023 and the Sayama illumination runs nightly from the 18th until public holiday Monday January 8th 2024
Time: the Irumagawa Winter festival is on from 3 pm to 8 pm. The illumination is on from 5 pm to 11 pm.
Cost: there is no admission fee to the winter festival or to view the illumination
Venue: Sayamashi Station West exit rotary, 1-chōme-1 Irumagawa, Sayama, Saitama 350-1305. View on Google Maps.
Access
The illumination is close to the west exit of the Sayamashi station, which is on the Seibu Shinjuku line. There is no official parking for this event, but there are coin parking lots in the vicinity of the station. However, most of the parking is on the east side of the station. But there are about four on the west side too.
Official event page on the Sayama City website.