The Kinoshita Circus will come to Saitama for the first time in seven years at the end of June.
Updated

An official of Kinoshita Circus has confirmed that the famed and fabulous circus is coming to Saitama this year, 2019. She did not confirm the date or location, but a bit of sleuthing and I found information for the 2019 planned dates for Saitama. March 29th 2019: the dates for Kinoshita Circus in Saitama in 2019 have been confirmed as from Saturday June 29th until bank holiday Monday September 23rd.
The location has also been confirmed, as suspected, as the site south west of Saitama Stadium 2002. The unused land east of Saitama Stadium 2002 on the Ayase river. It is a six minutes walk from Urawa Misono Station on the Saitama Rapid Railway Line.

Kinoshita Circus Hours
Between June 29th and September 23rd the circus will be open from Friday to Wednesdays, closed on Thursdays except for August 15th. They will take some Wednesdays off too during that period. Those dates are July 3rd and 17th, August 7th and 21st, and September 4th and 18th. They will also be closed on Friday the 16th of August.
The times of the showings vary greatly by day or date. Generally there are two showings on a Monday, Tuesday and Saturday at 11 am and 1.40 pm. Fridays the times are generally 1 pm and 3.40 pm. And Sundays there is generally three sessions at 10.10 am, 1 pm and 3.40 pm.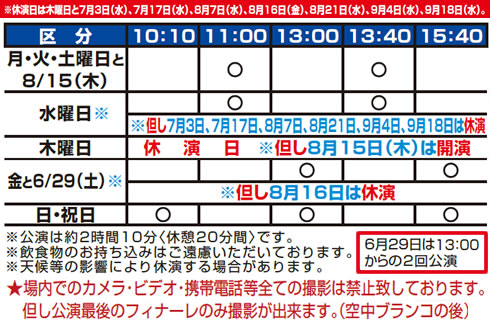 Kinoshita Circus Cost
The main price is 3,300 yen for adults and 2,300 yen for children. Tickets both in advance are 400 yen cheaper. They have other more expensive seats available too. More information on the website:
All images from the official Kinoshita Circus website. They only advertise each circus a few months in advance so they have yet to add information for Saitama for 2019. Information for Saitama has been added to the site, linked.
For more events in Saitama, please see the main event pages.
This event was moved to the posts archive to keep as a record for the next time Kinoshita Circus comes to Saitama Prefecture.