Kiyasse Hanyu, also called Hanyu Mitakaya Agriculture and Forestry Park, is located close to the Saitama Aquarium and Hanyu Riverside Park. They describe themselves as a type of "food resort". They sell local produce in the shop at the resort, but the brewery is a key attraction of this atypical venue. However, in 2023 they plan to take it a step further and open a large scale agricultural park with, what they call, a "Challenge Farm". Hanyu City is working with Agrimedia, an agritourism and agricultural development company headquartered in Tokyo, to develop this agricultural center promoting local produce with Kiyasse at its center. They have dedicated 24 hectares of land to the large scale project, right beside the Saitama Aquarium and Hanyu Riverside Park.
Kiyasse Hanyu Mitakaya Agriculture and Forestry Park
Kiyasse itself has been in operation since 2001. The current Kiyasse complex makes up just 3.6 hectares of the 24 hectare project. It sells local vegetables and there is a restaurant, a playground area and a flower area. There is also a barbecue area and they have always offered a handful of fruit and vegetable picking experiences during the year. For example, blueberry picking in summer. In addition, Kiyasse often run events on the weekend. In recent years, they have a lot of classic car events which are very popular. There is also currently a brewery on the site. The new park will open in April 2023. In the meantime, Kiyasse is currently operating as normal, but there maybe a period when they have to close.
Challenge Farm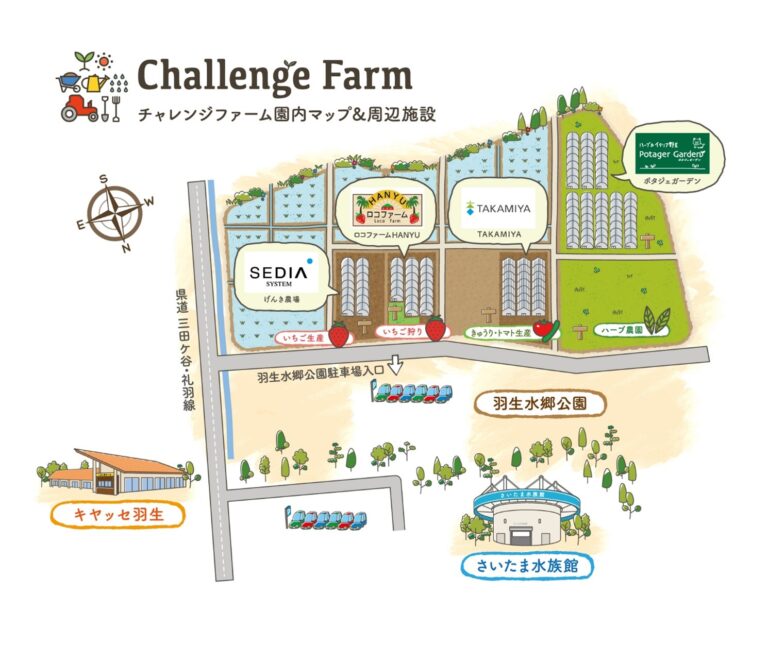 The current restaurant at Kiyasse will be overhauled for the project. The aim is for it to offer original cuisine wholly sourced in Hanyu. To that end, they are developing ties between local livestock farms and increasing the production of fruit and vegetables at Hanyu Mitakaya agricultural farm. One of those fruit farms is already open. Loco Farm – a very picturesque strawberry picking farm – opened in February 2020, just as the pandemic was taking a grip on Saitama prefecture. Apart from strawberry picking you can purchase food in the kitchen cars (food trucks) on site. There are four other companies signed up to the project and they are currently developing another strawberry picking farm, a cucumber and tomato picking farm and a herb garden. They are also creating a "share field" or something like what we call allotments in Ireland and the UK.
Strawberry picking 2023
The 2023 strawberry picking season at Loco Farm will start on Saturday the 28th of January. They will open the farm for strawberry sales the previous week on Friday January 20th. You need to book in advance if you want to pick. There is a calendar on their website, which shows the dates and times. They have three picking sessions at 10 am, 11 am and noon, for 30 minutes each time. They are closed on Mondays. It costs 2400 yen (1650) until March 31st, 2100 yen (1430) from April 1st to 30th and 1540 yen (1100) thereafter, until the season ends. The figure in (brackets) is the cost for children.
---
On a side note: I went to Hanyu this year – in September – to see the famous cosmos, but they weren't grown even though they were grown in 2021. In hindsight, the cosmos fields maybe part of the designated 24 hectares for the agricultural park, as the field is just a two minute drive from Kiyasse. I know I mentioned it was gone in the cosmos round up post, but I didn't know why it had closed. Mystery solved – maybe! It is possible, that the large sunflower field by Loco Farm is also gone for the same reason. I didn't check on it this year, so it maybe already gone.
>>You might also like: Yatsu no Sato in Namegawa is quite similar to the agricultural park they are developing at Kiyasse.
---
Information
Kiyasse Hanyu Mitakaya Agricultural and Forest Park キヤッセ羽生 (羽生市三田ヶ谷農林公園)
Address: 1725 Mitakaya, Hanyu, Saitama 348-0011. View on Google maps.
Hours: Kiyasse Hanyu is currently open Tuesdays to Sundays from 8.30 am to 5.15 pm. The new agricultural park will open officially in April 2023.
Cost: free to visit, activities have individual costs. See "Strawberry picking 2023" paragraph for strawberry picking costs.
Access
There is plenty of free parking both at Kiyasse and across the road at Hanyu Riverside Park. The area is only about a 3 (strawberry farms) to 5 minute (Kiyasse) drive from the Hanyu Interchange of the Tohoku Expressway, if you drive under the highway! Google directs you around the world, but there is actually a tunnel under the highway that makes the journey really short.
The park is approximately seven kilometers from both Hanyu Station and Kazo Station on the Tobu Isesaki line. On weekdays there is a very infrequent loop bus that goes from the east exit of Hanyu station to Kiyasse. If you miss it though, you'd need to be prepared to take a taxi back to the station! Between April and November on Saturdays, Sundays and public holidays there is a free shuttle bus from the east exit of Hanyu station to the Saitama Aquarium, which is literally just across the road from Kiyasse.