The Kumagaya Cherry Blossoms with rapeseed flowers along the riverbank is one of Saitama's famous images. Furthermore, the cherry blossoms there have been celebrated since the Edo period. Moreover, the area is listed as one of Japan's top 100 cherry blossom viewing spots.
The Kumagaya Cherry Blossom Festival was cancelled in both 2020 and 2021 on account of the coronavirus. However, the area was open to the public. Quite a few places have already announced that they won't have a cherry blossom festival in 2022. But I personally haven't seen such a notification for Kumagaya. Moreover, the Kumagaya air base has already announced a date for their 2022 cherry blossom festival, so it looks promising that there may actually be a cherry blossom festival at this famous sakura spot in 2022. In 2021, the cherry blossoms bloomed about a week earlier than normal. At the moment, the feeling is that the sakura will be early in 2022 too. But it is still too early to tell.
Kumagaya Sakura Season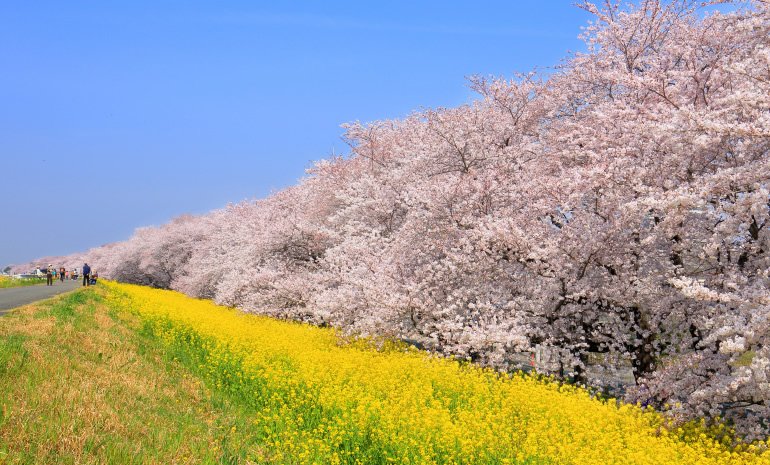 The sakura of Kumagaya are well renowned as one of the best places to enjoy "sakura matsuri" (cherry blossom festival) in Saitama. There are about 500 Yoshino cherry blossom trees along 2 kilometers of riverbank. They generally bloom the last week of March and the first week in April. It depends on several things. In 2021, they were forecasted to bloom early and they did. They were "open" (more than 50% in bloom) by March 19th 2021.
Update January 13th 14:32 ~ two hours after publishing this post, Weathernews.jp published their first sakura forecast for 2022! They are predicting that the cherry blossoms in Kumagaya will "open" around March 20th 2022. A day later than 2022, but earlier than an average year. Of course, a lot can happen in the next two months. Moreover, there will be further sakura forecasts over the coming weeks.
Kumagaya Cherry Blossom Festival
Dates: to be confirmed
Light up: If there is light up it is usually on from 6 pm to 9 pm
Festival stalls: No guarantees of festival stalls in 2022. In a 'normal year' there is usually about 50 festival stalls on an average day.
Related events: For example, there is often a hiking event or performances. For many years, the Kumagaya Sakura Yosakoi performed at least once, but they had a note on their website last year, 2021, that the dance troupe has retired.
Entrance Fee: NONE
Access: By train it is close to both the JR Kumagaya and Chichibu Railway stations. By car it is about 30 minute drive from the Higashimatsuyama Interchange of the Kanetsu expressway.
Parking: It is advised to come by public transport, but there is a temporary car park. In previous years it has been free, but that has yet to be confirmed for this year.