Menuma Festival Kumagaya City Saitama Japan cancelled in 2021 and 2022. In a 'normal' year this child friendly festival is held at the Menuma Sports Park on the first Saturday of August annually. It attracts about 10,000 spectators.
---
Menuma Festival
On April 8th 2020 it was announced that the festival would be cancelled for 2020 on account of the Coronavirus outbreak. The next festival will be on the first Saturday of August 2021, please God. It joins a long list of events cancelled in Saitama in 2020 due to the coronavirus, the Olympics or damage from last year's Typhoon Hagibis. There are some festivals still scheduled to go ahead in the summer, but that may change over the coming weeks.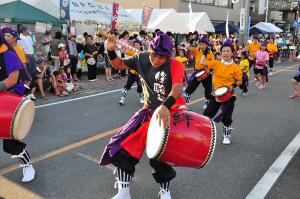 The Menuma Festival starts at 12 noon and finishes up around 10 pm. The earlier part of the day there is a bazaar and Flea market as well as kid's show and Jyankan competition. There is also typical festival attractions such as music, including Taiko drums performances, and dance.
Access by Asahi bus from Kumagaya station, but there is also free parking for 50 cars.
For more events in Saitama please see the main event pages.
Featured image in thumbnail from the official event website. 
20170801