The Mizonuma Kids Pool in Asaka are open in 2022. However, just like last year, there are a lot of conditions. First and foremost – the pools are only open to residents of Asaka City. Furthermore, you can only go for a half a day – either the morning OR afternoon session. They are limiting the number of people who can enter in 2022 too. However, its a lot more than last year. In 2021, they only allowed 100 people per session for a total of 200. But in 2022 they are letting 600 people in each day. That is, 300 people per session.
In 2021, you needed to book in advance to visit on weekends or during the Obon period. However, at the moment, that information is not yet available for 2022.
Mizonuma Pools
The pools are designed for families with small children. There is a toddler and preschooler pool as well as pools for older children. Unlike the prefectural pools which have a number of different pools, sliders and equipment to choose from, Mizonuma's pools are quite basic. However, they have plenty of slides and usually aren't too busy.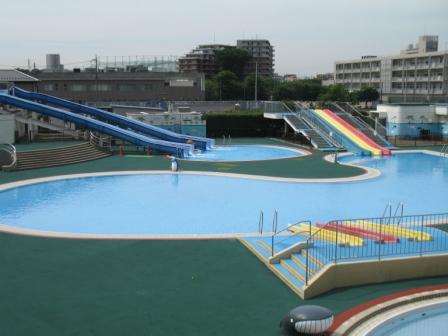 Please note that these pools are only for children and their accompanying guardian. Children older than junior high school age are not permitted. Only two children per adult are allowed.
Mizonuma Kids 2022 Information
Dates: The season is always from the second Saturday in July until the first Sunday in September. In 2022, that is from Saturday July 9th to Sunday September 4th. There are currently no scheduled days off and the pools should be open everyday, weather permitting. However, occasionally a typhoon or other external circumstances cause the pools to close unexpectedly.
Hours: The pools are open from 9.30 am to 5 pm. However, the last entry into the pools is 4.15 pm. You can't enter after that time. In addition, in 2022 the pools will work on time sessions – morning and afternoon sessions. The morning session in 2022 is from 9.30 am to 12.45 pm. And the afternoon session is from 1.45 pm to 5 pm.
Mizonuma Kids Pools Cost
It costs 200 yen for adults and 100 yen for children older than six years old. Preschool aged children and younger don't have to pay in.
Access
Address: 1043 Mizonuma, Asaka, Saitama 351-0023. Phone: 048-464-0023.
Plus code: RH4P+P2 Asaka, Saitama. On Google Maps.
Get a bus from the south exit of Tobu Tojo Line Asakadai station for Dai San Chugakko. Or you can get a city bus from Kita Asaka station to Yokonuma Rojin Fukushi Center. The pools are a five minute walk from both these bus stops.
There is free parking for 90 cars at the swimming pools and there is also coin parking lots in the area.
Official web page for summer 2022.
r20190615