Continuing with the take-out series, today I am introducing Modesty a creative cuisine restaurant in local Kawagoe. I say local, because this is one is off the beaten tourist path of Kawagoe. It is in Crea Mall, a pedestrianized shopping area, that is popular with locals for shopping, entertainment and dining in Kawagoe. Modesty Kawagoe is famed for its fondue style healthy vegetable dish Bagna Cauda…
Modesty Kawagoe
The creative cuisine restaurant Modesty has been serving Kawagoe locals for more than 20 years. A friend who has been a loyal customer throughout that time, introduced it to me a couple of years ago. Offering take-out during the Coronavirus outbreak and State of Emergency in Saitama, was probably easier for Modesty than most other restaurants. Although primarily a sit in restaurant, their Bagna Cauda is in such demand that they started offering it as take-out many years ago.
Bagna Cauda
Bagna càuda is a hot dish made from garlic and anchovies, originating in Piedmont, Italy during the 16th century. The dish is served and consumed in a manner similar to fondue, sometimes as an appetizer, with raw or cooked vegetables typically used to dip into it.

Source: Wikipedia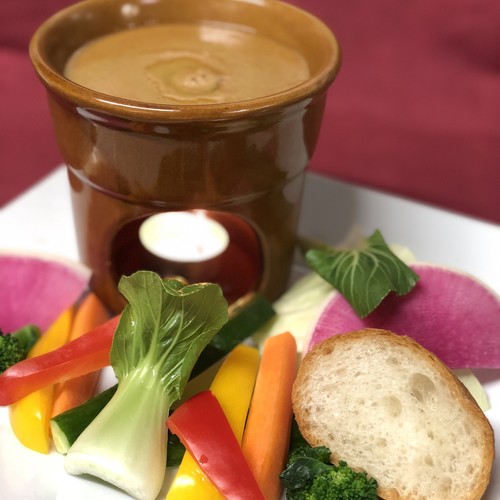 Bagna Cauda is a staple and signature dish of Modesty. It is so famed that apart from offering it as take-out, even out of the Coronavirus outbreak period, they also sell it online.
Creative Cuisine
Modesty Kawagoe is classified as a creative cuisine restaurant. They only offer about five dishes a day on their lunch menu, pictured above. I would recommend checking in advance if there is something suited to you on the menu. They have a kids plate for 500 yen. You can get alcohol at the restaurant too; either a glass of wine or draft beer. For a special occasion they do dessert plates, as pictured below.
Lunch Course
For sit in customers there is a very good lunch course for 2,400 yen. It comes with a small serving of the Bagna Cauda, starter of the day, soup of the day, a main of pork or fish, rice, dessert and a drink of tea or coffee. You can help yourself to refills of tea and coffee as often as you like. And you can also get extra rice too, for no additional charge.
Dinner Menu
Courses are the only option on the dinner menu. They cost between 3000 and 3500 yen per person. There are four different courses. Generally there is a pork option, a chicken option and a couple of fish options. Each come with a starter, Bagna Cauda, side dishes, dessert and tea or coffee. You can do a nomi-hodai (all you can drink) for two hours for an additional 1,500 yen. Drinks include draft beer, wine, cocktails, soft drinks and shochu.
Take out menu
For the take-out menu they have a fixed menu. They have two chicken dishes, a pork dish, a shrimp dish and a homemade burger. All the dishes come with rice and a mini version their famed Bagna Cauda. The take-out meals are very good value at 1,100 yen on average.
Crea Mall Kawagoe
Crea Mall is the shopping street that goes from Atre Kawagoe (at Tobu Tojo Kawagoe Station) right up to Taisho Roman Dream Street. Taisho Roman Dream Street sort of marks the start of the tourist area in that part of Kawagoe. Taisho Roman Dream Street is the street that leads up to the Bell Tower in the tourist district of Kawagoe.
There are several malls, shops,restaurants, karaoke bars and other entertainment facilities along Crea Mall. Its a nice street to window shop on and take in the local feel of Kawagoe. It reminds me greatly of Henry Street in my home town of Dublin.
The map is from the official Crea Mall website.
Crea Mall shops
As you can see from the map above, there are dozens of shops and services along the Crea Mall. Some notable locations along the street include:
Kawagoe Modi
Afternoon Tea Kawagoe
Zara
Karaoke Kan
Koedo Kurari
Kawagoe Kimono Rental
Modesty Kawagoe Access
Modesty Kawagoe is on the section of Crea Mall after the first main intersection with a road, if you are coming from Atre at Kawagoe Station. It is circled in yellow on the Crea mall map two paragraphs above, with a red arrow pointing to it. It is upstairs on the 2nd floor of the Amty building. Modesty Kawagoe is opposite the Koedo Kurari. A good land mark is the floating noodles in the video above, they are just before the restaurant (if you are coming from the station area).
Creative Cuisine Modesty Kawagoe Information
Address:
〒350-0043 Saitama, Kawagoe, Shintomicho, 1 Chome−3−9 アミティ本川越 2F
Phone:
049-223-7701
Hours:
Open Wednesday to Monday, closed on Tuesdays

EAT IN
Lunch hours: 11.30 am to 3 pm
Dinner hours: 5 pm to 12 am

TAKE OUT
Lunch: 11.30 am to 3 pm
Dinner: 5 pm to 9 pm
Cost:
Budget for about 1,300 for a one dish lunch
Lunch course 2,400 yen
Dinners between 3,000 and 3,500 yen
Take-out meals average 1,100 yen
Children's meal 500 yen
Online:
Official restaurant website
Online Store
Take-out portal
Other take-out restaurants in Kawagoe
Other restaurants in Kawagoe offering take-out (and sometimes delivery) during the Coronavirus outbreak include: