Nasunogahara Park Campsite with Crafting, Swimming pools, Hot springs, Grass Sledging, Athletic Playground, Multipurpose playground, Climbing playground, Tennis, Windmill, Observation Tower, Bike rental
My family of six are unanimously agreed that Nasunogahara campsite is our favourite camping ground to date. It is the perfect location for a family trip alone or as a group of families as we were our second time. It is the most family friendly yet economical campsite we have been to yet. Sweetgrass (Karuizawa) and Camps & Cabins (Nasu) maybe exceptional examples of family friendly campgrounds, but they cost twice the price of a regular site and are near impossible to get a booking on the weekend. We were able to secure a place in Nasunogahara last minute and paid half of the more renowned sites for the pleasure.
And despite the lower cost, there is twice as much to do. Where else can you enjoy swimming pools, grass sledging, hot springs, two large playgrounds, plus an athletic playground with adult hamster wheels!? Not to mention having a choice of other attractions on your (tent) door step! I am sure there probably other campsites in the Kanto plain with similar facilities that are as understated as Nasunogahara, please do comment to let me know where.
Nasunogahara Campsite
As you come into the camp grounds the reception building is on the left. It is the reception for the campsite, the log cabins and the day camp and barbecue area. Like the campsite, the reception building is very clean and well maintained. Posted clearly by the entrance door is the radiation levels for the area for that day. Thankfully they are within normal range.
Nasunogahara Camp grounds facilities
There are showers, coin operated washing machines, an event / crafting space and a shop within this building. You can access the bath with Nasu Shiobara pumped hot spring water, from the back entrance of the reception building too. There is an area to park your car right outside the door while you "check in". Check in is from 1 pm. On one side of the building there is a small seating area, an ashtray and a drink vending machine.
Each site in the auto site area comes with a picnic bench which we found very useful. There are communal sinks at different points in the camp grounds. They are covered and have a great work space which even has benches on one side. There are hot water taps. Washing up liquid and sponges are not provided, so you need to bring your own. Likewise in the hot springs there is no shampoo or soap so you need to bring your own. However, the small shop in the reception area sells all of the above: washing up liquid, soap and shampoo and in small convenient travel sizes too.
The sites at the camp ground
The sites are large. We have stayed in both the "auto" sites and "free" sites. Both are grass sites. You can park your car right beside your tent in the autosites, but in the free sites most of the area is not beside the car parking spaces for this land. Autosites are those that have an electrical output. The electricity source at the auto site in Nasunogahara is just one socket, so if you need to use a few different plugs you will need to bring a power strip. Also, the point of access is away from the open space for the tent so a long cable is also advisable if you want to use the outlet for an electric carpet or anything else in the tent.
The free sites don't have the sites marked out or numbered. First come, first served and if you are one of the first to arrive you can secure as large as space as is needed, within reason of course. We were the first to arrive the day that we were camping with two other families. The area we secured was massive with room for three tents including one for 10 people, one huge tarp and a smaller six tatami tarp with lots of room for play and campfires. The free area is wooded on the circumference with green open space in the center.
Crafts and events
A number of crafts and events are carried out at the campsite during the year. They don't advertise them on their website, but they will provide the information when you arrive. With so much to do in the area itself, we only participated in one event so far, but the children really loved it. It was a balloon art event.
I was able to leave my four kids, even the three old, with the staff and other campers in the reception building while I helped pack up our tent and camping gear. A member of staff patiently taught them how to make animals out of balloons and helped the younger two make theirs. They made around 20 balloon animals between them and the event was totally free. We have since brought balloons with us on other camping trips and it has proved to be a great camp craft!
Cherry blossoms at Nasunogahara Campsite
We visited at the end of April when the late blooming cherry blossom trees, yaezakura, are normally in bloom. However, this year as all cherry blossoms bloomed early we just missed the trees in their prime. We had a stunning mature cherry blossom right over us and some of the petals were intact, but mainly the tree was green and the beautiful petals were blanketing the ground. We took quite a lot of petals home, inadvertently, that had fallen on the tent. To be honest, as pretty as they are, it was a bit of a nuisance to remove them from the tent!
Nasunogahara Campsite Hours and Cost
The main reception building is open until 10 pm. You can use the shower rooms any day of the day, but the bath / onsen is closed between 8 am and 3 pm. Check in is from 1 pm to 10 pm. Check out is 11 am.
The autosite (with electricity) cost 4,620 yen per site. A site in the "free" area costs 2,570 yen. Day camp is 2,570 yen and comes with necessities. The 4 people cabin costs 18,500 yen and the 8 people one costs 30,200 yen. There is a toilet, bath, fridge, microwave, television and bedding in the cabins.
Nasunogahara Park Facilities
☆Swimming Pool
A short walk from the camp grounds is Nasunogahara's public outdoor seasonal pools. They are available from the middle of July to the end of August. During that period they are open from 9 am to 5 pm, with last entry at 4 pm. There are four pools in total. One for toddlers, one for small children, a general pool and one with waves. There is a large water slider too.
The children's pool is large with a wide slide, a play area within the pool and a water fountain. The water at its deepest is 60 centimeters. The toddlers pool is only about 10 centimeters deep and is quite small making it relatively safe for very small children.
Other facilities at the pools include a shop, restaurant and coin lockers. The shop sells inflatable pool rings and floaters that can be used in the pools. The pool costs 1,130 yen for an adult for a full day entry, 920 yen for high school students, 410 yen for primary and junior high school students and 200 yen for preschoolers. Children under three are free in. There are discounts for groups of 20 or over.
☆Tennis Courts
Just past the entrance to the swimming pools are the park's tennis courts. There are 12 grass courts. The tennis courts are open every day of summer holidays, spring break and the month of October, but for the rest of the year they close on Tuesdays. The tennis courts cost 510 yen for two hours on a weekday, but on weekends it costs 870 yen to rent in the morning and 1,280 yen in the afternoon. You can book a court for the whole day for 2,100 yen on the weekend. They are open from 8.30 am to 6 pm except in winter when they close at 5 pm.
☆Grass Sledging
Beside the reception for the tennis courts is the reception for the grass sledging. There are two slopes a huge terrifying steep long one and a smaller one for children. At reception they will give you a sleigh to use on the slopes. The slopes cost 150 yen for children of school going age and 300 yen for adults, but on the third Sunday of every month it is free for school aged kids. Young children are permitted to use the smaller slope, but an adult has to accompany them.
☆Athletic Playground
The athletic playground or "field athletic" as the park calls it has 30 different pieces of equipment. The hamster wheels pictured above are at the end of the course and one of the most popular activities in the field athletic. The course is quite challenging and children under 6 years old are not allowed to use it. It is a little bit far from the campsite, about a twenty minute walk, or you can drive from the campsite to a nearer car park which is only a three minute walk away.
It is excellent value for money at just 300 yen for adults and high school students and 150 yen for primary and junior high school aged children. In the winter, between December 1st and March 19th, they have a parent-child ticket for 360 yen. The playground opens from 9 am all year round. It closes at 4.45 pm from April to September and at 4.30 pm between October and March. Sometimes when there is heavy rain or the playground is very wet after rain the playground is temporarily closed.
☆General Playgrounds
There are two other playgrounds in the Nasunogahara park which are free and open to all. The one closest to the field athletic has a great sandpit hand operated crane that was a big hit with my kids. There are swings, slides, a winding tunnel slide, climbing, see-saw, maze and spring rides in this playground.
A little further past this playground, away from the campsite, is another play area with a huge spider climbing frame. There are a couple of smaller pieces of play equipment in this area for smaller children.
Nasunogahara Access
Nasu Shiobara is an easy commute from Saitama thanks to its convenient location off the Tohoku Expressway which links directly to Kawaguchi and to other parts of Saitama when you switch to the Ken-o or Kita-Kanto expressways. It takes between an hour and a half and two and a half hours depending where you are in relation to any of those three expressways.
By public transport you can take a 13 minute bus ride to Senbonmatsu farm 「千本松牧場」 from the JR Utsunomiya line's Nishi Nasuno station. The campsite is a 20 minute walk from the farm.
---
Nasunogahara Park Auto Campgrounds is a great place for a first camping experience or even for experienced campers. The cabins can be used all year round making it also suited to a winter camp. During summer the pools provide a great way to stay cool in the summer heat. The barbecue area welcomes day campers or you can freely use the park on a day trip from Saitama or Tokyo. The park has lots to offer both campers or those on a drive. We have visited the park on our annual day trip to the Nasu area to visit the real Santa Claus in his grotto. I personally have found this camp to be the most family friendly camp we have been to in the Kanto area so far. And we were very impressed with the friendly yet professional staff who were exceptionally helpful and accommodating.
In the Nasu Shiobara area
Place Review: Senbonmatsu Farm, Nasushiobara-shi, Tochigi
Place Review: Senbonmatsu Farm, Nasushiobara-shi, Tochigi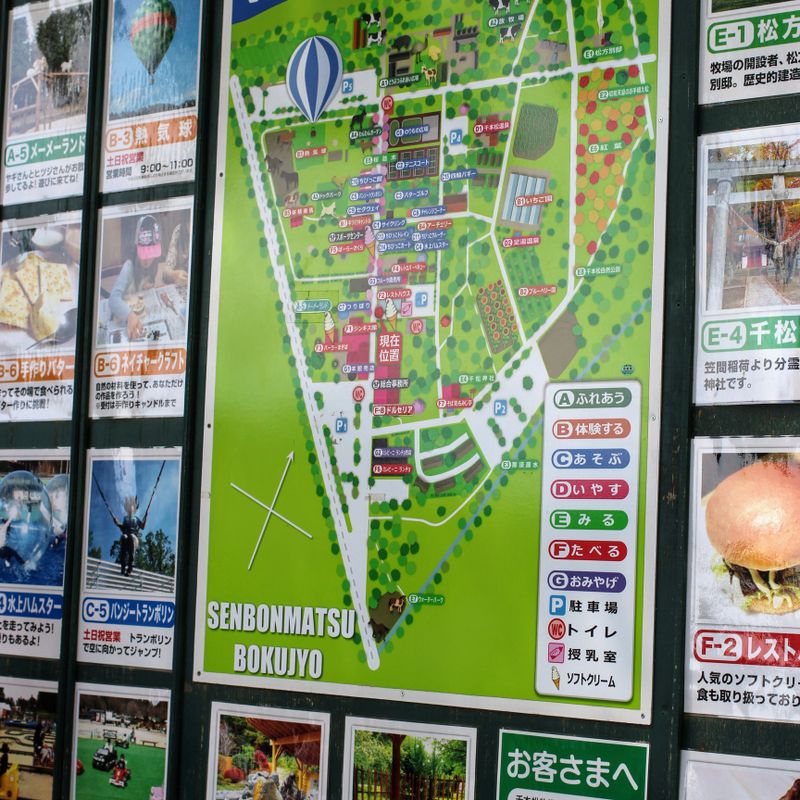 Review – Senbonmatsu Farm in Japan. There is a lot on offer at this huge farm and ranch in Nasushiobara. Nice place for a family day out, if you are in the area. The farm is free in and there are
Source: www.city-cost.com/reviews/G75WM-Senbonmatsu_Farm_Lifestyle_Hobbies_Nasushiobara_shi?vid=1
Other campsites featured on this blog
Saitama
Gunma