Off the beaten path cherry blossoms and sakura boat ride, on the Ando River, in Kawajima Town, Saitama Prefecture. Updated April 12th 2023 with late-blooming yaezakura information.
For the first time in four years, Kawajima Town will have their sakura boat ride in 2023. The boat ride information section has been updated with that information for 2023 and information for the late-blooming yaezakura was also added in 2023. The rest of the post is the original 2022 post:
---
It looks like 2022 maybe another year that off the beaten path cherry blossoms will be in demand, as Omicron has yet to loosen its grip in Japan. The numbers have plateaued, but they are not coming down quite as fast as expected or hoped. Currently, Saitama prefecture is under a "preventative measures" directive. It doesn't really effect daily life, but it has effected seasonal events. Even if that directive is lifted before cherry blossom season, there may still be many who are looking for less crowded places to enjoy hanami again this year.
Off the beaten path cherry blossoms
I shared the featured photo of this post (the photo at the top) on Instagram a few weeks ago, when introducing the very first cherry blossom forecast of the season. Quite a few people commented or messaged me directly to ask where it is. I always say I don't have secret spots, but what I do have – places that are on the blog and places that are not! Thanks to the response on Instagram, I decided to share this off the beaten path location on this blog, even if it is not the largest or most special sakura spot. But just look how beautiful the mature cherry blossoms are:
Even before the pandemic, I have always preferred the quieter cherry blossom spots. So this is not the first and it certainly won't be the last off the beaten path cherry blossoms I introduce on this blog. The great thing about Japan is you can always find some lesser known cherry blossoms where you can enjoy a private hanami. There was a time when I was as happy to sit among hundreds of people and take in the "hanami" atmosphere. But nowadays, I prefer these type of places. And this cherry blossom spot in Kawajima Town is ideal for a quiet undisturbed hanami.
Tunnel of sakura
There is no official website for this location. Furthermore, the Kawajima Town website only has a photo and two sentences about the location. As such, I have no idea how many sakura there are at this spot. But what can I tell you is that it has a lovely tunnel of sakura. Its about 300 meters long. In addition, the cherry blossoms wind around a green area where you can sit and enjoy hanami, as per the photo below. The photo was taken on March 31st 2021 and the sakura were already turning green:
Furthermore, there is also a small wood of more sakura trees. And then there is the line of sakura along the Ando river. Its a pity the sakura are only on one side of the river. I have no doubt if there was a tunnel of sakura along the river this cherry blossom spot would enjoy more visitors and fame!
Ando River Sakura Boat
The only time this location is really busy is when they have the sakura boat ride on the Ando River. Which is usually on one select day during prime cherry blossom season. Kawajima is so named because it is an island among rivers. Kawa means river, jima is from shima for island. The town is completely surrounded by rivers. Until recent years, there was often floods in the town. As such, almost every home owned a "wasen" Japanese traditional wooden boat. Although, they are not necessary in modern Kawajima, many homes, even the main local park, still have wasen boats on their property.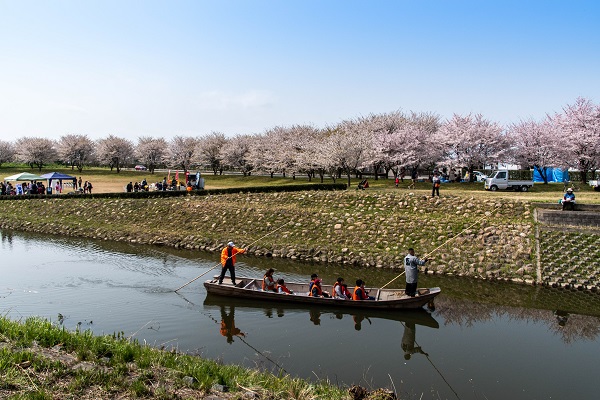 During the cherry blossom season, the town offers the chance to experience going down the Ando River in a wasen boat. The event is usually held on the first Saturday of April and requires advance booking. I am delighted to announce that the boat ride is coming back in 2023, for the first time in 4 years. However, it will be on the first Sunday (not Saturday) of April: Sunday April 2nd 2023. The rides will begin from 9 am. It is limited to 100 people and you need to apply by 5 pm on March 24th to participate. Here is the online application form. And the official event post here.
This is the only sakura boat ride I know of on the Ando River in Saitama Prefecture. There is of course the famous Shingashi River boat ride in nearby Kawagoe. And in Konosu, you can take a boat under the sakura that line the Motoara River.
Kawazuzakura
A couple of days after writing this post I was looking through some old photos when I came across some photos of Kawazuzakura at this location! I had completely forgotten about them, although I've actually been to see them a few times over the years, just not last year. So this week while checking on several different Kawazu in Saitama Prefecture I checked on this location too. Twice already! The second time, just today (March 5th). Unfortunately, they are still bare. They normally bloom late February to early or mid March. It looks like this year, if they bloom it will be mid March. If so, they may still be in bloom when the Somei Yoshino are.
---
Yaezakura
Added on April 12th 2023: the yaezakura are currently in bloom at the Kawa no Hiroba in Kawajima Town. I think they were the last of the three varieties of cherry blossoms to be planted at the site, as the trees still look quite young. But they are blooming beautifully this year. They line either side of the kawazu featured in the previous paragraph. So there is a nice contrast of the new green of the kawazu and the fluffy pink blossoms of the yaezakura. There are about 25 trees (at a guess) – half along the Ando river, half along the "Sakura Road" (name of the street).
---
Information
Off the beaten path cherry blossoms in the Hiki District of Saitama Prefecture.
Address: Kawa no Hiroba, 496 Kamimujina, Kawajima, Hiki District, Saitama 350-0136
Phone: 049-297-1811(Kawajima Town Hall)
Hours: 24 hours
Cost: Free
Access
This area is quite difficult to get to by public transport. Kawajima Town does not have a train station. Moreover, it has very few buses. The area is best visited by car. There is a car park by the Kawa no Hiroba, which fits about 12 cars comfortably. Apart from when the Wasen Boat ride is on, that is more than sufficient as this spot rarely gets visitors.
The area is quite remote, but last year a fancy gelateria opened nearby! There are also more secret sakura nearby! Also, Asterisk cafe is nearby (linked to location on Google maps). It has an excellent reputation. However, please note, it is not suited to children at all. In addition, a short drive from these cherries: