Omiya Daini Park is one of Omiya's three eponymous public parks. They are all located relatively close together, but Omiya Dai Ni, or Omiya second park in English, and Omiya Dai San, Omiya third park, are right beside each other. Omiya Dai Ni park is best known for its plum blossoms that bloom in February annually. In 2023, for the first time in three years, they will have a plum blossom festival. Moreover, as of January 19th 2023, there are already some plum blossoms in bloom in the park. The park also has several different seasonal flowers and blooms. In addition, the park hosts several events throughout the year.
Omiya Dai Ni Plum blossoms
There are approximately 500 plum blossom trees of 40 different varieties. It is the only large size plum grove in Saitama's capital, Saitama City. There are several other plum blossom groves in the prefecture though. The plum grove is on the North West of Daini park. But the park merges into Owada Park. In that sense it is in the middle of the parks! It isn't a particularly large area, but it is pretty.
Its much smaller than the other plum blossom groves that Saitama is famous for such as Ogose Bairin and Hodosan Bairin. However, there are plum blossoms in bloom throughout the park in different areas. Even by the playground there are a few plum blossom trees. In the grove you can see plum blossoms contrasted with pine trees, as in the featured photo at the top of this post.
Omiya Plum Blossom Festival
In a normal year there is a festival during the period that the plum blossoms bloom. The festival is usually held from about mid February to mid March in Omiya Dai Ni Park. In 2021 and 2022 there was no festival, but the park and its flowers were open to the public. They even had one food van in 2021, selling Hong Kong style crepes on the weekends. However, the popular tea house in the park was closed.
Omiya Plum Blossom Festival 2023
The 37th plum blossom festival is scheduled for 2023. It is the first time in three years that the festival will be on. It is scheduled to start on Saturday February 18th and run until Sunday March 5th. Moreover, they are planning the usual things they had before the pandemic, such as:
Guided tours
Tea ceremony events
Plum blossom festival concerts
Gallery events
Crafts
A petting zoo
Flea markets
Other blooms at Omiya Daini Park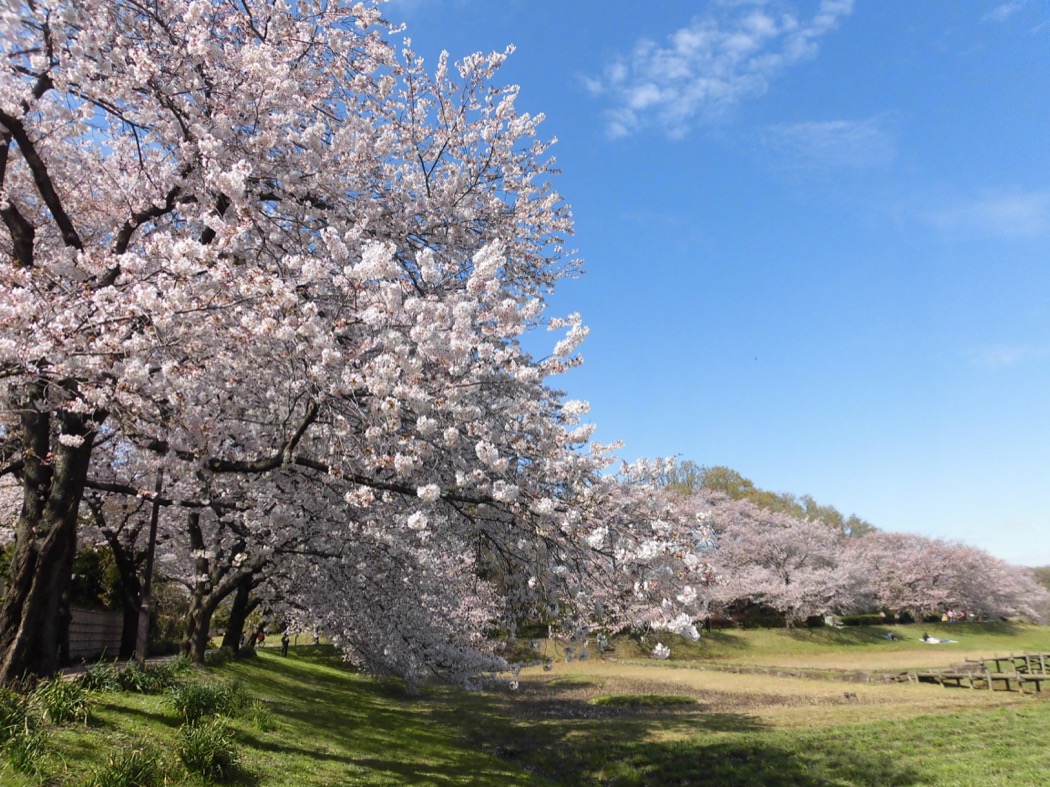 Omiya Park is famous for cherry blossoms. However, Omiya Dai Ni park also has some beautiful mature cherry blossom trees. The main display of cherry blossoms is around the pond in the park. They are of the Somei Yoshino variety. On March 20th 2022 it was reported on tenki.jp that the cherry blossoms are opening at Omiya Daini Park. The second place to report that the Somei Yoshino are opening in Saitama (in 2022) after the 100 caves of Yoshimi.
Locally Omiya Dai Ni is particularly known for its rainy season flowers. There is an Iris garden and hundreds of hydrangea in the park. There are approximately 2600 iris in the iris garden of Omiya Dai ni Park. Normally they bloom in June. There are also sunflowers in the park in summer.
Other Event Information
The park hosts several events during the year, including monthly exercise events. They also occasionally have large events. The next 'big' event at Omiya Dai Ni park will be the "Colorful Sky Lantern" Night on Saturday May 14th 2022. It starts at 6 pm, but reception is open from 3 pm. It costs 4000 yen for a sky lantern. Booking is already open. Here is the link for making a reservation.
Information
Dai Ni is often written as one word: Omiya Daini Park. The park has a playground, tennis courts and coin operated battery cars. There are toilets in at least two different locations. There is an open green area by the playground where you can play ball. Bikes are allowed in the park.
Address:
Omiya Dai Ni Park (or often written Omiya Daini Park), Omiya Ward, Saitama, 330-0805
Phone:
+81486422228
Hours:
24 hours, but parking maybe closed overnight
Cost:
Free and free parking
Online:
Official website
Twitter account
Omiya Plum Blossoms Access
Omiya Daini park is on route 2 close to the intersection of route 1 and route 2. The area is always very congested so expect traffic. Parking is free and when there is no event on, is sufficient. However, during plum blossom and cherry blossom seasons, it can be hard to get a parking spot.
By public transport, both Omiyakoen and Omiya Stations are within walking distance. It takes about 10 minutes on foot from Tobu Noda Line's Omiyakoen station and about 20 minutes on foot from Omiya Station.
More information on Omiya Park:
Other plum blossom locations in Saitama Prefecture: