"Outdoor Park" is a Bi-annual event at Shinrin Park (officially Musashi Kyuryo National Government Park) in Namegawa town. The current information in this post is for the Spring 2023 Outdoor Park, which is on select dates in Golden Week…
Every year Shinrin park hold two "Outdoor Park" events: one in Autumn and one in Spring. The autumn event is normally the main one with lots of stage performances and special events, but it is only one for two days on a weekend in Autumn. But the spring one is generally on for longer, during Golden Week. However, the pandemic messed everything up for the last three years!
Spring Outdoor Park
The spring outdoor park was on in 2022, but events were very limited and it was only on for three days. However, thankfully in 2023 things are going back to 'normal'. Moreover, this years spring outdoor park will actually be on for the longest to date – for seven days rather than its usual four! The spring outdoor park will be on Saturday April 29th, Sunday April 30th and daily from May 3rd to 7th in 2023.
Outdoor Park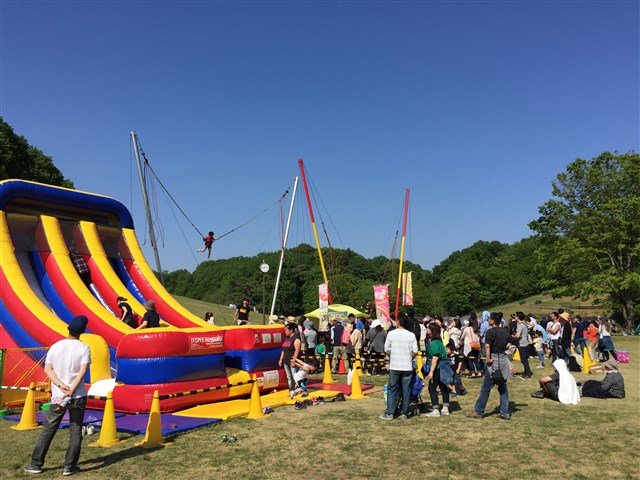 There are different events on different days, but the activity zone is open each day. The activity zone is usually beside the park's famous air mountain trampoline. It includes an air slider and bungee trampoline. They also have an open air market daily, with coffee, food and merchandise. This year they will also have a 'botanical picnic' (from May 4th to 7th). They have workshops planned too. In addition there are additional activities on select dates:
Treeing on April 29th and 30th
Canoeing on April 29th and from May 3rd to May 7th
Radio controlled go karts on April 29th and from May 3rd to May 7th
Grass skiing from May 3rd to May 5th
Last year there were quite a few rules in place in the park. However, in 2023, there is currently none listed. Normally, the Spring Outdoor Park marks the start of the water play areas opening in the park. (And in Autumn it marks the start of Halloween Night in the Forest). However, in 2022 the water play areas didn't open until much later in the summer. Currently, they have not yet disclosed information for the water play areas in 2023.
Information
Shinrin Park is what the locals call it, but the official name is Musashi-kyuryo National Park. The nearest entrances to this event are the West and Central Gates. There are several flowers currently in bloom in Shinrin Park, including Lupine flowers, Nemophila (Baby Blue Eyes) and Icelandic Poppies. The poppies are particularly near the event area, hence the featured photo!
Event: Spring Outdoor Park
Dates: seven days in total – April 29th, 30th, May 3rd to 7th
Time: 9.30 am to 4 pm
Cost: it costs 450 yen for adults to enter Shinrin Park. There is no charge for children. However, most of the activities at Outdoor Park incur a cost. For example, treeing costs 1500 yen, the air slider costs 500 yen for six turns and the canoe costs 1000 yen.
Venue: Shinrin Park Undo Hiroba, Yamata, Namegawa, Hiki District, Saitama 355-0802. View on Google Maps.
Outdoor Park Access
The Tobu Tojo Line Shinrinkoen Station is approximately three kilometers from the south exit of Shinrin Park. The event area is at least another two kilometers from the south entrance! You can get a bus from the station and also from JR Kumagaya station. Within the park there is also a park bus. You can rent bikes too.
There is plenty of parking at Shinrin Park with parking lots at each of the four entrances (North, South, West and Central) to the park. Parking costs 650 yen for the day. There are also cheaper independent parking lots by the South and Central exits.
General information about Shinrin Park on this blog:
Editor's note: this post was originally published in 2016 on the events calendar. Further to the uninstalling of the event calendar plug-in, the event was republished on the main blog in April 2022. It was republished with the updated information for 2023 on April 13th 2023.