Saitama Water Park Summer Pools in Ageo usually open in the middle of July to early September. However, in 2020, like most other seasonal outdoor pools and aqua parks, the pools did not open on account of the Coronavirus. They are opening in 2021 from July 31st to August 29th. However, you need to purchase a dated ticket in advance from a 7-11 within Saitama prefecture. Tickets will go on sale from July 24th. On July 29th, further to the announcement of a State of Emergency (SOE), the Saitama Prefectural pools announced they will not be opening in 2021 after all. Official notification and information on ticket refund.
They are also aiming to open the barbecue area again this year. In 2020, it actually did open even though the pools were closed.
Saitama Water park during the pandemic
Temperatures will be taken at the gate. They will not allow people with a temperature above 37.5 ° C to enter the park.
They ask that you maintain social distancing when lining up to use the facilities
Please refrain from using the pool if it is crowded. Moreover, you maybe asked by staff to move on if they deem the pool is too full.
They request that you keep a distance of 2 m or more from other users in the open space for pop up tents and blue sheets.
Please wear a mask at all times from your visit to the pool changing room.
Please come with your bathing suit on under your clothes to prevent the changing rooms from becoming crowded.
Alcohol is prohibited.
All images in this post are from the official website.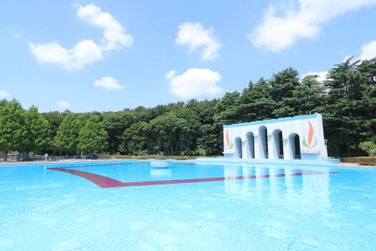 Saitama Water Park Hours:
In 2021 the pools will open from 10 am to 5 pm, with last entry at 4 pm. You must purchase a ticket in advance from a 7-11, there will be no tickets at the gate.
FOR A 'NORMAL' YEAR: In a non pandemic year the pools open the first weekend in July. From mid August until the closing day, the pools are open from 9 am to 5 pm. From the middle of July to the middle of August the pools are open from 9 am to 6 pm. In a non pandemic year you can get a ticket at the gate, but not in 2021.
**Please note that in the case of stormy weather the pools maybe closed on short notice.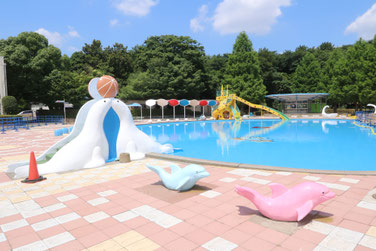 Saitama Water Park Cost:
As the main prefectural seasonal pools the seasonal pool in Ageo is cheaper for adults than the other three prefectural pools; Shirakobato Water park, Kawagoe water park and Kazo Hanasaki Park. They each cost 720 yen, but the summer pools in Ageo only cost 520 yen. The price for children is the same at 210 yen. Children under 6 are free in. They have a family pass for 2 adults and 2 school age children for 1230 yen.
Saitama Water Park Access:
Take a bus bound for "Ageo Undo Kouen" (上尾運動公園) from JR Takasaki Line's Ageo Station.
Parking for 1000 cars, which costs 840 yen for the day. (Also see Google Maps at the bottom of post) Sat nav/GPS: phone number 048-773-6711
Saitama Water Park Facilities:
Pools include(but are not limited to) a wave pool, a pool with 6 sliders and a 40 to 60 cm depth children's pool with 2 slides. Infants and toddlers still in nappies are allowed with a water nappy / diaper.
Other:
There is a normally a food corner, I am not sure if it will be available in 2021. They normally have events on weekdays, but there are currently none scheduled for 2021.
You might also like:
Kawagoe Water park Summer Pools
Shirakobato Summer Pools and beach
Water Fight Festival in Saitama Shintoshin
Information for the seasonal pools in Ageo was originally on the main pages of Saitama With Kids and was moved to the events section in 2016. The event is updated annually.