The Sakado Yosakoi is one of the largest festivals in Sakado annually. So it was greatly missed during the pandemic. Especially as they also cancelled it, on short notice, in 2019 due to a large typhoon. This year, 2023, will be the first time the festival is on in five years.
Sakado Yosakoi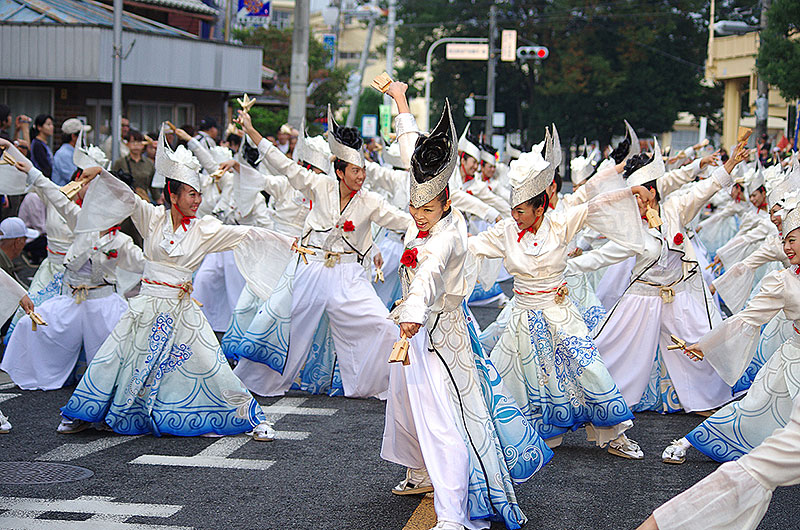 In April 2023, Sakado City announced that, all things equal, the popular Yosakoi festival will be held in its usual month of October. However, currently they are only planning one day, instead of the usual two. Before the pandemic (and typhoon), in 2018, a total of 2300 people in 53 teams competed in the Autumn Sakado Yosakoi. The dancing teams parade from Sakado station to Kita-Sakado station, both of which are on the Tobu Tojo Line. There are three stage areas as well, with the main stage at Sakado's Bunka Hall, in the car park.
Apart from the parade and stage events, there are some festival booths which of course include festival food. In 2018 that included gourmet from the Tohoku region. We will have to wait and see what the line up is for 2023. As of August 22nd, they are still in planning stages. But I am posting this now in case I don't get a chance to and for people who like to plan ahead!
Information
Event: Sakado Yosakoi 2023 第23回 坂戸よさこい
Date: Sunday October 8th 2023
Time: 11 am to 5 pm
Cost: there is no admission fee for the street event
Venue: main area is usually around Sakadoshi Bunka Hall文化会館ふれあ大ホール.
*They make changes between now and the event. Please do check the official website for the most up-to-date information.
Access
This event is less than an hour from Shibuya and Ikebukuro stations, using the Tobu Tojo line. The nearest stations are Kita Sakado and Sakado stations. They are a 10 and 15 minute walk respectfully, from the main stage.
Other things to do in Sakado
Editor's note: This post was temporarily removed from the website during the pandemic. It was republished on August 22nd 2023.