Setsubun Saitama- Setsubun is a religious ceremony practiced every year on February 3rd. However, in 2021, for the first time in 124 years, Setsubun will fall on February 2nd. Due to the rarity of this, it is not common knowledge. As such, most people will probably still celebrate on February 3rd. Historically setsubun, which literally means seasonal division, was a four day period marking the changing of the seasons. Risshun is normally February 4th, however this year it is February 3rd. Risshun is the first day of spring and historically the start of a new year. The eve of risshun came to be the day that setsubun is celebrated.
Celebrating Setsubun Saitama
There are various ways to celebrate Setsubun and they vary according to district or region. But a common element of most, if not all, is mamemaki – bean throwing. Mamemaki is done to rid the house of demons. Kids often do it at preschool or in the local community centers also. But for adults, the most rewarding place is at a temple or shrine. Apart from throwing beans, they also throw trinkets and even money sometimes!
You can read more about setsubun, and even pick up a few free resources for the festival, here. And more about what to expect at a mamemaki throwing event here.
👹Setsubun Saitama 👹
Here is a selection of ten fun places to enjoy mamemaki (bean throwing ceremonies) for the Setsubun festival in Saitama. The majority of them are at religious sites, but there is one on a train! Each of these setsubun events are held annually on February 3rd, regardless of what day of the week it is. However, in 2021 on account of the State of Emergency many of these places may have to cancel their event:
1. Souganji, Kazo City
Cancelled in 2021 due to the State of Emergency.
The Setsubun festival at Fudougaoka Fudouson Souganji Temple in Kazo is famous throughout Kanto and beyond. Apart from the usual bean throwing event, when temple officials throw beans from a dias, they also have performances by "oni". This is one of the rarer and more illustrious setsubun events in the Kanto plain.
Event time: from noon to 9 pm
Address: 2 Chome-9-18 Fudooka, Kazo, Saitama 347-0054
Access: Take a bus for "Kazo Garage" from Tobu Isesaki Line Kazo Station. 3 minute walk from the garage. 15 minutes by car from Tohoku Expressway Kazo Interchange.
Parking: For 500 cars, but not available on the day of the setsubun celebrations.
---
2. Hikawa Shrine, Omiya
Cancelled in 2021 due to the State of Emergency.

The setsubun festival at Musashi Ichinomiya Hikawa Shrine involves a Japanese archery performance followed by special guests throwing beans from the dais. Each year approximately 2,000,000 people visit the shrine. The walkway to the shrine is said to be the longest in Japan.
Bean throwing times: 12.30 pm, 2 pm and 3 pm
Address: 〒330-0803 Saitama Prefecture, Saitama, Omiya Ward, Takahanacho, 1-407
Access: 20 minute walk from JR Omiya and Tobu Kita Omiya stations (in Omiya Park)
Parking: no parking for big occasions such as setsubun and New Years. (usually there is parking for 130 cars)
Official website. Image from the official site
---
3. Menuma Shodenzan, Kumagaya
Menuma Shodenzan, a designated Japanese national treasure, is one of Japan's three great Shoden temples. It is affectionately referred to as the Saitama Nikko for its stunning architecture. The setsubun event draws hundreds of excited participants hoping to catch a few of the treats the officials throw to the crowds.
In 2021, the festival has not been cancelled (as of January 9th), but they will not be carrying out the bean throwing.
Bean throwing: noon, 4 and 8 pm
Address: 1511 Menuma, Kumagaya, Saitama Prefecture 360-0201
Access: 25 minute bus ride from JR Kumagaya station
Parking: they usually have some sort of parking set up for big occasions such as setsubun and New Years.
Official website. Image from the official site
---
4. Yakyu Inari, Higashimatsuyama
At Yakyu Inari Shrine, commonly known as the baseball shrine , it is not uncommon to spot a baseball player here. For setsubun there may even be a famous baseball player throwing the beans and goods from the dias.
Hours: various ceremonies between 9.30 and around 4.30 pm. The children's mamemaki ceremony is at 4 pm, but it requires advance registration and is limited to children from the area.
Address: 2 Chome-5 Yakyūchō, Higashimatsuyama-shi, Saitama-ken 355-0028
Access: minutes walk from Tobu Tojo Line's Higashimatsuyama station.
Parking: from January 1st to 3rd 100 spots, from the 4th 50 car spots
---
5. Anraku-ji, Yoshimi
Despite the remote location of Anraku-ji, also known as Yoshimi Kannon, thousands of worshipers pay homage annually. The main reason is that the shrine is on a famous pilgrimage of 33 temples.
Event Hours: the children's mamemaki is from 4 pm
Address: 374 Gosho, Yoshimi, Hiki District, Saitama 355-0151
Access: The nearest station is Higashimatsuyama Station on the Tobu Tojo line. By car, the nearest interchanges are Kawajima on the Ken-o expressway or Higashimatsuyama on the Kanetsu expressway.
Parking: Most people walk to this temple as its on a pilgrimage course. It is very short on parking, but there is some parking beside Lake Hatcho and there is a short cut from the lake to the temple.
---
6. Chichibu Shrine, Chichibu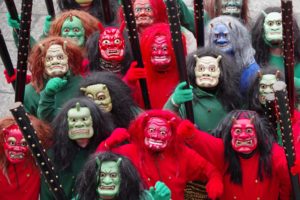 The Chichibu shrine has a rich and fascinating history spanning 2100 years. About a million people visit the shrine each year. The setsubun festival at this shrine is widely known. It is one of the larger setsubun celebrations and involves dozens of demons!
Mamemaki / Setsubun ceremony hours: 10.30 am, 11 am, 11.30 am, 2 pm, 3 pm and 7.30 pm.
Address: 1-3 Banbamachi, Chichibu, Saitama Prefecture 368-0041
Access: Close to Chichibu station
Parking: Free parking for about 30 cars and charged parking for about 50 cars. (There maybe changes on the day due to the celebrations).
---
7. Mitsumine Shrine, Chichibu
Each year on Setsubun, the Mitsumine Shrine has a religious festival "Gomottomo Sama". This year that festival will only be open to priests to prevent the spread of the Coronavirus. But the "Gomottomo" stick can be ordered and sent to you after the blessing from the shrine. In addition, this year the bean throwing will be held on January 23rd, 24th, 30th and 31st and not on Setsubun itself.
*Please note that since the beginning of 2020 the shrine is enforcing strict policies for photographers with a reminder to all that this is a place of worship.*
Setsubun ceremony Hours (in a non pandemic year): 7 am, 11 am, noon, 2 pm and 4 pm.
Address: 298−1 Mitsumine, Chichibu-shi, Saitama-ken 369-1902
Access: Over an hour on a bus from Seibu Chichibu Station
Parking: for 250 cars
---
8. The Mamemaki Train
If you want to enjoy a bean throwing ceremony somewhere other than a shrine, there are lots of choices. But few are as fun as the mamemaki train! The mamemaki train is run by Chichibu Railway between Kumagaya and Chichibu train stations. This one is a bit different than the others so I have linked to more detailed information in English:
Information for the Mamemaki Train in English.
---
9. Kijin Shrine
Cancelled in 2021 due to the State of Emergency.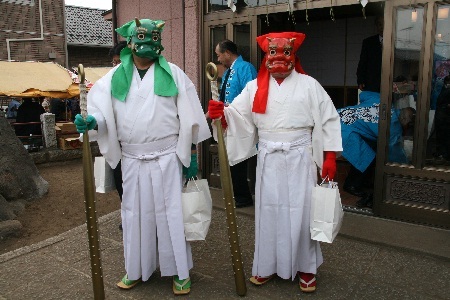 Kijin is a rare shrine that is dedicated to "oni", Japanese demons of Setsubun. As such, setsubun is an important annual event at this shrine. However, as it is not a particularly large shrine and the neighborhood is small, this setsubun festival has a more local atmosphere than most others on this list.
Setsubun Hours: between 3 and 5 pm.
Address: 1898 Kawashima, Ranzan, Hiki District, Saitama 355-0213
Access: The nearest station is Musashi Ranzan on the Tobu Tojo Line.
Parking: limited.
No official website. Information on the Ranzan Town Website. More information in English on this website.
---
10. Kitain Temple, Kawagoe
Cancelled in 2021 due to the State of Emergency.
This is one we've been to a few times personally for setsubun. It is the biggest one in Kawagoe city. However, unlike other temples and shrines, they only perform mamemaki once. There are festival stalls and, if you missed the annual Daruma market, another opportunity to buy a daruma for the year.
Hours: noon to 1.30 pm.
Address: 1 Chome-20-1 Kosenbamachi, Kawagoe-shi, Saitama-ken 350-0036
Access: 15 walk from Hon Kawagoe station, 20 minute walk from Tobu Tojo Kawagoe Station
Parking: for 100 cars, 500 yen for three hours. Tends to be very busy during New Years
Official website. More information for setsubun in English on this website.
Working on a weekday?
Is there any temple or shrine that celebrates Setsubun on the weekend?
For the first time in 124 years Setsubun will fall on February 2nd in 2021. It is a Tuesday. Normally, there are temples or shrines that celebrate on a day that is not Setsubun. However, in 2021 due to the State of Emergency the vast majority of Setsubun festivities at temples and shrines in Saitama Prefecture have been cancelled.
Do you practise setsubun? Where do you usually go?

Wherever you do go for setsubun in Saitama, I hope you get a blessing for the year ahead, catch a great stash and have some fun too!