Information for the 2023 Shibazakura Matsuri, aka Moss Phlox Festival, on the Shibazakura Hill at Hitsujiyama Park in Chichibu.
Shibazakura Hill
Shibazakura are a dainty bright flower that create a striking colored carpet. In English, the most common name is moss phlox (phlox subulata). Shibazakura no Oka (Moss Phlox Hill) in Hitsujimaya Park in Chichibu is one of the most famous shibazakura spots in the Kanto-Koshin area, topped only by the Fuji Shibazakura of Yamanashi Prefecture. Furthermore, Hitsujiyama Park's display is one of the largest with approximately 400,000 moss phlox flowers, of 10 different varieties, over a 17,600m² area. They typically bloom from mid April to early May. Each year Hitsujiyama Park have a shibazakura matsuri, moss phlox festival, during the prime flowering period.
Shibazakura Matsuri Chichibu
The shibazakura festival at Hitsujiyama Park is one of the few festivals that was only cancelled once, in 2020, but went ahead throughout the rest of the pandemic period. However, it was a festival lite in both 2021 and 2022. This year it will be more like a regular year and they are once expecting thousands to visit the famous spring scenery of vibrant pink and purple shibazakura backdropped by Mt Buko.
Each year the festival starts mid April and ends after Golden Week. 2023 is no exception. The festival will start on Friday April 14th and finish on Sunday May 7th. However, last year, the festival actually ended abruptly because the flowers were gone by the start of May. There is a chance that could happen again. On average, prime viewing is usually the last few days of April.
The park is free and open to the public throughout the period of the festival. But you have to pay into the festival area to see the moss phlox / shibazakura. It costs 300 yen per adult. There are food, drink and festival stalls in the festival area. The park is open from 6 am to 8 pm, but the festival area is generally open from 7 am to 5 pm. However, weather conditions may effect the opening hours of the food stalls.
Events
You can enjoy various events on the weekends or public holidays during the period of the festival:
Daily: food stalls, Potekuma Kun Commemoration sticker
Saturday April 22nd and Sunday April 23rd: Chichibu "Itten Beh Fes"
April 29th, 30th and May 3rd: Geo Park Chichibu Guided tour
Sunday April 30th: prize crossword puzzle challenge
Public Holiday Wednesday May 3rd: traditional performances
Sunday May 7th: sheep shearing demonstration
Crowd Calendar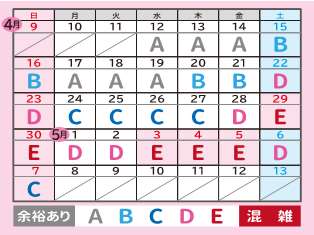 The festival gets so busy that they actually have a crowd calendar for the park. A is the least busy with E the most busy. It is hard to fathom, but it gets so crowded on "E" days that you have to wait ages to get in the park. Moreover, parking is a nightmare. If you are in a position to visit on a day that isn't a public holiday or weekend, I highly recommend it.
>>Don't miss the very picturesque Nosaka-ji which is right next to the park<<
Shibazakura Matsuri Information
Event: Shibazakura Hill aka the Shibazakura Festival 秩父羊山公園芝桜の丘、芝桜祭り
Date: Friday April 14th to Sunday May 7th 2023
Time: 7 am to 5 pm
Cost: Shibazakura Hill costs 300 yen per adult to enter or 250 yen if you have a group of 20 people or more. There is no charge for children under 15 years old. (There is no charge into the rest of Hitsujiyama Park, just Shibazakura Hill).
Venue: Shibazakura Hill, Hitsujiyama Park, 6360 Omiya, Chichibu, Saitama 368-0023. View on Google Maps.
Access
The park is an approximate 15 minute walk from Seibu-Chichibu Station, serviced by the Chichibu Tetsudo, Redarrow (Ikebukuro line) and Seibu-Chichibu lines. The Redarrow is the quickest from Tokyo (Ikebukuro station) taking 1 hour and 28 minutes.
Hitsujiyama Park is approximately 20 minutes from Seibu-Chichibu and Chichibu Tetsudo line's Ohanabatake Station. You can take the acclaimed Steam Locomotive Paleo Express. From Kumagaya it takes 1 hour and 20 minutes to Ohanabatake station on the Chichibu Tetsudo line.
It takes approximately 25 minute to walk from Seibu-chichibu line and redarrow (Ikebukuro) line's Yokoze station.
The car park is approximately 20 minutes drive from Minano-Yorii Toll Road. Parking is normally free, but during the period of the festival it costs 500 yen per day.
For more current events in Saitama please see this month's event round up.
More information about the park and our visit there in the past:
Editor's note: this post was temporarily merged with the Hitsujiyama Park post, during the pandemic. Republished March 28th 2023. Pc2013. R①20180405. R②