Spocha, Round1 Ageo – I've been talking favorites on the In Saitama Facebook page recently and today's showcase is very much up there on the best of the best list. Indeed, Kids Spo-cha is actually my children's favorite indoor play area in the whole of Saitama. I love it, because it is part of the regular Spo-cha so even adults can play. An added bonus is that even for a family of 6 it is cheap, if you avail of their special packages. Even without the special deals, it is well worth the cost for all you get.
Spocha
What is Spocha?
Spo-cha is a sports and play center area within some of the ROUND1 sports entertainment centers. ROUND1 is synonymous with bowling, but in fact even their most basic centers have a variety of activities on offer. Then there are branches with Spo-cha and a select few with Kids Spo-cha. Kids Spo-cha is a whole center of fun for young children, within the regular spo-cha.  Spo-cha is available in about 46 branches of ROUND1, of which just over half have a kids spocha and another 16 have a kids corner throughout the whole of Japan.
Spocha is written "spo-cha" in Japanese. I use both intermittently in this article.
We are very lucky to have TEN Round1 here in Saitama. And five of them have a kids Spocha. Once you pay in, you can use absolutely everything in the center for no extra charge (excluding food and drink). Of course though, adults cannot play in the designated kids area. However, kids older than 6 years old can play with pretty much everything available in the fun centers. There are more than 70 sports, games and activities at most Spo-cha throughout the country.
Saitama Spocha branches
Activities at Spocha
Our nearest Spo-cha is in AGEO, beside Hiratsuka park. It has 3 floors of sports and entertainment with relaxation areas. There is a huge selection of electronic games, some of which are physical such as skiing machines, some are musical such as taiko drums and others are the types of games you find at video arcades.
With more than 70 activities, facilities, attractions, sports and games on offer, I couldn't possibly list them all! Some of the sports you can enjoy at Ageo's Spocha include rollerblading, tennis, billiards, putter golf, archery, shooting, fishing, bubble soccer, batting practice, darts and rodeo, to name but a few. By floor:
Top Floor
The top floor (of three) of the Ageo branch is the 'roof' and is 90% outdoors. This is common among the Spocha. In the indoor part, they have Segway drifts. Spocha was the first place in Japan to offer this activity. This is one of the few activities that is limited to older children and adults. Also on this floor they have various sport's courts and pitches. Such as tennis, basketball, soccer and baseball. They also have the archery area. The bubble soccer is on this floor too. They have at least one vending machine on this and every floor.
Middle Floor
The middle floor, which is the fifth floor of the Round1 building, is the floor you come in on. The entrance "gate" is on this floor. You are also welcome to bring in your own food. They have lockers for storing your belongings on this floor too. It is also where the billiard and pool tables are. This floor has the restaurant, relaxation and reading rooms. There is a karaoke room on this floor also. The electronic rodeo bull is also on this floor, right by the reception area.
Lower floor
The majority of the games in the Ageo branch are on the lower floor (of three) where the rollerblading rink also is. If you are looking for somewhere to rollerblade in Saitama, this is one of the few places I know of. There are lots of ice rinks, but roller rinks are less common. At fixed times, generally twice a day, the rink is cleared of roller bladers and people who have signed up to try the mini bikes can take them out on the rink. There are dozens of arcade games as well as Wii fit type physical games such as skiing or cycling, on this floor too. This floor also has darts, fishing, table tennis (ping pong), indoor soft ball games such as soccer and baseball and the kids spocha:
Kids Spocha
The play area for young children has an athletic zone with climbing slides, ball pools, tricycle track and yu-land cubic balloons, a dream bomber and even a karaoke room. There is something for all my kids. Unfortunately, due to the Coronavirus we actually haven't been since February 2020. But in a "normal" year, they never tire of visiting Spocha and playing with some of their favorites and trying new things to do. There is so much to do that even with a five hour package, you would be hard pushed to play with everything in the center in one session.
Spocha cost and packages
There are more than 70 sports, games and activities to try / play at Spocha.
The system seems confusing at first, but once you physically get there it all makes perfect sense. I recommend the 3 hour package for your first time. This package is currently not available in 2021. Generally plan for about 1400 yen for an adult, 1300 yen for a school aged child and 700 yen for a child under six years old for between 3 to 5 hours of play. Sometimes they have an amazing deal where an adult can enter for the preschooler price. They don't currently have that in 2021. Whatever you pay: you can play with absolutely anything / everything in the center. There are no additional charges – except for food!
More information in English including how the system works, is available on their website (linked Round1 English PDF). Some of their current special offers, updated for 2021. Surprisingly and commendably, the price has gone up very little in the five years since this article was first posted. (First posted January 2016, completely revamped and republished January 2021)
Weekday, from opening until 11 am 3+ hours of all-you-can-play:
Weekend, up to 7 hours of all-you-can-play if you arrive first thing in the morning: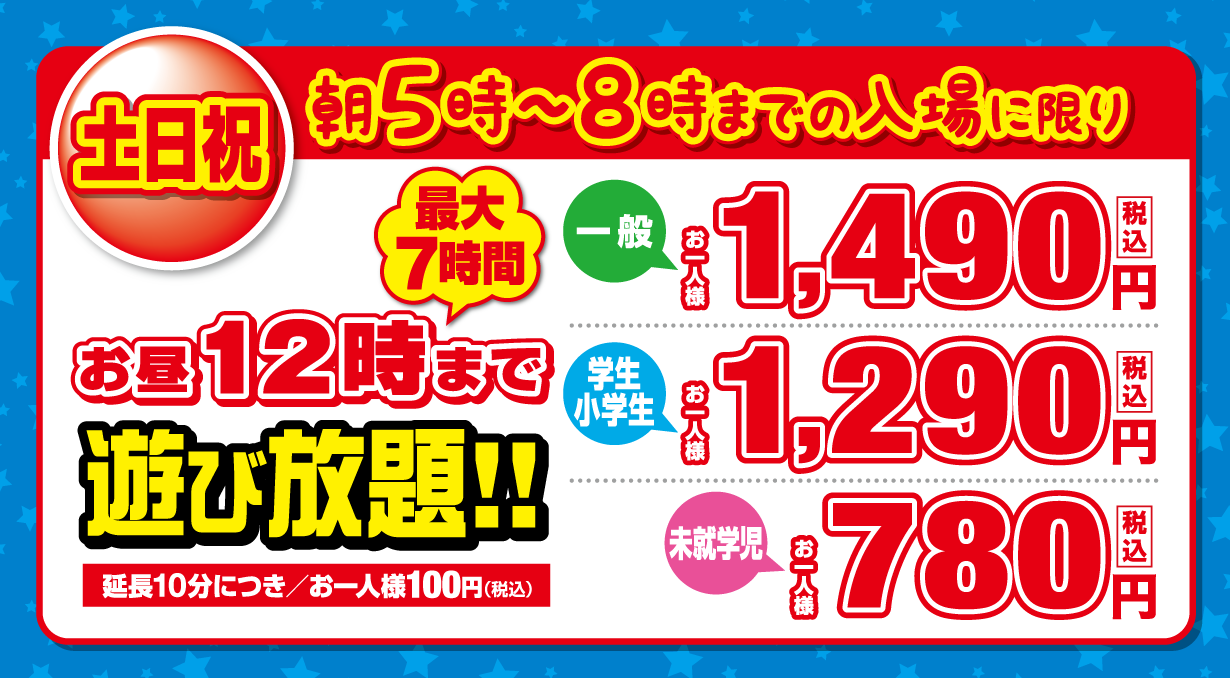 Access
There is a free shuttle bus from the East exit of JR Takasaki Line Ageo Station. Please do check with the official website for any last minute changes due to the Coronavirus or other mitigating factors.
Spocha is located close to national route 17. There is free parking.

For more information please see:
ROUND1 WEBSITE【ラウンドワン】スポッチャ|スポッチャ早朝割
---
Are there any other places like Spocha in Saitama?
Yes, Cats Eye in Sayama is similar to spocha only not as classy with slightly less to do, but on the flip side it is cheaper.