The Christmas tree and Winter Illumination at Koshigaya Sun City will be switched on November 12th 2022. For the switch on event they had a number of performances at Sun City including a gospel choir and ballet dance performance.
Koshigaya Sun City Illumination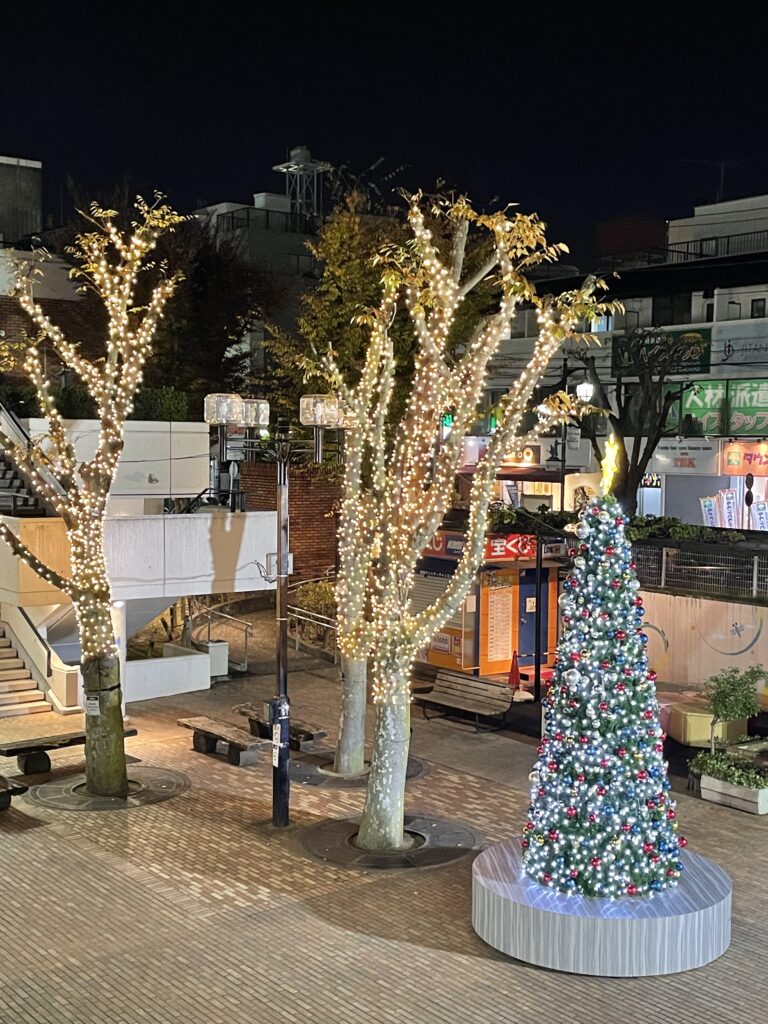 Koshigaya Sun City is a shopping center with a music hall in south Koshigaya. The main store is an Aeon and there are also several smaller shops. In addition, they have a large Kids US Land, which is a children's fun center. (I have not been to the branch in Koshigaya, but I have been to the branch in Fujimino which is reportedly around the same size and has similar equipment). Each year Koshigaya Sun City have an illumination event in winter. It is actually one of the longest running winter illumination events in Saitama Prefecture.
In 2022, they switched the illumination on on Saturday November 12th. The year before the pandemic began, the switch on event had become quite a large event. It was celebrated for the whole weekend with several different concurrent events including a food market. But since the pandemic its back to being a smaller event. In fact, in 2020, they didn't even have a switch on event, but the illumination was up. This year, they did have a gospel choir and some live performances. They also gave children, under the age of six, free candy.
The illumination will be on nightly now until Tuesday February 28th. The trees and the and bushes around the court yard, as well as the roofs of some stores have fairy lights on them. There is also a tunnel of light. In addition, the two meta sequoia trees, a symbol of Sun City, that are in front of Citizen's Hall are lit up with fairy lights. They have a beautiful Christmas tree too, but that only stays up until Christmas night, December 25th.
The illumination is turned on at 5 pm this year (it used to be 4.30) and is on until 10 pm. They haven't specified the number of the lights they used this year, but in previous years it was about 70,000.
Information
Event: Koshigaya Sun City Illumination 越谷サンシティのウィンターイルミネーション
Date: November 12th 2022 to February 28th 2023
Time: 5 pm to 10 pm
Venue: Sun City, 1 Chome-2876-1 Minamikoshigaya, Koshigaya, Saitama 343-0845. View on Google Maps.
Access
Sun City is about a three minute walk from the Tobu Shin Koshigaya station, south exit, and about a five minute walk from JR Minami Koshigaya Station.
If you come by car, there is charged parking for 205 cars. It is charged per every 30 minutes, but if you buy something in the Aeon or participating shops for over a 1000 yen you get an hour free parking.
For more night / winter illumination and other events in Saitama, please see the main event category.
First posted in 2015. Updated annually. Last full republish on November 13th 2022. Old URL: sun-city-illumination-switch-on-event-koshigaya