A succinct guide of Tokorozawa Sakura Town, Japan's newest and coolest pop culture town.
Sakura Town Shin Tokorozawa is part of the Cool Japan Forest Project, an initiative between Kadokawa Corporation and Tokorozawa city. It is located in Saitama Prefecture, very close to Tokyo. The development includes a library museum (with bookshelf theater), an atypical shrine and anime hotel to name but three of the cool attractions. In addition, next door in the Higashi Tokorozawa Park there is a permanent TeamLab Art installation "Acorn Forest". The town also has dozens of anime manhole covers, some of which are lit up at night. Events abound, both daily and seasonal, meaning there is always something new to do or see in this entertainment town.
This post was written in advance of the opening and was the very first article in English about the complex. It has been updated several times, after visiting it multiple times, with even more information and the latest events / news. Last update: July 13th 2023.
Tokorozawa Sakura Town
The Tokorozawa Sakura Town Cool Japan Forest Project development includes shops, restaurants, a factory, offices, a public open space, event space, a shrine and even a hotel. An anime hotel at that. Moreover, there is the excellent Kadokawa Culture Museum, which has several exhibition spaces, such as the Grand Gallery, the EJ Anime Museum and the Edit and Art Gallery. (The links lead to an article in English with the most recent exhibition information). The impressive resort was originally supposed to open on July 17th 2020, but the opening event was pushed back to November 6th on account of the pandemic. For the one year anniversary in 2021, the first Pokemon Manhole Covers in Saitama Prefecture were unveiled.
Moreover, the entertainment town also runs several events concurrently. Apart from events within the individual premises, there are also general events. For example, in Autumn they have a Halloween Kids Fes and in winter a night illumination event. Another example is the Christmas market and events held in December. They also celebrate New Years, cherry blossom season, Setsubun… etc. They also have a splash pool in summer (more on that further down). Upcoming events:
On the long weekend, from September 16th to 18th, they will have food trucks at the town. Official event page.

They will have a market on the 23rd and 24th. Official event page.

There is a beer festival on five days in October: the 7th, 8th, 9th, 14th and 15th. It is on from 11 am to 5 pm on the 9th and 15th and to 6 pm on the other three days. Official event page.
Tokorozawa Sakura Town September and October events 2023
When did Tokorozawa Sakura Town open?
By and large, you can say it opened in the autumn of 2020. But different parts of the entertainment town opened on different dates. For example;
Kadokawa Culture Museum

The Grand Gallery – August 1st 2020
Bookshelf Theater – November 6th 2020
The EJ Anime Museum – November 6th 2020
Smaller galleries and facilities – November 6th

Teamlab Acorn Forest – August 1st 2020
Kadokawa Restaurant – August 3rd 2020
Musashino Jurin Cafe – mid September 2020
Anime Hotel – October 1st 2020 and closed permanently on May 31st 2023.
Da Vinci Store – November 6th 2020
28 Anime LED Manhole Covers – around August 2020

Pokemon Manhole Covers – November 2021
NEW November 17th 2022: the 10th annual Manhole Summit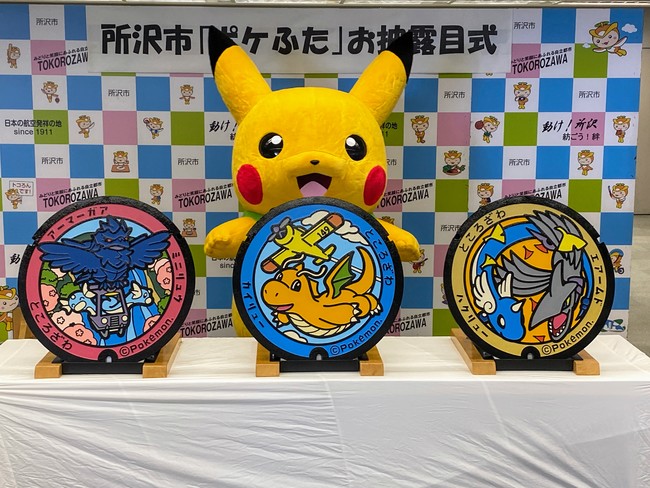 Grand Opening of Tokorozawa Sakura Town
Moreover, the grand opening of the Tokorozawa Sakura Town was on November 6th 2020. There were several events for the special occasion. For example, the much anticipated EJ anime museum opened with a Newtype Anime Chronicle event. Other spaces and galleries within Kadokawa Culture Museum also opened with unique exhibitions, such as the Ken and Julia Yonetani exhibition. In addition, the second exhibition in the grand gallery started on the opening day of Sakura Town. It was the highly successful Yokai Pandemonium exhibition by author Hiroshi Arahata.
And in the main building of the town there was an anime camp. Visitors received a commemorative present from the organizers. In addition, anime characters were on site for character greetings and special exclusive photo spots. As well as food booths and exclusive merchandise sales. Also within that building the Da Vinci store opened on the 6th. Furthermore, they had a special signature event for the opening.
---
The Complete Guide to Tokorozawa Sakura Town
---
Kadokawa Musashino Museum
The museum, called Kadokawa Musashino Museum or Kadokawa Culture Museum (Kadcul for short), combines a library, galleries and museums. It looks absolutely stunning. It has multiple floors and the library has nine areas including a Bookshelf Theater. Initially they were calling it a "forest of books", but they changed the name around July 2020.
Within Kadokawa Museum the museums and galleries are all run separately. There is always something to do or see. For example, the anime museum hosts different exclusive exhibitions a couple of times a year. You can keep abreast of the most current exhibition in the EJ Anime Museum in this post here. The Grand Gallery is the main exhibition hall. The Grand Gallery also hosts several different exhibitions within a year. You can get information for the current (or upcoming) exhibition here.
It is strongly recommended that you book in advance for any of the exhibitions at Kadokawa Culture Museum, especially on the weekend. Each exhibition and part of the facility have different costs, but on average budget for around 2000 yen per adult.
---
Water play
The water feature beside the Kengo Kuma designed Kadokawa Museum turns into a paddling pool in the hotter months! Tokorozawa Sakura Town to say that you can now wade in the small pool of water. However, there will be times when it closes suddenly due to weather, cleaning or other mitigating factors. On the days that it is open you can use it between 10 am and 6 pm. More water play areas in Saitama Prefecture.
---
Cool Japan Shrine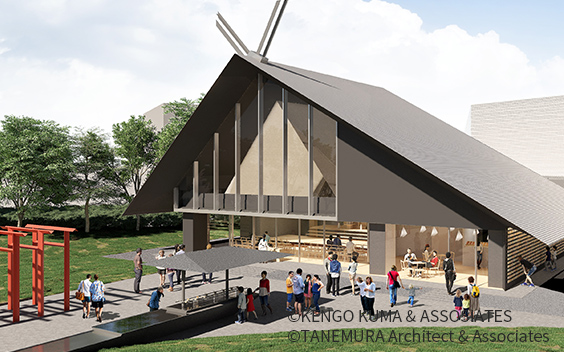 The shrine is a modern type shrine that they call the "Cool Japan" shrine in English! Its actual name is Musashino Reiwa Shrine. At night they light up the large torii and in summer it blows cool mist. The light up started out as a seasonal event, but it proved to be so popular they never stopped it! In December they have additional light up features for Christmas and the 12 meter high Christmas tree gets switched on in early November. >>More on this unique shrine<<
---
EJ Anime Hotel
Unfortunately, the EJ Anime Hotel closed permanently on May 31st 2023.
LED Anime Manhole Covers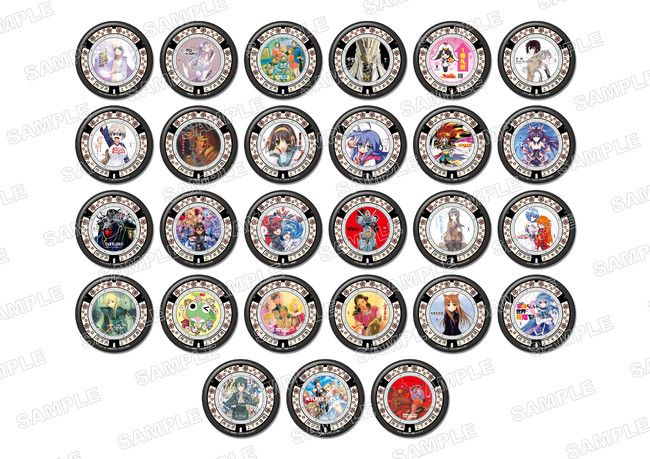 The anime theme can even be seen in the manhole covers. Furthermore, they are all made with LED lights so they glow at night. Tokorozawa Sakura Town has 28 different anime manhole covers, all based on anime by the publishing giant behind the town: Kadokawa. Including two Gundam manhole covers. There was a special Gundam exhibition in the EJ Anime Museum of Kadokawa in January and February of 2022. One manhole features Amuro Ray and Gundam, the other Char Aznable and Zaku, both pictured below. Hopefully over the years we'll see a special exhibition for each anime featured in the manhole covers of Tokorozawa Sakura Town! Most of the manhole covers are on the walk from the station to Higashi Tokorozawa park.
The manhole covers were added in November 2020 in commemoration of the 70th anniversary of the inauguration of Tokorozawa as a city. Moreover, for the one year anniversary of the entertainment town, in November 2021, they unveiled Pokemon Manhole Covers. These were the first Pokemon manhole covers in Saitama.
The 10th Annual Manhole Summit
Tokorozawa Sakura Town hosted the tenth annual Manhole Summit on Saturday November 19th 2022. At this event you can see dozens of manhole displayed, like pictures on picture stands! They give manhole cover cards to attendees of the summit. Hopefully it will run this popular event again in the future. Official event web page. Thank you very much to Yoko Lost in Japan for giving me the heads up about this event. Check out Yoko Lost in Japan's blog here and her Youtube here. You can also find her on Instagram.
Team Lab Acorn Forest
In the Higashitokorozawa park area of the resort there is a permanent outdoor exhibition by Teamlab. Saitama Prefecture was actually the very first place in all of Japan to get an indoor Teamlab… unfortunately that particular one closed down in 2020 due to the pandemic. But at least we have this unique outdoor Team Lab to brag about! Get all the deets here!
Tokorozawa Sakura Town 2023 Information
Apart from all of this there are also restaurants, cafes and other entertainment facilities and shops in the Tokorozawa Sakura Town.
Address: 〒359-0023 Saitama, Tokorozawa, Higashitokorozawawada, 3 Chome−31−3
Phone: +81570017396
Cost: there is no charge to walk around Sakura Town. However, if you want to see any of the exhibits in Kadokawa Museum or hang out at the Teamlab, there is a cover charge. Budget for around 2000 yen per exhibit. You can see the most up-to-date prices in the official link below. Or for Teamlab, I update this post frequently.
Access: about a ten minute walk from Higashi Tokorozawa station. Anime themed LED Manhole Covers light the way to the complex from the station!
Parking available – it costs 200 yen for 30 minutes, but capped at 600 yen on weekdays and 1800 yen on weekends.
All images from the official website.
Sakura Town articles on this blog