Sakura Town Shin Tokorozawa is part of the Cool Japan Forest Project, an initiative between Kadokawa Corporation and Tokorozawa city. It is being built in Saitama Prefecture, very close to Tokyo. The development includes a library museum (with bookshelf theater), an atypical shrine and anime hotel to name but three of the cool attractions. In addition, next door in the Higashi Tokorozawa Park there is a permanent TeamLab Art installation "Acorn Forest".
Tokorozawa Sakura Town
The Tokorozawa Sakura Town Cool Japan Forest Project development will include shops, restaurants, a museum, a factory, offices, a public open space, event space, a shrine and even a hotel. An anime hotel at that.
The impressive resort was originally supposed to open on July 17th 2020, but the opening event was pushed back to November 6th on account of the Coronavirus outbreak. The Kadokawa Culture museum will have a pre-opening on August 1st 2020. Tickets are due to go on sale this week. They will also have an after school club to start on July 1st.
Opening dates
Grand Opening of Tokorozawa Sakura Town
For the November 6th opening several of the key attractions are due to open to the public for the first time. For example, the much anticipated EJ anime museum which will open with a Newtype Anime Chronicle event. Other spaces and galleries within Kadokawa Culture Museum will also open with unique exhibitions such as the Ken and Julia Yonetani exhibition. The grand gallery is already open since August 1st. The second exhibition in the grand gallery will start on the opening day of Sakura Town. It is the Yokai Pandemonium exhibition by author Hiroshi Arahata.
And in the main building of the town there is an anime camp planned for the first two days of the grand opening – Friday November 6th and Saturday November 7th. Visitors that day will receive a commemorative present from the organizers. There will be anime characters on site for character greetings and special exclusive photo spots. As well as food booths and exclusive merchandise sales. Also within that building the Da Vinci store will commence business from the 6th and they will have a special signature event for the opening.
---
Sakura Town Grand opening: delayed from July 17th until November 6th
---
Kadokawa Musashino Museum
The museum, called Kadokawa Musashino Museum or Kadokawa Culture Museum – Kadcul for short, combines a library, art gallery and science museum. It looks absolutely stunning. It has multiple floors and the library has nine areas including a Bookshelf Theater. Initially they were calling it a "forest of books", but they changed the name around July 2020. Parts of Kadcul, including the 'grand gallery' will open on August 1st.
Cool Japan Shrine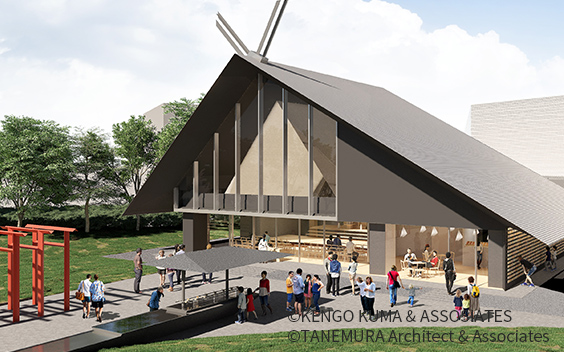 The shrine is a modern type shrine with a name that translates into "Cool Japan" in English!
Anime Hotel
They are calling the hotel an "anime" hotel. That will open on October 1st with booking available from September 1st. Sneak a peak inside here.
Team Lab Acorn Forest
In the Higashitokorozawa park area of the resort there is a permanent outdoor exhibition by Teamlab. That will also open ahead of the grand opening, as early as August 1st. Get all the deets here!
Apart from all of this there are also restaurants, cafes and other entertainment facilities and shops in the Tokorozawa Sakura Town.
Sakura Town articles on this blog
All images from the official website.