Seen as today is the 10 year anniversary of Saitama With Kids, I wanted to get at least one post out of the dozens of unpublished drafts! Visiting the Kurosuke House in the Totoro Forests was one of our favourite days out so far this year (2018). I previously wrote how we visited the Totoro Forests when the Totoro house was closed, but this year we timed it right…
---
2020 / 2021 : please note that this attraction is closed indefinitely. They will update on the official website when they plan to open it again. However, they will have a special opening on three days in July of 2021: Saturday June 26th, July 10th and July 17th. They also planned two dates in August, but they were cancelled due to the State of Emergency. You must register in advance. Normally this attraction is free, but for this special opening it will cost 1000 yen per person. You need to apply by June 16th for a coveted place for June 26th. And by July 1st for a place for the July dates. Its a lottery system – good luck! Please note: Saitama Residents only can apply for this special event.
My Neighbor Totoro
Among many of Saitama's bragging rights is that it is home to the Totoro Forests, the area said to be the inspiration for the classic movie "My Neighbor Totoro". Miyazaki himself contributed some of the original funds that inaugurated the Totoro Fund, which is used to preserve the lush green forests and natural surroundings located in Sayama Hills, Tokorozawa.
Kurosuke House
A number of forests make up the preserved area and in a separate area, North of the forests, is the house of Kurosuke. Kurosuke's house is a period house named after the soot sprites in the movie. Totoro resides in the preserved house and, so long as you don't touch him, you are able to get up close and personal, even get a photograph with him.
The Sayama Hills area has received quite a bit of attention in the last few years, but Kurosuke's house is still somewhat off the beaten track. It might be partly due to its concealed location, but I think the opening hours also play a part. The House of Kurosuke is only open to the public three days a week for five hours a day. We have done the trip by foot and by car. There are very few signs directing you to the obscure site if you are coming by foot from the nearest station, Seibu KyuJo Mae. By car, there are a few more signs on the roads when you are driving from Sayama. Despite the difficulties in finding it and timing it to when it is open, it is well worth the effort, particularly if you are a Ghibli fan. (Hours and access at bottom of the article).
Totoro Foundation Visitor Center
At the site of the Kurosuke House, which also doubles as the visitor center for the Totoro Foundation, there are three buildings and some Showa period relics on the grounds too.
The main building is the house with the large Totoro and it has a shop selling Totoro goods too. Within the main building there is a reading area on the first floor and an information area on the second floor with a handful of exhibits including a scene from the movie. (See impressions section below for more on the house)
Warehouse and Old Tea Factory
The other two buildings are an old warehouse with diorama from the movie and an old tea factory. You can roam around the buildings without restriction. In the main house and the tea factory you need to take your shoes off at the designated area. I didn't find the other buildings as enthralling as Kurosuke's house. Although, the old green tea factory is interesting. They have old manufacturing machines and I just loved the old cargo tea boxes stored there. I didn't notice it until years later, but there is a scene in the movie when you can see a Sayama Cha box (picture above). It may well be why there are Sayama Cha (and other) tea boxes at the site.
The area doesn't require a lot of time to explore, but you can extend your time there by eating with Totoro if you have brought your own lunch. You can sit in the adjacent tatami room to Totoro at lunch time. They have a kettle and microwave that you can use to prepare food you've brought. Similarly, there is an area in the old tea factory where you can eat.
Impressions of Totoro / Kurosuke House
I visited with my four young children and we all thoroughly enjoyed exploring the site. The children delighted to see a large Totoro in the main house. I really appreciated that they could roam the house freely.
In the kura, old storehouse, there were some wooden toys they could play with. They could also try their hand at an old pump and a hand operated grinding mill. Having lunch with Totoro was definitely a highlight for the kids.
On our first visit to the Totoro Foundation we were unable to access Kurosuke's House as we visited on a Sunday. Kurosuke house closes four days a week. We timed it to be open on our most recent visit. There were very few visitors, despite being 11 am on a Saturday. There were a couple of staff present. However, they lingered in the shop and reception area and were very unobtrusive. It made a comfortable environment and it was easy to enjoy the location undisturbed. I think even if you aren't a huge Totoro fan you will appreciate this unique attraction if you are in the area. If you are a Totoro fan I think it is an attraction making a particular effort to go visit, especially if you are going to take in the forest area as well.
Totoro / Kurosuke House Information
Cost

It is officially free to visit the site, but as both the house and the forests are maintained by volunteer staff and donations, they welcome contributions. There is a box inside the door where you can deposit a contribution.
Hours
Update September 1st 2020: please note that this attraction is closed indefinitely to prevent the spread of Coronavirus. They will post on their website when they plan to reopen again. Official website (click).
Tuesday, Wednesday and Saturday from 10 am to 3 pm.
Access

Address: 3 Chome-1169-1 Mikajima, Tokorozawa, Saitama Prefecture 359-1164
The nearest station to Kurosuke's House is Seibu Kyujo Mae on the Seibu Ikebukuro Line. Kurosuke's house is about a 45 minute walk from the nearest station, if you take the scenic route.
If you are coming by car, P's parking nearby is the best place to set your navigation system too. It is only a minute walk to Kurosuke's House and it is the nearest parking for the attraction. They only have one flat rate for 24 hours, but it is quite reasonably priced at 400 yen for the day.

More on the green tea factory mentioned above (external website):
Retro Green Tea Factory with your neighbour Totoro!
Retro Green Tea Factory with your neighbour Totoro!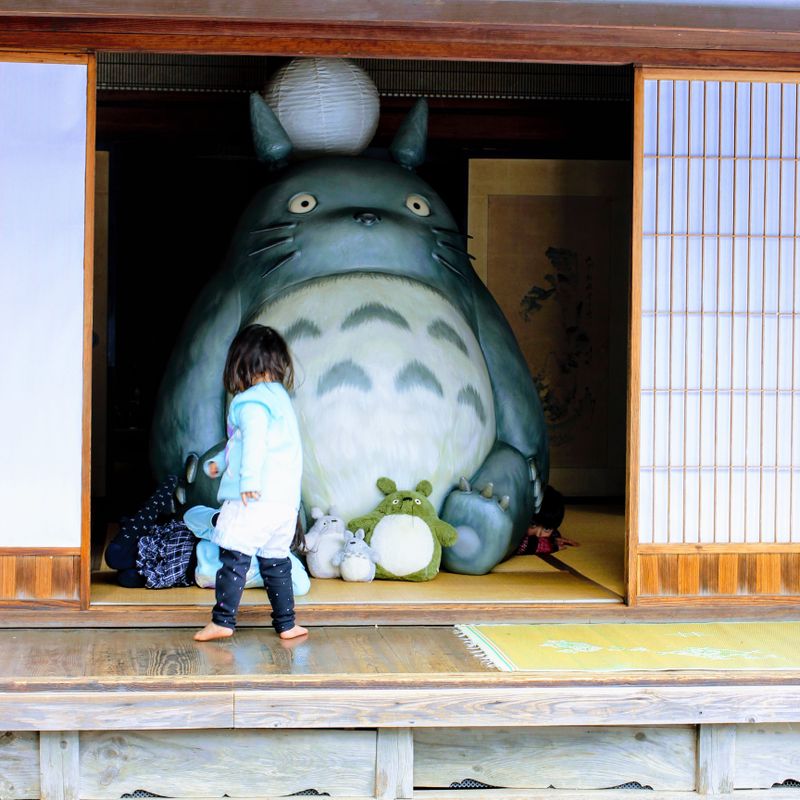 On the border of Tokyo, in the lush green of Sayama Hills you can find the historic "House of Kurosuke," an inspiration for the Ghibli movie, "My Neighbour Totoro." Sayama Hills is also home to the Totoro Forest and Foundation.
Source: www.city-cost.com/blogs/Saitama/G7jdN-living_food_education_tokorozawa_shi_saitama