For the second year in a row the "tafune" boat ride and iris festival at Ukiya no Sato in Kazo has been cancelled. However, the Iris are not being cut down and they should bloom from early June to around the end of June. They are the Ayame – Iris Sanguinea – variety. Ukiyanosato ask that you wear a mask and maintain social distancing when visiting the Ayame Irises in 2021. There is normally an entry fee into the park during the festival period. However, it is not yet known if there will be fee in 2021.
Access Ukiya No Sato
Kazo City recommends using a rent-a-cycle to get to Ukiya No Sato, which you can pick up from Kazo Station. Kazo Station is on the Tobu Isesaki line.
For the car navigation system 「〒347-0013 加須市北篠崎732」. It is close to the Kazo exit of the Tohoku Expressway.
---
This post has historically been about the boat ride and festival at Ukiya no Sato. The featured image ↑ of the tafune is from the official Ukiya no Sato facebook page. Information hereafter for a regular year:
In a regular year there is an Iris festival in Ukiyano Sato in Kazo in mid June. The opening ceremony for the 2019 week long festival is generally on the second Saturday of June. You can enjoy the Irises in bloom as well as the avenue of mature Kunigi trees, nature walks, food stalls and the popular boat ride;
Boat Ride
As part of the festival, weather permitting, you can enjoy a boat ride with a female steering the lead in traditional apparel. However, the dates for 2019 have not yet been released, but it is generally on the two Sundays and the Saturday that fall during the Iris festival period. They are charging 300 yen for adults and 100 yen for children to cover an insurance cost.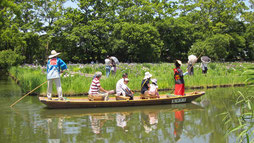 Another festival in Kazo in June – the Kisai Hydrangea Festival:
Furthermore, June is also blueberry picking season in Saitama. Higashimatsuyama has a nice blueberry picking farm with a farm cafe:
For more events in Saitama, please also see the main events calendar.