The Urawa Misono Festival¹ and fireworks were cancelled in both 2020 and 2021. I am so happy they are back in 2022. For one, the day time event is a railway festival, held in and around Urawa Misono Station. Who doesn't love a railway festival!? Moreover, at night fireworks are launched over Saitama City. Both the day and night events have an Halloween element. These are the only 'Halloween fireworks' that I know of in the greater Kanto plain in 2022².
¹Previously called the Urawa Misono Railway Festival ²Before the pandemic, Yugawara in Kanagawa also had Halloween fireworks, but, while the Halloween event is on, they haven't had the fireworks since 2019.
Urawa Misono Festival and Fireworks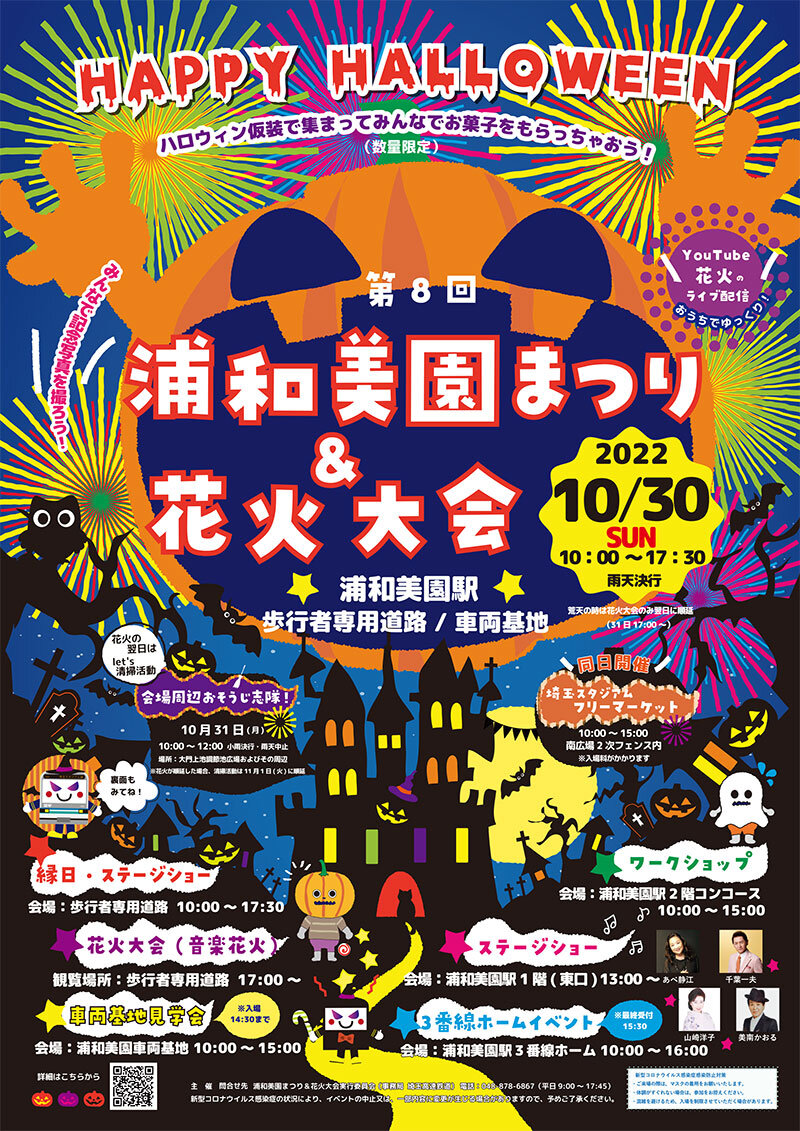 Halloween plus Fireworks: A 3-in-1 celebration: Halloween, Festival and Fireworks. This event is relatively new. Had it not been for the pandemic, this would have been the 10th year anniversary. But as they cancelled two years in a row, it is the 8th annual occurrence of the Urawa Misono triple celebration! It is conducted on the main thoroughfare from Urawa Misono Station and in the station itself. There are festival booths, live performances and various activities. If children come in costume, they will receive a treat from staff.
Festival Schedule
The festival starts at 10 am on Sunday October 30th, culminating with the fireworks from 5 pm. They boom into the sky for about half an hour and the event finishes around 5.30 pm.
From 10 am to 5.30 pm – fair, festival stalls and stage shows
There are also live performances on platform 3 between 10 am and 4 pm!
10 am to 3 pm – workshops, on the 2nd floor concourse of Urawa Misono Station
Until 2.30 pm there is the rare opportunity to tour the railyard
The fireworks start at 5 pm. If the weather is bad on the 30th, the fireworks will be postponed until Monday 31st.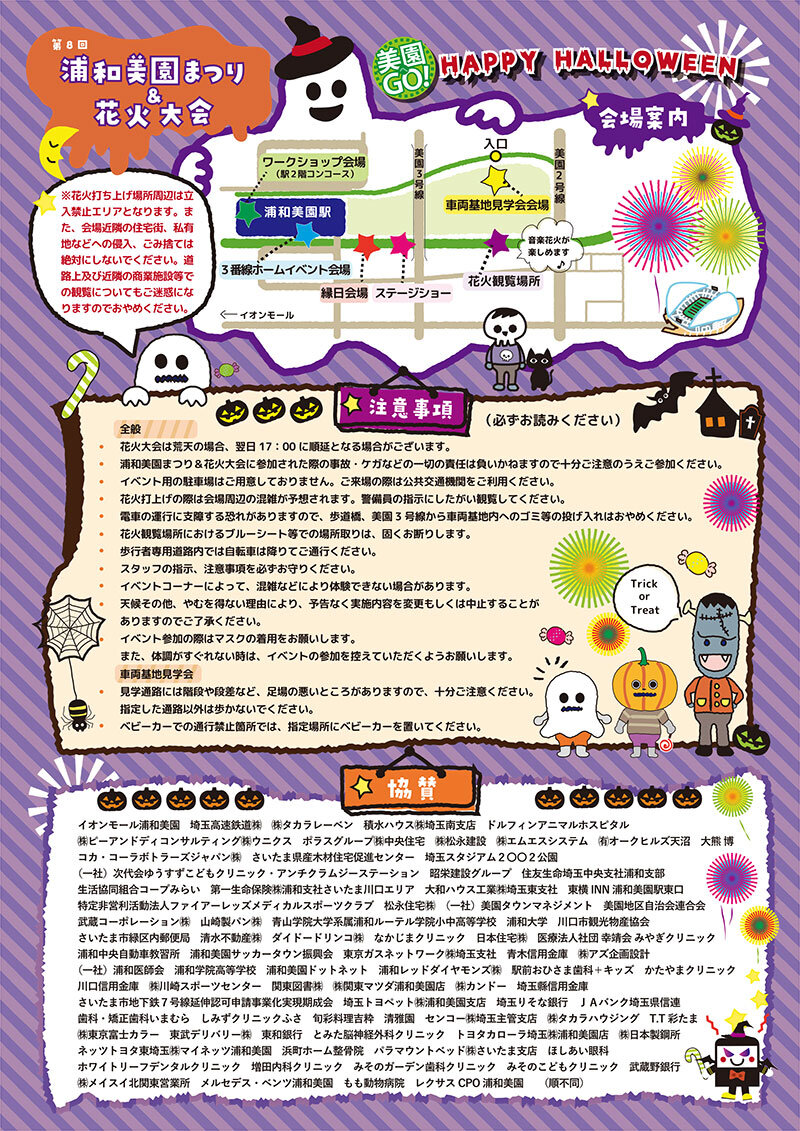 The railway normally organizes other surprises on the day. It remains to be seen what they will be in 2022. However, due to the pandemic, this element may not be carried out this year. Also, pre-pandemic, other stores in the area ran events. For example, Misono community centre, Saitama Stadium 2002 and Aeon Mall Urawa Misono all had events on the same day in 2019. They may or may not do the same in 2022.
2022 Information
Date: Sunday October 30th
Time: 10 am to 5.30 pm
Venue: in and around Urawa Misono Station. 4-chome Misono, Midori Ward, Saitama City, Saitama, 336-0967. View on Google Maps.
Access: from Urawa Misono Station on the Saitama Rapid Railway Line.
Official event web page. The featured photo is from the Saitama Rapid Railway Line.
Find more Halloween events in Saitama Prefecture here.
20171020