The Saitama Shintoshin Water Fight Festival and World Festa is one of the summer holiday highlights! It attracts a large number of visitors each year. Approximately 60,000 people participated in the 2019 event. The event was cancelled for three years in a row during the pandemic (2020 to 2022) and was sorely missed.
Water Fight Festival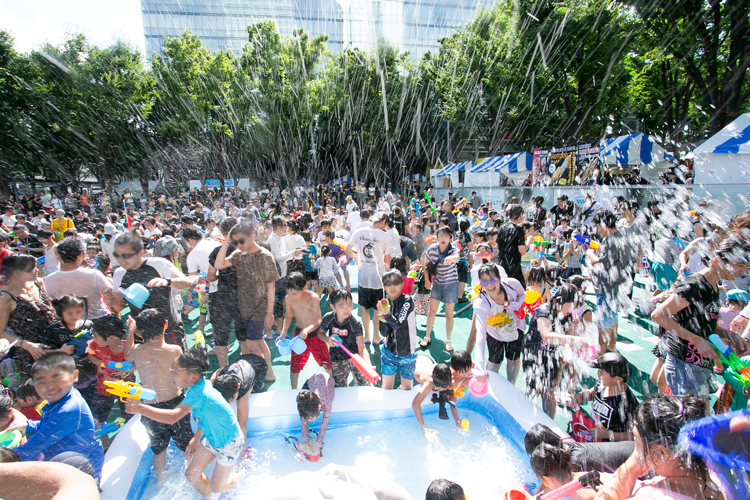 The 19th annual Water Fight Festival and World Festa is scheduled for Obon during the summer 2023. It is the first time in four years that the festival is on. The water fight festival is based on the Thai festival of Songkran, where throwing water is believed to encourage a good harvest and good health. Apart from the water fight, you can also enjoy live performances and there is a selection of world cuisine on sale. This year they will also have their usual kids corner.
If you are reading this in mid May – you might also like the Beer Festival currently on at Keyaki Hiroba!
Information
The event normally goes ahead in the case of light rain. However, they cancel it in the event of heavy rain or a typhoon.
Event: Water Fight Festival and World Festa 水かけまつり&ワールドフェスタ
Date: Public holiday Friday August 8th to Sunday August 13th 2023.
Time: The grounds and food booths will be open from 10 am to 8 pm. The water fights take place between 11 am and 1 pm and again between 2 pm and 4 pm.
Cost: free! There is no charge to participate in the water throwing festival. Obviously, you have to pay for food and drinks at the festival booths in the World Festa area.
Venue: Keyaki Hiroba, 10 Shintoshin, Chuo Ward, Saitama, 330-0081. View on Google Maps.
Access
Keyaki Hiroba is a two minute walk from JR Saitama shintoshin Station and about a seven minute walk from JR Kitayono Station. There is parking for 400 cars, but they request where possible to come by public transport.
Hopefully this year the Splash Festival will also be on.
---
Editor's note: this event was temporarily removed from the website during the pandemic. I republished it on May 16th 2023.
20170623