Places to see / smell wintersweet in Saitama Prefecture in 2023.
On December 22nd 2022 Nagatoro tourism association reported that the wintersweet have started to bloom on Mt Hodo. They are usually the first, but it won't be long until the other wintersweet in the prefecture start to bloom. By the first week of January, we should be able to see and smell wintersweet, but they will probably come into their prime around mid January. The "season" information given under each entry on this list, is just an average and not a guarantee for 2023. When the blossoms start to bloom and how long they will stay in bloom is down to Mother Nature!
Wintersweet / Robai
Wintersweet is a tree that flowers in January and February in Japan. It has beautiful, delicate yellow blooms, often described as being beeswax yellow, with the most delightful scent. You can often smell a winter sweet tree long before you can see it. In Japanese they are called robai (roubai / rōbai) . Most commonly it is written in the katakana alphabet ロウバイ, but their is a kanji for it too: 蝋梅. Occasionally they are referred to as karaume. Another name for them in English is Wax Japanese Apricot. Occasionally, they are referred to as Japanese Allspice. Supposedly they call them yellow plum flower in China.
It is said that robai came to Japan during the Edo period. Furthermore, they are regarded as one of the four flowers that bloom in the snow, collectively known as Sechu Shiyu 雪中四友. There are many references to Japanese Allspice (wintersweet) in various poems and songs. The flower represents 'deep affection between parents and children'. In the depth of winter, the wintersweet warms the heart so possibly that is why the flower got its flower meaning.
10 places for wintersweet / robai in Saitama Prefecture
Nagatoro Robaien
Hanamizuki no Mori
Shinrin Park
Kodai Hasu no Sato
Tokorozawa Aviation park
Chikozan Park
Kawaguchi Green Center has closed for renovation work February 2023
Omiya Hana no Oka
Honjo Agriculture Tourism Center
Gongendo Park
Last update: February 12th 2023
1. Nagatoro Hodosan Robaien 宝登山ロウバイ園
Nagatoro Hodosan wintersweet garden is the largest in Saitama Prefecture with 3000 trees over around 1.5 hectares (15000 square meters). In a normal year, they have a wintersweet festival for about three weeks of the prime viewing season, which is generally mid January to early February. However, in 2021 there was no festival due to the pandemic. Moreover in 2022, they decided to combine the wintersweet and plum blossom festival into a "Winter flower story" event.
Although they have reported that the wintersweet have started to bloom, they have yet to release information for flower festivals in 2023. Which is unusual. They usually report just before Christmas. However, according to Chichibu Railway they will light up the wintersweet from January 28th on Saturdays and Sundays until February 26th. There is no charge into the wintersweet, but if you want to use Hodosan ropeway you have to pay. You can also hike up to the top if you prefer.
2. Hanamizuki no Mori ハナミズキの森 石井実生園
This is the only place on the list I have not yet been to personally. It was on my list for 2022, but I never got to it. So its back on the list for 2023. Unfortunately, I can't find even a review in English anywhere online to share with you in the table below. But it gets rave reviews in Japanese online! According to the official website there are about 1000 wintersweet trees of which 300 of them are in the "festival hiroba". They have a wintersweet festival each year. The wintersweet festival at Hanamizuki no Mori will start on Saturday January 14th 2023. It is scheduled to end on Sunday February 5th 2022. It is on daily from 10 am to 4 pm. There is no entry charge into the wintersweet festival.
Season: mid January to early February
Festival: January 14th to February 5th 2023
Address: 75 Minaminakamaru, Minuma Ward, Saitama, 337-0041. On Google Maps.
Official website
3. Shinrin Park 森林公園
There are two areas with wintersweet in Shinrin Park, the most common name used for Musashi Kyuryo National Government Park in Namegawa town. One is by the water play area, not the water park but the newer water play area near the central gate. Shinrin Park posted on December 27th 2022 to say some of these wintersweet have started to bloom.
The other area is the Plum blossom vineyard. Later in the season, you can see wintersweet and plum blossoms side by side, as per the photos above. Shinrin Park is a vast 304 hectare park. There are dozens of flowers that bloom in the park in January other than just wintersweet. And there are some really great playgrounds in the park. It is ideal for a family day out. However, there is a charge into this park – 450 yen for adults.
4. kodai Hasu no Sato 古代蓮の里
There are 248 wintersweet trees in Kodai Hasu no Sato in Gyoda City, Saitama Prefecture. Interestingly, although Nagatoro's wintersweet garden is a lot bigger, Kodai Hasu no Sato and Tokorozawa Aviation Park (#5 below) are probably the best known wintersweet spots in Saitama. The park also has plum blossoms which for a short period bloom in synchronicity. But, Kodai Hasu no Sato is best known for its ancient lotus which bloom in the summer. This park also has the largest rice field art display to Tokyo. The rice is not painted – it is planted in such a way to create an incredible painting. Each year the image changes. It can be seen from around early August to October.
5. Tokorozawa Aviation Memorial Park 所沢航空記念公園
Tokorozawa City is a hotspot ever since Tokorozawa Sakura Town opened. But the city has always had a lot to offer. Including the facilities at the Tokorozawa Aviation Memorial park which include an aviation museum, which we personally have enjoyed visiting in the past. In the Tokorozawa Aviation Memorial Park, there is a small wintersweet garden with about 100 trees. Tokorozawa Aviation Memorial Park is the site of the very first airfield not just in Saitama, but all of Japan.
6. Chikozan Park 智光山公園
I'm replaced Fukaya Green Kingdom with Chikozan Park on the Saitama wintersweet list in 2022. Because in 2022 the Fukaya Green Kingdom wintersweet were not in good condition. However, meanwhile in Sayama City, the relatively new (2018) wintersweet grove in Chikozan park was beautiful in 2022. Its not particularly big, but it is quite picturesque. Furthermore, there are other flowers and blooms in this park. Moreover, it is a good location with children as there are two fun playgrounds and there is a nice – and very cheap – little zoo in the park. In addition, there is also a family fishing center.
7. Kawaguchi Green Center 川口グリーンセンター
Kawaguchi Green Center is another place that is a pleasure to visit anytime of the year. It is a botanical garden with various add ons, such as 'Wanpaku Hiroba', a play area for children. They also run several events during the year. Green Center's robai generally start to bloom a little earlier than average, around the last week of December. They are in the famous plum blossom grove, along with some Fukujusou "Japanese buttercup" flowers. Unfortunately, the grove has closed to the public in February 2023 due to some renovation work. Source.
8. Omiya Hana no Oka 大宮花の丘農林公苑
Another place that has flowers all year round, Omiya Hana no Oka has the benefit of being in a better geographical location situated on the outskirts of Saitama City, beside Ageo. In fact, part of the park is officially in Ageo City. Probably right around where the Wintersweet are! There are approximately 90 wintersweet in Omiya Hana no Oka in two different areas. The park also has some pansies in bloom in January and in February you can see the plum blossoms. Some of the early blooming plum blossoms are generally in bloom around the same time as the wintersweet, which in my experience are a little later to bloom than other places.
9. Honjo Agriculture Tourism Center 本庄市観光農業センター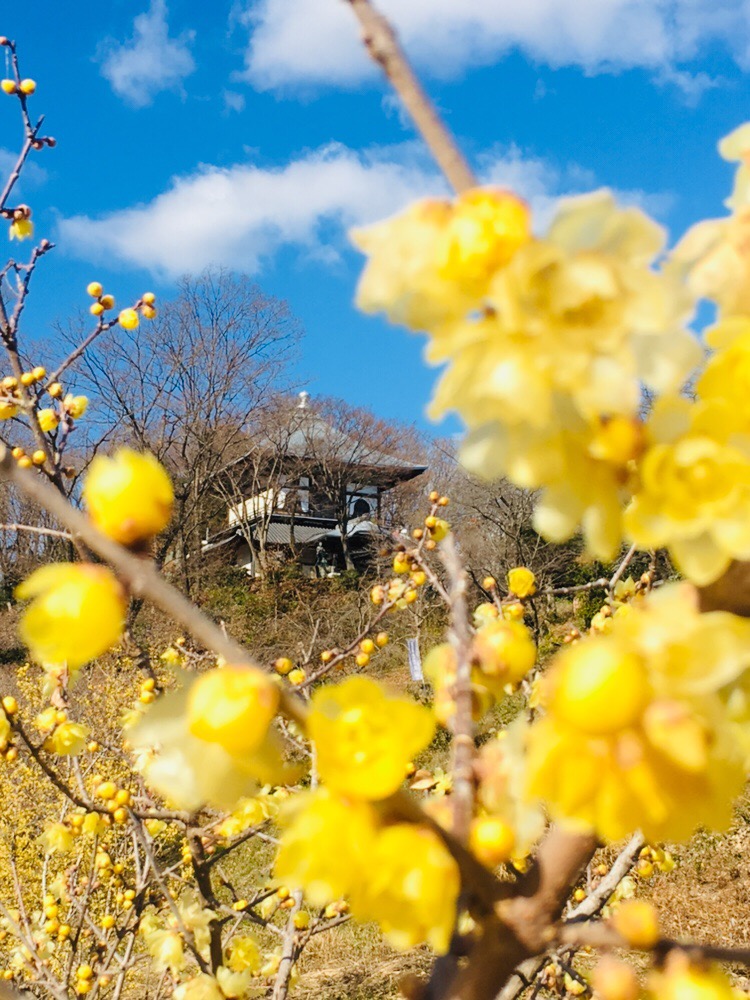 There are only about 30 wintersweet trees at the Honjo Agriculture Tourism center. But for anyone looking for a completely off the beaten path location, this is worth considering. I've only visited during the buckwheat soba season, but the area is really picturesque without anything in bloom. Moreover, the wintersweet are backdropped by Joshinin Hyakutai Kannon-do, one of the three great "Sazaedo" temples in all of Japan. The temple has a very unusual design, which is not apparent from the outside, that is likened to a sazae – a turban or mollusk shell. Furthermore, Japan's only namesake shrine is in this area, that is the only shrine in all of Japan called "Nihon" Shrine.
Season: early January to late January
Festival:
Address: 653 Kodamacho Kodaira, Honjo, Saitama 367-0214 . On Google Maps.
Official Website
More information in English coming soon!
10. Gongendo Park 権現堂公園
Gongendo Park currently only have a few wintersweet, but I have a feeling the numbers will increase over the years! The real benefit of visiting Gongendo park for a whiff of the sweet scent of wintersweet, is that you can see half a million daffodils in the park at the same time in January. And in February generally the rapeseed starts to bloom. The park is most famous for its cherry blossoms with those same rapeseed in bloom.
---
There are a few other places to see wintersweet in Saitama that didn't make this list. Such as Botanen park in Higashimatsuyama. The wintersweet there are still very young. If you like off the beaten path locations, don't miss this wintersweet spot with a Catbus bus stop. Have you been to smell the wintersweet in any of these Saitama locations? What did you think? Is there anywhere else you would add to this list.