Yamada Spring Festival is held annually in March in the Chichibu area of Saitama Prefecture. It is on in early March, usually on the second Sunday of the month. In 2023, that will be Sunday March 12th. They say the festival marks the coming of Spring. This will be the first time the festival has gone ahead in four years. They will also broadcast it live on the day (link for watching live). ♡
Yamada Spring Festival and Fireworks
The festival is associated with Tsunemochi shrine in the Yamada area of Chichibu. The festival is popular and well known in the region. Particularly as it is the first festival of the year to feature festival floats. Moreover, the fireworks are also the first fireworks of the year in Saitama Prefecture.
The 300 hundred year old floats include two yatai floats and one Kasaboko type. They parade the floats in the morning between 8 am and 10.50 am and again between noon and 5.30 pm. There is also a mikoshi (portable shrine) procession between 2.30 and 4 pm. In addition, there are Kagura performances at different times of the day. Moreover, the floats are once again paraded at night, but this time lit up with lanterns and backdropped by magnificent starmine fireworks. They launch the fireworks, all things equal, between 8 pm and 8.20 pm. They usually launch about 5,000 fireworks but they haven't released the figure for 2023.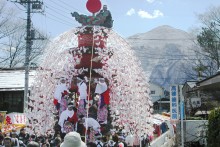 Information
Event: Yamada Spring Festival 山田の春祭り
Date: Sunday March 12th 2023
Time: 8 am to 9.30 pm, fireworks from around 8 pm.
Venue: Tsunemochi shrine and the Yamada area of Chichibu City. Tsunemochi Shrine, 1606 Yamada, Chichibu, Saitama 368-0004. View Tsunemochi shrine on Google Maps.
Access
The shrine is a little tricky to get to by public transport. The nearest station as the crow flies is Onohara station. However, there is no direct route to the station so you are probably better off getting off at Chichibu Station. The shrine is about a 50 minute walk from the station or you can also get a bus bound for Minano and get off at the bus stop called Gakko Mae「学校前」.
By car: the shrine is about a 40 minute drive from the Hanazono Interchange of the Kanetsu highway. There is charged parking for about 300 cars. It costs 500 yen per car.
Nearby
Official event page on the official Chichibu area website.
Official website where you will find the link to watch the event live on the day.
Editor's note: this event post was temporarily removed from the website during the pandemic. It was republished on February 25th 2023.