Bio Resort O Park Ogose opened at the former You park in 2019. It is a resort by Onsen Dojo, an award winning hot spring management company, with several facilities in Saitama Prefecture. O Park is one of their largest, with several different facilities and services.
O park Ogose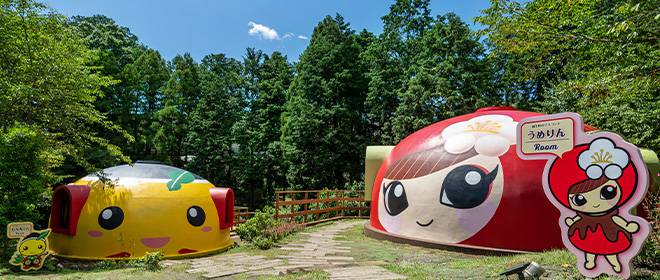 The name is just one change of many in the formerly run down and overlooked camp, barbecue and relaxation resort in the underrated town of Ogose. Whatever you want to call the resort, it is a bath and spa facility in Ogose town in Western Saitama. O park Ogose features on TV a lot, for many reasons, including its dinky little dome and suspension tents, and its glamping sites. The domes come in the motif of the town mascots Moromaru Kun and Umerin, as you can see in the photo above. (To be honest I thought Moromaru kun was Pikachu until I went to try and book one!).
Having visited this resort before and after the big changes between 2018 and 2021, I can confirm that the new Opark is much improved. Apart from adding a new bath, to twelve already existing ones, they have also added a whole new play area. They have also added a dog run and improved the barbecue facilities. This is a great spot for barbecuing in the rain as they have areas that are covered and have large bath curtains keeping the rain out!
Play Areas
The new play area is on the upper floor. The area is loosely divided into three areas. They have fake grass down in one section where there is a handful of hammock chairs. There are also lots of colourful comfy seats. There is a small selection of board games for older kids such as "Life" and Shogi. Throughout the play area there are magazines and manga in various book stands.
Another section has children's books, Rody Horses, kendama, soft toys and wooden toys and wooden ball pool for children to play with. The wooden toys include a cash register and cooking set with vegetables you can cut with a wooden knife.
Beside this area there are two table tennis tables. They are free to use, you just have to ask for the balls and bat at the reception area. You can use the balls and bat for an hour at a time. If no-one else is waiting when your time is up, you can borrow them again.
Opark

Baths
There are both indoor and outdoor baths, and baths that are mixed and you use swimming togs to enter. You need to bring your own towels too, they are not provided in the price (see cost section below). However, if you forget to bring either towels or togs you can rent them at reception.
I always remember a story of a former JET who couldn't read Japanese and entered a mixed gender bath area naked! This could in theory happen in Opark Ogose. There is a partition in front of the door that leads to the pool area from the women's changing room. It has clear warnings in Japanese, but if you weren't paying attention you could easily walk around it and have a great story to tell for the rest of your life!
However, before you even notice the entrance to the mixed bath area, you will see the ladies' only bath area. The indoor bath in this area isn't particularly special, but it does have jets on one end. The outdoor bath is very nice with a typical rotemburo design. The shower area has soap, shampoo and conditioner you can use.
The changing room for the baths and mixed bath is the same. There are lockers for storing your things, but you need to get a key from reception first. There is a toilet in the area. They have hair dryers and vanity area.
Children who are in nappies can't enter the baths, but they have baby baths you can borrow. They also have a cot for lying a baby on to dry / change or while you are changing.
Other Facilities & Services
Within the ofuro building:
Fitness Center
Restaurant
Karaoke
Hot stones / Bedrock bath


Aromatherapy


Sauna
Massage


Massage chairs
Reclining chairs
Rest rooms
Meeting rooms
Sleeping room
Slot machines
Reading area (separate to play area)


Free wifi
Shuttle bus (see access)
Events
Within the resort
Barbecue area (suitable for rainy weather too)
Log cabins
Pao
Campsite
Park
Dog run
Wading Stream
Outdoor stage / event space
Events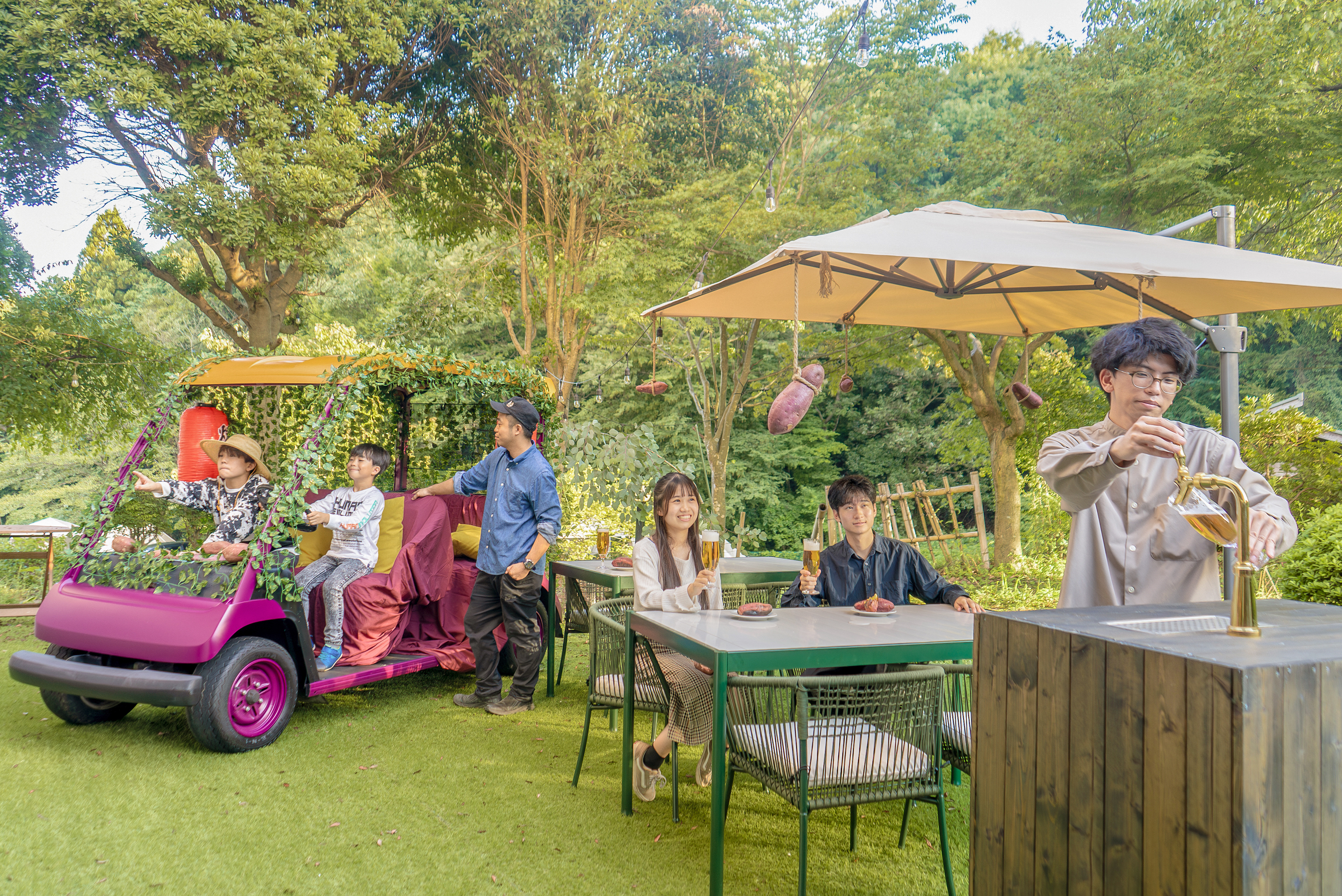 The Satoyama Harvest, an Autumn Beer Garden, is on from September 15th to November 30th 2023. At the Morinawa Terrace Restaurant. Enjoy all-you-can-drink craft COEDO beer made from Kawagoe sweet potatoes, freshly baked hot stone baked potatoes, and a photo spot "OIMO Cart". They also have a free detox water bar and for kids a free sweets bar. They will have a seasonal menu too. It costs 2980 yen for 1.5 hours for anyone over 15 years old and it is free for children. There is also a ticket for just the sweet potato, for 980 yen per adult. It is open between 12 pm and 3 pm except for Fridays and Sundays when it opens until 8 pm. Event information (Japanese).
Other events include a popular Satoyama Sky lantern event (English) in winter.
O Park Costs and Hours

(2019)
A review on Google maps complained that the baths are expensive if all you want to do is enter a bath and not use any other facilities and I would agree to a point. However, for a family, especially a family like ours, it is extremely good value for a full day of relaxation and play.
The basic cost for a day pack for full day use, go and come as you please between 10 am and 9 pm, is 800 yen on weekdays, 850 on weekends, for adults. That allows access to the baths and 2F play area. School aged children cost only 400 yen and 200 yen for preschoolers any day of the week. Children under 4 years old are free in.
If you only want to enter at night, after 7 pm, the cost is 500 yen for adults, 250 yen for children and 100 yen for preschoolers. If you want unlimited access to the hot stones room it is an extra 300 yen for adults. Children aren't permitted in that area. Karaoke costs 1000 yen for the room for an hour.
Rental costs for towels and togs average at 200 yen an item. You can also buy a towel or a number of items at reception, such as toothbrush sets, camisole, face wash, hair tye etc. The prices vary between 20 yen and 200 yen.
O Park is open Friday to Wednesday, closed Thursdays, from 10 am to 9 pm. The fitness center, body care facilities and restaurant are open the same hours. All have a last entry cut of 8.30 pm.
Opark Ogose Access
Thanks to a shuttle bus that runs between Opark and two stations, Opark Ogose is quite easy to get to, even by public transport. The shuttle bus takes two courses: Ogose course and Moroyama course. The latter is very infrequent with only two buses a day, but it stops and picks up at two stations – Bushu Nagase station and Higashi Moro station. However, the Ogose course from outside the Ogose Tourist Office at Ogose Station on the Tobu Ogose line goes once an hour. The timetable is here. Ogose is on the left, Moroyama on the right. The times from Ogose station is the 2nd column: 10.20 am, 11.10 am, noon…last bus from the station at 6.50 pm. The column on the left indicates the time the bus leaves from You Park. The bus only takes about 6 minutes to / from Ogose station.
You can also walk from both Ogose and Higashi-moro stations. It takes about 30 minutes on foot from both.
By car the nearest highway is the Kanetsu expressway. Both Sakado Nishi (Smart) and Tsurugashima exits are about a 30 minute drive from Yu Park. Please note that as Sakado Nishi is a smart interchange, you must have an ETC card to use it. There are a number of different car parks throughout the grounds. The one nearest the ofuro building parks about 40 cars.
You Park Ogose also has a camping ground and log cabins. More information on both coming up on Saitama With Kids soon
Things to do in Ogose
O park Ogose, formerly Opark / You Park and – like so many places in Japan – many other names. Until 2019 it was best known as You Park. It was also called "Little Indian Village", "Ogose Fureai Center" and "Yu Park" (or Yuu Park) . However, with the renewal open in April 2018, they went with a clever pun on Yuu (for hot water) and reopened as You Park Ogose. THEN, they made even more changes within the park itself and rebranded as Opark (one word) Ogose, before settling on O Park (two words).