New Year Countdown Events – New Year's has become a popular time for overseas visitors to visit Japan and yet there is very little New Year count down event information available in English online. Over the last couple of years I have tried to bridge that gap by sharing information of events I know of in the Greater Tokyo area.
However, as I have personally NOT been to most of these events, I do recommend you research further before choosing which event to go to. (*The Johnny's countdown party in Tokyo Dome is near impossible to get tickets for, so there is no information for that popular event on this page.)
Update 2019 / 2020 **This post was written in 2017, a republish of the original 2015 list, but the places listed here have New Year events every year** 2019: Timeout started doing a list a couple of years ago and that is why I stopped updating yearly. Their list builds on what is below with a couple of additional places. You can see their 2019 countdown to 2020 list here (click).
New Year Countdown Events Tokyo 2017~2018
🎍IKEBUKURO, Sky Circus Sunshine 60 2018 Countdown Special
This special event in Sky Circus will start at 8 pm and finish around 1 am. The tickets are more expensive this year. If you purchase in advance they cost 2,600 yen. They have 800 tickets for advance purchase and only 200 tickets available on the day. There is a 200 yen discount for people with a "Skypass". Children 3 years old and younger are free. They will have live performances and you can experience some of their Virtual Reality machines for free. Phone: 03-3989-3457
Event URL: https://www.sunshinecity.co.jp/information/i720.html
🎍ASAKUSA, Countdown event in Hanayashiki Amusement Park.
This is probably the best known countdown event in the Tokyo area. The park will open for this special New Years and Illumination event from 9 pm on the 31st to 2 am on the 1st. The price went up considerably last year, but this year it has come down again. It costs 2000 yen for adults and children over 12. It is a 1000 yen for children under 12. Please see the linked website for more details on prices and tickets. Not all of the park will be open, but there will be certain areas open and stage events. The ticket includes unlimited access to 10 rides, which include the merry-go-round, Little Star and Helicopter rides.
URL: Hanayashiki Countdown official webpage (Japanese only)
🎍JOYPOLIS, Countdown Party 2017 ➡ 2018
This lively event runs from 11.15 pm on New Year's Eve. The draw for a special cracker starts at 9 pm. They are only given to 1000 people. They have live music and comedic performances. Tickets went on sale last week. You can also buy a ticket on the day, subject to availability. They have different types of tickets which grant different type of access. Their system is a little convoluted, but basically a ticket costs around 3000 yen. Access: 5 minute walk from Odaiba station. More details on the official site;
URL: Event information for Joypolis Countdown Party 2018 (Japanese only)
🎍IKEBUKURO, Nanja Countdown Party 2017 ➡2018
A very popular countdown event is in Nanja Town, Sunshine City. The store opens from 10 am on the 31st until 5 am on New Year's day (last entry 4 am). However, unlike last year they will not have special events all day. Their New Year events will start from about 8 pm. The "Countdown Stage" starts from 11.30 pm. They will have a special New Year's menu available. The basic entry for Namja Town is 500 yen for adults, 300 yen for children 4 years old or over, but that does not include any attractions. You can pay for various packages or pay per attraction if you prefer. Access: 8 minute walk from Ikebukuro Station.
URL: Namja Countdown Party 2018 official event page.
🎍EDOGAWA, Kasai Rinkai Park Ferris Wheel Countdown
The event is free, but you have to pay 700 yen to ride the ferris wheel. There will be live entertainment. It opens from 11 pm to 0.30 am on the 1st.
URL: Kasai Ferris Wheel homepage
🎍SUMIDA, 2016/7 Countdown at Higashi Shirahige Park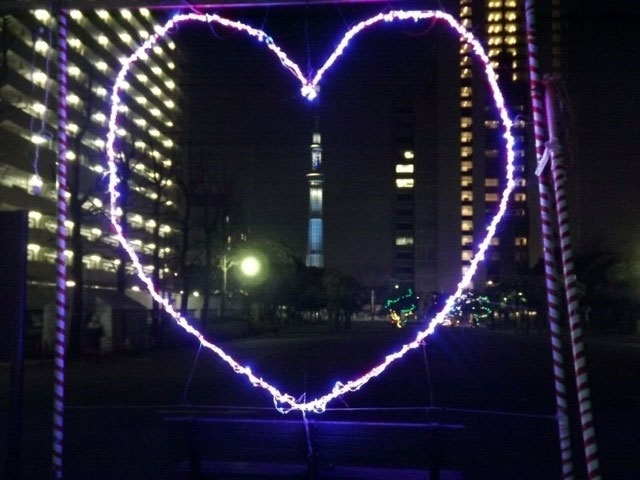 The riverside area has a long running year-end event and more recently illumination with lanterns, too. It is a free event. It starts 15 minutes before midnight. Illumination starts at 5 pm and on New Years is on until 6 am on New Year's day. The countdown event starts at 11.45 pm. Access: 12 minute walk from Tobu Skytree line's Higashi Mukojima station.
No official website. Queries to 03-3619-8888.
TOKYO New Year COUNTDOWN PARTIES FOR ADULTS ONLY
🎍ROPPONGI, 2017 Year-end Funk Party
The Year-end Funk party will be held at Billboard live at Tokyo Midtown Garden Terrace. It includes 2 performances by Con Funk Shun. The 1st performance is from 6.30 pm, the 2nd from 10.30 pm. The 2nd stage includes the New Year countdown and tickets are more expensive. Tickets start from 9,300 yen. Access: 5 minute walk from Roppongi Station.
Event Url: Billboard live Countdown party information
🎍SHIBUYA, Womb presents New Year Countdown to 2018
The event at the popular nightclub Womb starts from 9 pm to 4.30 am. Every year there is an Internationally acclaimed DJ running the show. Ticket prices vary, details are on their website. It is cheaper to buy a ticket in advance, and they are already on sale.
URL: Womb 2018 Countdown Party information
🎍TOKYO BAY, Countdown Cruising, New Year's Eve 2017/8
For adults, there are two different cruises you can enjoy on New Year's eve in Tokyo Bay. Both provide a meal, a glass of champagne plus another free drink and music. The buffet course cruise costs 13,500 yen per person and leaves Tokyo Bay at 22.50 returning to land at 1.20 am. The Classic cruise costs 14,500 yen and leaves at 22.30, returning at 1.10 am New Year's Day. You can book from 10 am to 7.30 pm on 03-3798-8101. You can also book a cruise to see the first sunrise of 2018. It departs the bay at 5.50 am.
General information in English: https://www.symphony-cruise.co.jp/english/index.html
Event URL: https://www.symphony-cruise.co.jp/season/detail.php?p=1201 (Japanese only)
🎍AGEHA, Ageha New Year Countdown 2017
Aptly named "the best countdown to 2018", this is where I would be if I didn't have four kids!! Ageha is a famous dance club venue in Shin Kiba. It has a great New Year's event, from 9 pm to sunrise (doors open at 8.30 pm). You need to buy a ticket in advance. (They do say they sell tickets on the day, subject to availability but they are always sold out by the 31st). Tickets are already on sale and will be until the 29th of December. It is usually around 5,000 yen per person.
URL: https://w.ageha.com/countdown2018/
🎍GINZA, SHIBUYA, SHINJUKU Hooters Countdown Party
Another one just for adults. Every year the Ginza, Shibuya and Shinjuku branches of Hooters throw Countdown parties. This year each branch has a DJ as well as other guests. Each branch's party runs at different times as you can see in the photo above. You can also see the prices are different. The prices at the top that are larger, beside a pink icon, are the prices for tickets bought in advance. The prices underneath reflect the cost of tickets purchased on the day.
URL: https://www.hooters.co.jp/news/3063/
New Year Countdown Events Tokyo
Please note that some of these events will be dependent on weather, so if it is a rainy or stormy day on the 31st please do check the homepages or ring the numbers provided to see if the events will go ahead.
This is just some of the special events on for New Year's Eve 2017/ 2018. There are other types of events you can enjoy, too. For example there is the Japan only event of buying Daruma. A lot of Japanese people go to a shrine or temple to welcome the New Year. My pick for the Greater Tokyo area is the Yakuouin Temple on Mt Takao. However, it is cold, dark and crowded. So why do people go? Three very big reasons; the first sunrise AND the first glimpse of Mt Fuji for 2018 and age old New Year traditional ceremonies. Mt Takao cable car runs from 8 am on New Years Eve right through to 6 pm on New Year's Day.
For even more suggestions of great ways/places to spend New Year's Eve, please see the comprehensive list with details on Timeout. –