Santastic Tochigi – In my search for Santa, one prefecture that stood out for having a good selection of Santa events and attractions was TOCHIGI. So my family of six took to the road to do a bit of reconnaissance. Thanks to the completion of a new stretches of highway, Tochigi is very accessible from Saitama. It took us just under two hours to reach our first stop in Nasu, where much to my delight the first thing we saw was Santa's private sleigh.
It was the start of a magical day for my four kids ages 1 to 6 years old, and I have to say, I enjoyed it more than I had anticipated. We thoroughly absorbed the Christmas atmosphere and came home with a little jingle in our steps! There were so many Santa photo spots, events and attractions and the great news is that there is even more SANTAstic fun planned for many parts of Tochigi for the next few days.
Santastic Tochigi
661 Street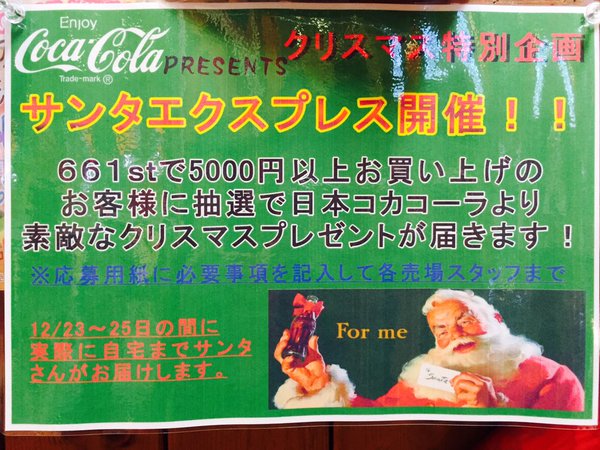 661 Street is a quirky row of shops and a museum, that are all adjoined. The Coca Cola store within 661 street offers two ways to meet Santa each Christmas. One is the SANTA EXPRESS! When you purchase more than 5,000 yen of Coca Cola goods in the Coke Store, Santa will personally deliver your purchases to your home (within the area). This offer runs between December 23rd and 25th. The other is a meet and greet within the Coca Cola store. (Images on the left and right from 661 street).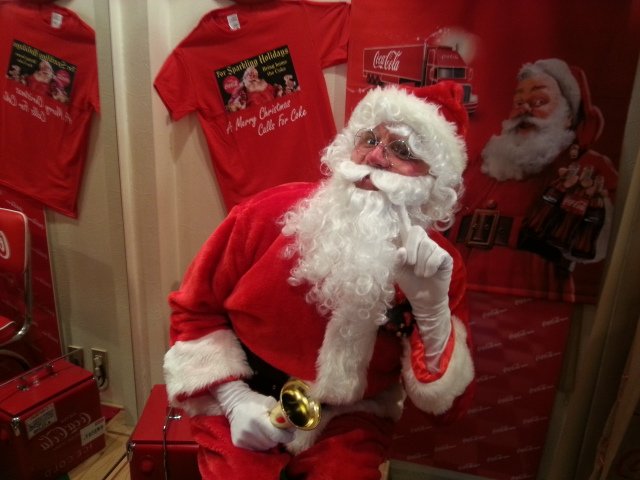 Apart from being able to meet the real Santa you can also enjoy the Christmas decorations and Santa photo spots. You can even get a photo with Elvis, a regular fixture at 661 street, with Santa in the background. That Santa is in front of the Coca Cola store. They also have inflated snowmen and a Santa display out the front of the premises.
661 street Information
Address: 4328-1 Takakuko, Nasu, Tochigi 325-0001.
Phone: 0287-64-0661
Santastic Tochigi December 2015
Finland no Mori
Finland no Mori also offer two ways to meet Santa. This Saturday, the 19th, between 2 and 3pm anyone can meet him at the bakery for free, or you can pay to meet him at a more leisurely pace at allocated times from the 19th to the 25th. If you purchase 1,000 yen of goods from the bakery or cafe you get a ticket to see Santa. With this ticket you get the opportunity to take photos. Each day the times are a little different and subject to change so please check on the website (below), but generally there is a mid-morning and early afternoon slot.
Apart from the opportunity to meet the real Santa, there are also some fun Santa photo spots around the area. Finland no mori is also home to a Moomin shop and a Hammock cafe among others. More to come on Finland no Mori in the coming days. Not too far from Finland no mori, there is a shop were it is Christmas all year round; Christmas Town.
Finland No Mori Information
Address: 2730-36 Takakuotsu, Nasu Tochigi 325-0303
Phone: 0287-78-0981
Santastic Tochigi 2015
Santastic Babies-r-us
Santa Claus visits the Babiesrus in Sano annually. However, in 2020 there were no Babiesrus or Toysrus Santa visits on account of the Coronavirus. But in a usual year Santa Claus walks around the Babies-r-us fives times one day in December. If you find him, say hello and get a photo with him. Don't forget your camera!
Babies-r-us Sano Information
Address: Aeon Mall, 1324-1 Takahagi Cho, Sano, Tochigi 327-0821
Phone: 0283-21-8801
Santastic Tochigi
Santa Train – Mooka Steam Locomotive
This special event is only available for 2 days in December annually. Generally, the event is held the week before Christmas. The outbound train leaves from Shimodate Station in Ibaraki arriving in Motegi in Tochigi almost two hours later. Tickets for the steam locomotive are sold at Midori-no-madoguchi (Reservation Ticket Office), View Plaza (Travel Service Center) at Mooka Station in Tochigi. You can also get them online:
Santa Train Information
Phone: 0285-82-9151
Nakagawa Aquatic Park
Generally in December, the aquatic park in Otawara have a visit from Santa daily. From 11am and 1pm, for an hour each time, you can get a photo of Santa swimming around the tank and interacting with the audience with an etcher sketcher! On Saturdays and Sundays Santa wears a red Santa Kimono instead of his usual suit, at the 1pm showing only. The Santa event doesn't cost any extra money, once you have a ticket in to the aquatic park.
Nakagawa Aquatic Park Information
Address: 2686 Sarado, Otawara-shi, TOCHIGI 324-0404
Phone: 0287-98-3055
Santastic Tochigi
Premium Outlets Sano
Santa Claus visits all the premium outlets yearly. For one day, generally in either late November or early December, Santa is available for photos. You can find information updated annually for Santa Claus at the Premium Outlets in Sano on this blog.
Santastic Premium Outlets Information
Phone: 0283-20-5800
Address: 2058 Koenacho, Sano, Tochigi Prefecture 327-0822
Santastic Santa Hills
SANTA HILLS is a cottage and campsite where it is Christmas all year round. And Santa has a house there. You can rent it out to stay, which we had the great pleasure of doing before. Santa Claus visits Santa hills every day in December. He gives all the kids at the campsite and cabins a small present in person. The campsite has a Christmas shop open to the general public all year round. There is a Santa Claus museum of sorts in the reception building. And the cafe on the grounds has a Christmassy feel all the year round too!
Santa Hills Information
Phone: 0287-96-4622
The Real Santa at Moose Family Camp Resort
Added in 2020, Moose Family Camp Resort now have a Santa's grotto. Making it the second place in not just Tochigi, but in the Kanto area, to have this kind of Santa house. Santa Claus, the real bona fide Santa Claus visits the camp resort during Christmas week. The campsite also has a proper Christmas dinner on offer one day close to Christmas annually.
Moose Family Camp Resort Information
Official Website (Bilingual – Japanese/ English)
Phone: +818033892252
Teddy Bear Museum
On our own trip, we also went to the Teddy Bear Museum where some of the teddies are dressed up in Santa outfits and Olaf costumes. There were many places we passed on our journey that had Christmas decorations and winter illumination. There wasn't time to investigate them all. However, what we saw and what we felt was reminiscent of a Scandinavian Christmas and I certainly want to go back to investigate more.
Teddy Bear Museum Information
Address: 〒325-0302 Tochigi, Nasu District, Nasu, 高久丙1185-4
Phone: 0287-76-1711
A lot of these locations are in the Nasu District of Tochigi. It is a lovely area to visit all year round, but, for us, particularly nice in the Christmas season. And I really do find it to be Santastic! There are several other Christmas locations we have heard of that we want to check out over the next couple of years. If you have anywhere you would like to recommend, please do not hesitate to comment.
Bonus content:
In recent years, the Sun Valley hotel in Nasu offer children the chance for a Q&A with the man in red for about 20 minutes on one day near Christmas. From about 4.20 pm there is a Santa photo op (bring your own camera, first come first served) and Santa will give young children the gift of a sweet.
The official website for Hotel Sun Valley Nasu.