A giant cedar with seasonal flowers and a Catbus Bus Stop in the Hiki District of Saitama Prefecture.
Thanks to volunteer work I do with a team of fellow "Hikijin" and Hiki District lovers, I heard about this completely off the beaten path nature spot in the mountains of Tokigawa town. In order to fulfil an "ambassador" role, back in 2019, we were given dozens of brochures and information about the Hiki District. Some of the places and attractions I already knew, but many of them were new to me. Moreover, searching online for further information revealed, many of them have no information online. Not just in English, in any language.
Kunugi Mura
This spot in fairness has a lot of information online in Japanese, but has remained off the tourist trail. Moreover, its remote location will ensure it never gets overcrowded. It is quite the adventure driving to the area, up a very steep and windy mountain road to the village at an altitude of 400 meters. More than the catbus, what actually incentives me to visit this area is the seasonal flowers.
The flowers were only planted in 2007 as a neighborhood project to try and increase tourism in the area. Moreover, it is only really since 2017 that this area became a tourist spot. The area is Kunugidaira, but the flowers are called Kunugi no Nanamagari. Meanwhile, an old school, where you can now experience making your own udon from scratch, is called Kunugi Mura Taiken Koryu-kan くぬぎむら体験交流館. So for the sake of this post, I call the area Kunugidaira or Kunugi Mura! Mura means village and the Taiken Koryukan of the udon restaurant means "experience exchange building".
There are great views from the Kunugi Mura Taiken Koryu-kan. Unfortunately though, if you are hiking the mountain, there are very few spots with a look out once you pass the giant cedar and catbus. That is due to the thick forest of beautiful trees. That in itself is a spectacular view. There are several hiking routes you can take to / from Catbus, but none are well sign posted. I highly recommend you either use a hiking app or have a good map and compass with you.
Catbus, what?
Catbus, or Neko Bus, is a character in the Ghibli movie My Neighbor Totoro. It is a bus that looks like a cat that can be boarded. To that end, it stops at a bus stop that is exactly like the one in Kunugi Mura, Tokigawa Town. Its amazing how an, otherwise off the beaten path, nature spot can become better known simply from having a Catbus Bus Stop! The magic of all things Ghibli…
Ghibli, what!?
Ghibli, the quickest and easiest way to put it, is the Disney of Japan. Only better! Until I came to Japan in 2000 I had never heard of Ghibli. I had in fairness seen a couple of the movies, but I didn't know they were by "Ghibli". It'd be like having seen Frozen and / or Pirates of the Caribbean without knowing what "Disney" is! Now I not only know what Ghibli is and have seen most of their movies, I also know where to find some Ghibli spots in Saitama! Like this, Catbus bus stop…
Catbus Bus Stop
The Catbus Bus Stop is located on the side of a mountain in the Kunugidaira area of Tokigawa Town. You come to it by either hiking through the mountains, which I actually did this time, but that's a post for another day. On a previous visit I drove up to Kunugi Mura, hence I am writing from that perspective for ease of dissemination of information! If you drive, the parking is near the Kunugi Mura Taiken Koryu Center and you walk up through a small flower garden. Its quite a steep walk, so flat shoes are advised, ideally some with grips. The bus stop is located beside a giant sugi…
Giant Sugi
The Sugi, or Japanese Cedar, came first! Before the catbus bus stop. Furthermore, it is the second largest tree in Tokigawa town. However, the most recent official measurement I could find for the tree is actually from 20 years ago in 2002! At that time, the circumference of the tree was measuring at 6.05 meters.
Apart from the impressive size of the tree trunk, the branches are particularly of note. The tree is perched on a hill and the branches actually hang down the side of the slope, way past the base of the tree. There is a little inari shrine beside the tree. And the tree has Shimenawa, the sacred rope, around it with shide, the white zigzag paper that symbolize a sacred border in Shinto religion.
Seasonal Flowers
There are actually various different flowers throughout the year, but (for now) I want to focus on the current blooms. Honestly, I'm just restricted for time! So I will come back and add more in the future, so do check back every now and then! Right now, you can see wintersweet and daffodils at Kunugidaira.
Daffodils
Although there is quite a bit online about the Catbus in Japanese, there is very little about the flowers. Moreover, there is no official website as such, just a one page web page on the Tokigawa town website. Unfortunately, that page doesn't specify how many daffodil there are. And I wouldn't like to guess, except to say less than at Gongendo Park, Saitama's main daffodil location. The daffodils have just started to bloom at Kunugi mura, so they should be even more picture perfect in a week or two.
Wintersweet
What I love about the wintersweet here is that they form a tunnel. There aren't that many, I would guess (its easier to guess with trees!) about 70. But what makes Kunugi Mura's wintersweet my second favorite place for "robai" in Saitama, is the overall attractiveness of the area. (After an off the beaten path spot in Okegawa that is also small, but has tunnels). The wintersweet aka robai at Kunugi Mura bloom a bit later than the rest of Saitama. Thus, the best time to see the wintersweet at Kunugi Mura is generally mid February.
Kawazuzakura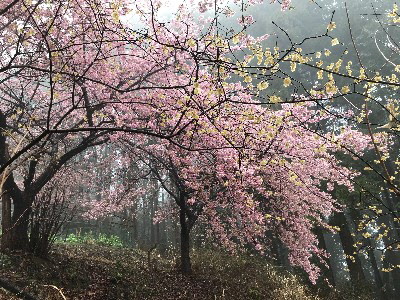 The Kawazuzakura have evaded me personally thus far. They bloom a little later than the Kawazuzakura in other areas. Typically they start to bloom early March and reach full bloom around mid March. However, in 2022, they are late, like all Kawazuzakura around Saitama.
---
I really wanted to share this location last year, but it was off limits due to the State of Emergency at the time. When I first wrote this post, there was no notification to that effect in 2022. However, since then they have actually temporarily closed the udon restaurant, due to the prefecture's "preventative measures" directive. It is due to reopen on March 31st 2022. Please note, that this is a very rural / mountainous area. However, despite that there are toilets and a vending machine by the Kunugi Taiken Koryu Center. And there is actually also a toilet right by the giant cedar / Catbus busstop!
---
Kunugi Mura ~ Giant Sugi and Catbus Information
Address: 244 Kunugidaira, Tokigawa, Hiki District, Saitama 355-0365
Phone: to Tokigawa Tourist Association at 0493-65-1532
Hours: in theory, open 24 hours, but it would be very dangerous to hike here at night.
Cost: free
Pamphlet about Tokigawa's giant trees, from the official town website.
Access
It is best to come by car wherever possible, but it is not impossible by public transport though. As, incredibly, there is actually a bus that goes relatively close. However, the buses are few and far between. Moreover, you have to walk up either a steep road, with no footpath, or steep stairs in the mountains, to get to the spot after you alight the bus. Just to give you fair warning!
The town also strongly discourage coming by bus and pitch taxis as the best way to get to the location. To keep costs down you can first get a bus from either Myokaku, Ogawamachi, Ranzan or Ogose stations to Seseragi Bus Center (on google maps). You can actually walk from Myokaku station to Seseragi bus station too. It takes about 15 to 20 minutes on foot. If you want to book a taxi in advance, the phone number is 049-292-8181. Supposedly, the Seseragi Bus Center taxis can also arrange a shared taxi. Unfortunately, this is word-of-mouth so I have no website to direct you too or any personal experience with this type of service.
If you come by car, there is a very small car park by the flower garden. It fits four or five cars. There is also parking in the Kunugi Experience Exchange center. According to Tokigawa Town, even if you are not making or eating udon there, you can use that car park when visiting the catbus bus stop / cedar / flower garden or hiking in the area.