Hydrangea in the Minano area of Chichibu in 2022.
The cherry blossoms in Minoyama Park, Chichibu, are one of Chichibu's most famous scenes. It is nicknamed the Mount Yoshino of the kanto plain due to the 8000 blossoms atop the mountain. However, Minoyama Park also has some stunning hydrangea. And thank to their location at 586 meters above sea level, they tend to bloom a little later than other hydrangea in Saitama Prefecture. The prefecture posted today, Tuesday June 21st, to say that the hydrangea in Minoyama have started to color. Prime viewing is usually the very end of June to early July.
Featured image at the top of the post from the Chichibu Tourism Association.
Hydrangea Chichibu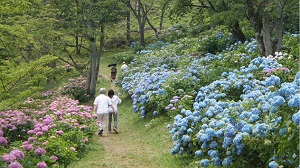 There are approximately 3500* 4000 hydrangea in Minoyama Park. So the display is not nearly as big as others in Saitama Prefecture. But the hydrangea come with great views of the Chichibu valley and surrounding mountains. Moreover, sometimes you can see a sky of clouds in this park. There are about four different varieties of hydrangea in one section of the 7500* 12000 meter squared park. (*The park has been expanded since this post was first published in 2017)
Minoyama Park is also called the "forest of flowers". Apart from the cherry blossoms and hydrangea there are many other flowers that bloom in the park. The view from the park is amazing throughout the seasons.
Minoyama Park information
The park is managed by the prefecture which is rare. Thus, there is no official website, just an official web page on the prefectural website.
Address: Minano, Chichibu District, Saitama 369-1412
Phone: 0494231511
Hours: The park is open from 9 am to 5 pm, seven days a week.
Cost: free and free parking
Access
The hike from the nearest train station, Minano (or Oyahana) station on the Chichibu Railway, is a long one in the best of circumstances, but particularly now with some of the trails still closed due to damage from typhoon Hagibis in 2019. It would take about an hour and a half on foot, but it is a beautiful hike. By car it is about 20 minutes from the station.
By car it takes about an hour from the Hanazono Interchange of the Kanetsu Expressway. Due to severe damage during Typhoon #19 aka Hagibis, in 2019, some of the roads were inaccessible in the area for a couple of years. The Minano Iriguchi Intersection was reopened 美の山入口交差点 last year, but they closed it again in spring this year. There are still restrictions in the area, for example large vehicles such as tour buses are currently not able to access the park. Official notification of the road works. The forest service road 森林管理道蓑山線 from the Minano yakuba interchange 皆野役場入り口交差点 stayed open throughout. Please note this is a narrow mountain road and take due care.
Need somewhere to say in Minano? Waterpark Nagatoro is also located in Minano. It is a campsite, but they also have cabins as well as trailers.