Iwatsuki Hisaizu "the peacock" Shrine is a very photogenic shrine and one of Saitama's largest. Furthermore, it is the only one I know of with resident peacocks! Each year in summer, they have a beautiful wind chime display. Moreover, it starts a whole month before the famous wind chimes of Kawagoe Hikawa shrine.
Wind chimes
Each summer, the Iwatsuki Hisaizu Shrine display beautiful wind chimes in the precincts. They have a display of red chimes by the administration office of the shrine. In addition, there is a tunnel of clear wind chimes with various designs on them, adorning a quaint path that leads to the rest area of the shrine.
Annually, the chimes are displayed from early June, which is a month earlier than Kawagoe shrine who put theirs up in early July. In 2022 Iwatsuki Hisaizu Jinja will display the chimes from June 4th until the end of August. During the period you can purchase wind chime amulets.
Peacock Goshuin
The Goshuin at Iwatsuki Hisaizu shrine is my personal favorite to date. It depicts a beautiful peacock and tanabata scene. Peacocks are the symbol of the shrine. The shrine was gifted three peacocks from a member of staff of the Imperial Palace. Over the years, the numbers grew and there are now about 20.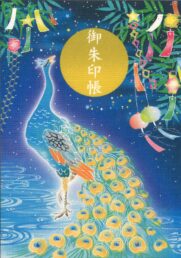 A goshuin is a large stamp or seal handwritten by a monk or priest at a shrine or temple. They are not available at every shrine and temple. Moreover, there are often conditions to receiving them. For example, some shrines and temples require that you book them in advance. At Iwatsuki Hisaizu shrine they can only be bought on certain dates. And the summer goshuin book (used for collecting the stamps), pictured above, can only be purchased in summer:
Goshuin summer dates 2022: June 4th to 12th, July 2nd to 10th and August 6th to 14th.
Iwatsuki Hisaizu Shrine Information
Dates: The chimes are on display from June 4th until end of August.
Hours: The shrine is normally open from 8.30 am to 5 pm, but during the pandemic the official hours seem to be 9 am to 4 pm. The precincts are open from 5 am to 7 pm.
Access
Address: 2 Chome-6-55 Miyacho, Iwatsuki Ward, Saitama, 339-0065
The nearest station is Iwatsuki station on the Urban Park line. The shrine is a fifteen walk from the west exit. There is parking for 100 cars. The parking lot is open from 5 am to 6 pm and is free of charge. It is a 10 minute drive from the Iwatsuki Interchange.
Even more information in English:
20220606