For the first time in four years, the Kumagaya Fireworks are back to normal! This will be the 71st annual Kumagaya Firework display.
Kumagaya Fireworks in 2023
The Kumagaya fireworks display started in 1948, making these one of the longest running annual fireworks in Saitama. They are held each year on the second Saturday of August. Moreover, it is not just a firework festival, but a prestigious firework competition too. The Kumagaya Fireworks are known for their starmines and this year the city challenged pyrotechnicians to come up with a wide starmine display. In addition, there are a large number of festival stalls at these fireworks, about 500 of them on average!
Due to the size of the event, quality of the fireworks and the convenient location, just 5 minutes from a train station, these fireworks attract thousands of spectators. Approximately 450,000 spectators! The main viewing area is just a few minutes walk from Kumagaya Station, near the famous cherry blossoms, in the rugby fields of Arakawa Undo Park. They launch approximately 10,000 fireworks on the night. They have "message fireworks" that display birth, marriage and congratulatory messages.
Many fireworks are shot off by supporting citizens, stores and companies in Kumagaya while their names and PR messages are announced.

Please enjoy Japan in a variety of ways such as viewing the huge fireworks's which are displayed in the night sky while wearing traditional Japanese summer wear (Yukata) or eating finger foods of Japanese cuisine.

Source: From the Kumagaya Tourist Bureau official English webpages.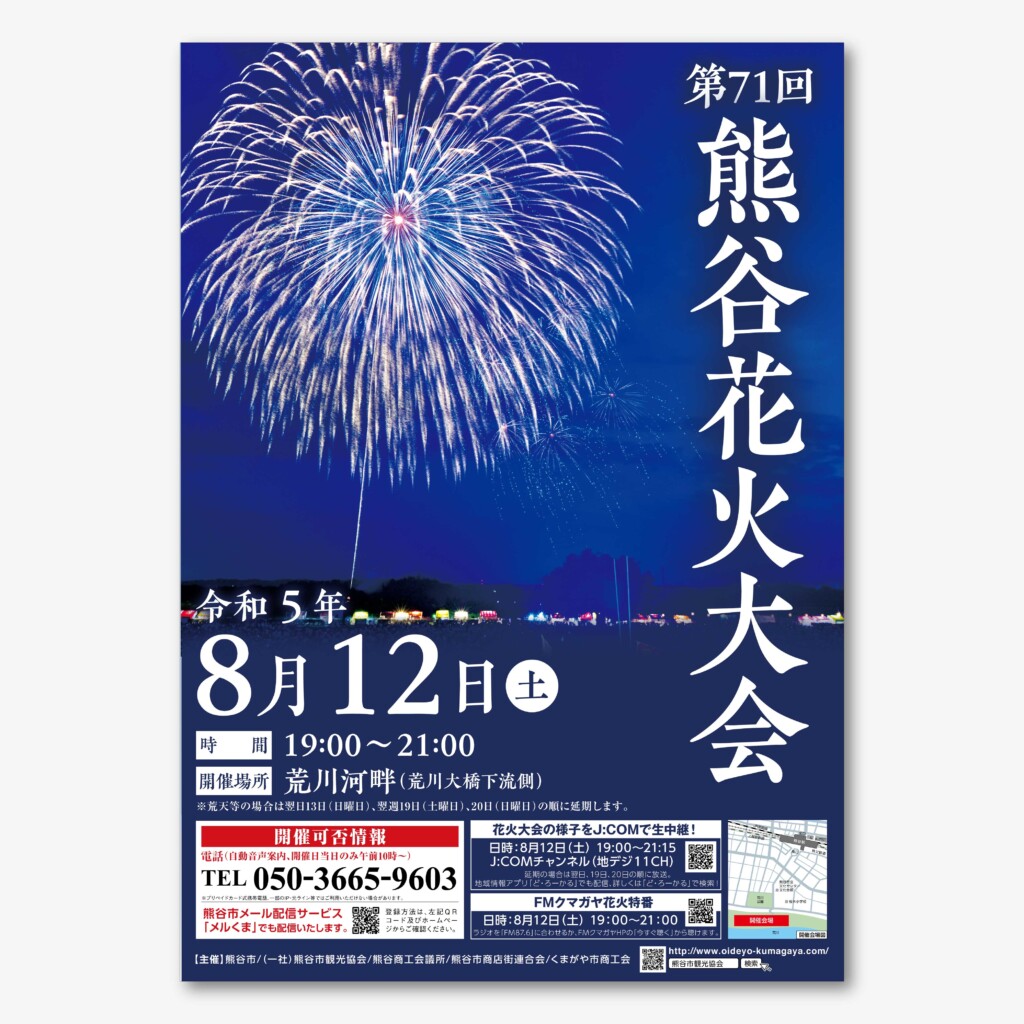 The fireworks are usually postponed until a later date if there is heavy rain. They have three 'back up' dates in 2023 – August 13th, 19th or 20th. Update August 12th 2023, Kumagaya City confirmed that the fireworks will go ahead as planned tonight. There are also (a much smaller) fireworks on the same night at Heritage hotel, also in Kumagaya. They have a charge, but it is reasonable. More information here.
Information
Event: The 71st annual Kumagaya Fireworks in 2023 第71回熊谷花火大会
Date: Saturday August 12th 2023. Confirmed at 10 am on August 12th as going ahead today, on their scheduled date. They will be postponed to either the 13th, 19th or 20th if there is bad weather.
Time: from 7 pm to 9 pm
Cost: there is no admission fee
Venue: Arakawa Ōhashi Downstream Side Riverbed, 2 Chome-172 Kawaracho, Kumagaya, Saitama 360-0016. View on Google Maps.
Access
From the Kumagaya Station South gate. It only takes about 5 minutes on foot from the station. They do have parking, but you have to arrive in the afternoon as they shut off roads closer to launch time. It costs 2000 yen for one car.
Find more events in August here.
First published in 2017 and updated annually. Last republish June 14th 2022. Last update August 8th 2023.